Earlier this week the internet went crazy over just how bold the communist People's Republic of China government's lies are becoming. A viral video showed a press briefing in which a foreign ministry spokesman coolly presented the still raging Hong Kong protests as the complete opposite of the reality: 
"As far as I know, over 800,000 Hong Kong citizens participated in the pro-extradition bill demonstration," the Chinese government official said. 
He continued to present what are in reality popular anti-Beijing protests in condemnation of the controversial China-backed extradition bill as actual confirmation of Beijing's line. "I think this amply demonstrated that the mainstream public opinion of Hong Kong supports this legislative work," the official stated in his brazen lie: 
Ha!!! Watch this chinese Foreign Ministry fool explain what happened in Hong Kong (with chinese characteristics). This revisionist version is a bit too soon for everyone to forget what really happened. #HKexit #lies #NoExtraditionToChina pic.twitter.com/0pxLMY1fgW

— Kyle Bass (@Jkylebass) June 25, 2019
The ultimate in communist Orwellian trolling perhaps? Maybe the talking head functionary himself doesn't understand what's going on?
Or just Beijing's par for the course propaganda packaged for domestic consumption. Regardless, it's among the most brazen of many whoppers for the history books.
If you can't beat'em... well then just make shit up and hijack a mass protest movement as if it's yours.
Anti-extradition bill protesters have filled the streets of Hong Kong for the second straight Sunday, calling for the bill to be scrapped altogether. pic.twitter.com/sxznHwAEuZ

— SCMP News (@SCMPNews) June 16, 2019
The continuing anti-extradition protests, which had witnessed an estimated 2 million hit Hong Kong's streets two Sundays ago, fast became a lightning rod for those angry about growing Chinese presence in the semi-autonomous city, and potential diminishing freedoms.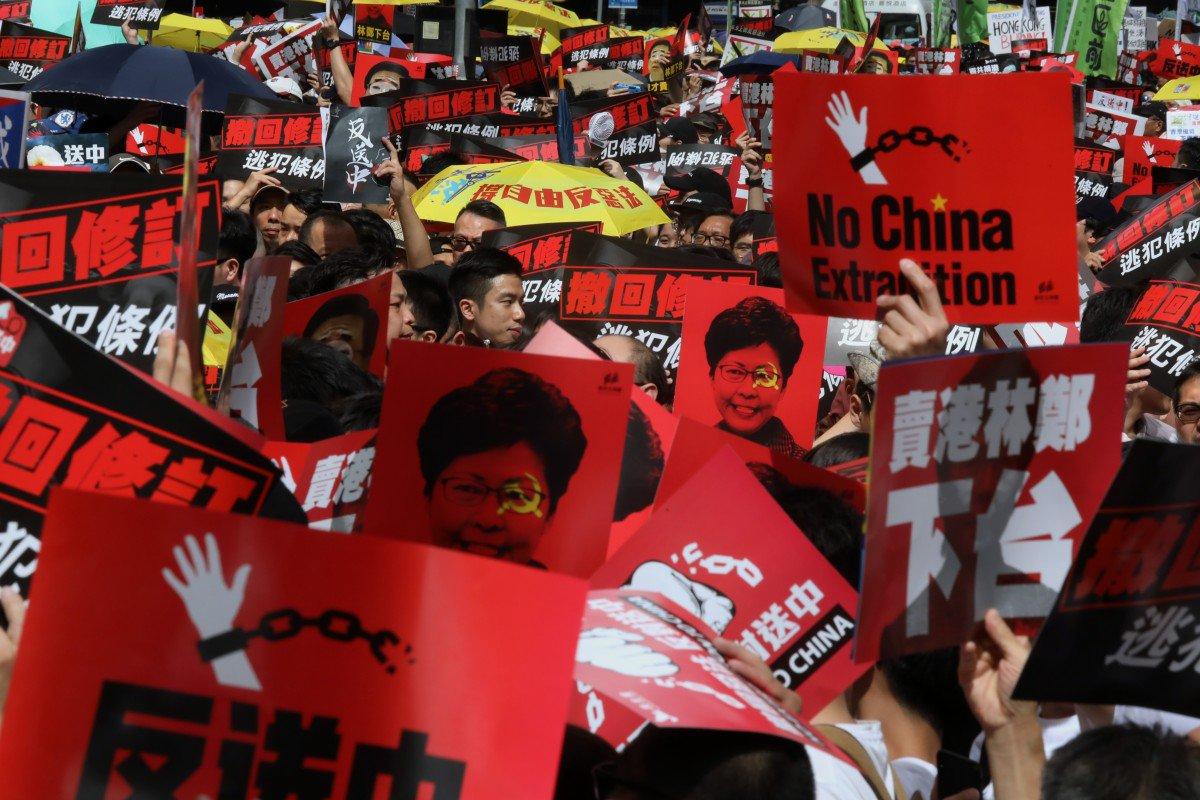 Meanwhile, protesters this week are appealing for international support, per Reuters:
Holding placards with messages such as "Please liberate Hong Kong", the demonstrators, some wearing masks, marched to consulates of nations represented at the Japan summit of the Group of 20 major economies.

These included Argentina, Australia, Britain, Canada, Italy, Japan, South Africa, South Korea, Russia, Turkey, the United States and the European Union.
The "one country, two systems" policy that's long governed Hong Kong is seen as under threat by the extradition bill, which critics worry will be used to unjustly deport political activists and dissidents to mainland China and its more oppressive laws. 
Last week Chinese Foreign Minister Wang Yi slammed the protests as a "foreign plot", saying the "black hand" of Western forces were trying to the mass demonstrations to "stir up trouble" in the city. So given the above viral clip, it appears Beijing can't get its own messaging straight.