June 30, 2019
Something is happening, but you don't know what it is, do you, Mr. Jones?
-- Bob Dylan
This one goes out to Brian. Lewis Brian Hopkin Jones, now, as of this coming Wednesday, gone 50 years.
His is perhaps the original Rock and Roll tragedy. An impossibly handsome man who happened to be a multi-instrumental musical prodigy, he was the vision behind the Rolling Stones. He catapulted them to stardom, but then the band (mostly Mick and Keith) passed him by. On balance it was his own fault; he descended into a spiral of drug abuse that was noteworthy even at a time when such abuse was the norm rather than the exception.
The last couple of years of his life, he could barely even play. And, due to a confluence of health issues and myriad outstanding global warrants for his arrest, he certainly couldn't tour. Saddest of all, the band, his band, simply didn't need him anymore. And in early June of 1969, they gave him his walking papers.
Less than a month later, he was found floating, face down, in his own swimming pool. This was July 3rd: my mama's 34th birthday. Two years later to the day (though no one can say for sure), Jim Morrison checked out. Both were 27 at the time of their demise, and both deaths remain shrouded in mystery.
A couple of years' prior, Bob Dylan, on his Magnum Opus: "Blonde on Blonde" put out the song that we have purloined for our title, with the hook-line co-opted for our introductory quote. Though the debate rages, to me it unambiguously tells the tale of a man unwittingly walking into a gay party. Others have disagreed about this, but a check of the lyrics leaves little room for doubt. One way or another, pretty much everyone agrees that the Thin Man title character was none other than Brian Jones.
We've got a treasure trove of golden anniversaries this summer, and be forewarned that I intend to milk the important ones for all they are worth. July '69 was particularly eventful. 50 years ago tomorrow, on 7/1, Prince Charles officially became the Prince of Wales. 5 decades later, he holds the world record for time spent waiting for a promotion promised to him.  Jones died on the 3rd.  On the 5th, the Stones played a Hyde Park gig to about 1.5 million people, going through the motions of honoring their founder. On the 18th, MA Senator Ted Kennedy drove his side piece off a narrow bridge on Cape Cod, buggered off as fast as his feet allowed, and left her trapped in his car her to drown.
He went on, of course, to become the Lion of the Senate, and chose the "dream" of single-payer health care as the hill upon which to die. We're not there yet, but the issue looms large. We will discuss it a little bit further along the way.
Teddy got bailed out of "media hell" by the reality that 3 days later, Apollo 11 astronaut Neil Armstrong became the first man to set foot on the moon. There's a CNN (I know, yuck) documentary currently airing on this remarkable achievement. It's mesmerizing, and if it doesn't make (widespread progressive rhetoric notwithstanding) a person proud to be an American, well, then, I just don't know what.
And that's just July. A great deal happened in August as well, most notably for your scribe, the Woodstock Music and Arts Festival, held at Max Yasgur's farm in Bethel, NY. Loyal readers should prepare themselves to be assaulted in this space with nostalgia about Woodstock.
And, as I bang this thing out, I note a palpable (if perverse) Woodstock vibe in the air.
We begin with Trump and Xi, who walked out of the Tokyo G20 summit like the two lovebirds on the cover of the Woodstock album:
Trump/Xi Bid G20 Farewell: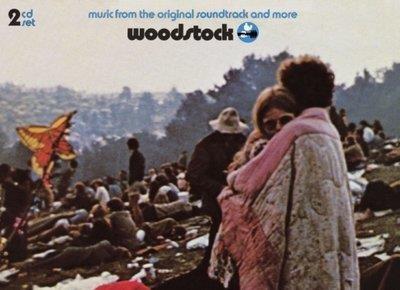 Market participants can and should be delighted with the short- term implications of the outcome. Hauwei is off the hook – for now. The PRC is fixin' to buy (not die)1 American farm equipment. We don't got a deal yet; perhaps we never will, but at least we're not pointing ICBMs at one another. Then Trump met with L'il Kim in the DMZ. We'll call that Woodstock II.
The teeming millions that comprise my readership should also take a warm fuzzy in the knowledge that the two kids to my left are still together, married, retired and living in Pine Bush, NY, not far from where the original love fest went down.
However, other currently observable Woodstockian motifs are perhaps less uplifting. But that's OK; there was a passel of troubles back in '69 as well. Here, most notably, I refer to the Dem Double Header Debate, which, due to the overwhelming quantity of eligible participants, unfolded over two separate nights in the week just ended. As was foretold by the Gods, the entire sequence devolved into a "stick it to the man" orgy of what, in more recent times, passes for Peace, Love and Understanding.
Over the course of the exercise, and according to widespread consensus, two women stood out among the crowd: Kamala Harris and Elizabeth Warren.
Ms. Warren is a Massachusetts Senator, as was the above-mentioned Ted Kennedy. If you've ever seen her, on television or something, you will note that she is remarkably thin. Thus, for the purposes of this note, I will choose to designate her The Thin Woman (or Thin Lizzie). This written ballad is for you, Liz.
Something is happening and you don't know what it is, do you, Senator Warren? Well, allow me to clue you in. The global capital economy is resting on a razor's edge, with only psychedelically cheap money (and its catalyzing drive to create scarcity of investible financial instruments) providing any sort of ballast. Global indebtedness is approximately 150% of its pre-crash levels. Economies are slowing. The Eurozone in particular is a hot mess, as is (as always) the Middle East. As was shown in stark nature just last Christmas, it wouldn't take much to send even the American Economic Juggernaut into a tailspin.
At that time, I was convinced that our prospects would continue to worsen, and I've seldom been more wrong. But somehow, in January, the Central Banks stepped in and saved the day. The outcomes include an extension of economic expansion and a stock market that just completed its best first half of the year in several decades. There is about $15 Trillion of negative yielding government paper out there. France is again among its issuers. The Eurozone is now issuing 100 year bonds – at a rate of 1.17% -- approximately half of the U.S. Fed Funds rate.
I could go on, but hopefully you feel me already. In the meantime, Senator Warren is channeling the Kennedy/Proxmire/McCarthy vibe of the 91st Congress, which, along with Richard Nixon, was sworn in in January of 1969. Arguably, this crew did all they could to ruin the entire decade of the '70s.
Historically woke observers: Not the reference to the Country Joe and the Fish/Woodstock anthem.
But Thin Lizzie, as she is fond of stating, persists. Single payer. Reparations. Wealth Tax. Green New Deal. Student Loan Debt Forgiveness. Free College Tuition. In addition to all of the mind-blowing righteousness of it all, we will enjoy the benefit of teaching those filthy capitalists the lessons they so richly deserve. You know to whom I'm referring. Those criminal enterprises that brought us heathen tools such as Air Conditioning, the Internal Combustion Engine, Spam, Viagra, the World Wide Web.
She has acknowledged that it will be expensive; perhaps, at the low end, a couple of hundred trillion, but what's a couple of hundred tril when you are remaking the world for the better?
I will admit that I didn't listen to much of this, or for that matter, what anyone else standing at those innumerable midweek podiums had to say. But I felt it. And it felt a little like 1969.
But some stark contrasts stand out. For one thing, 50 years ago at the point of this correspondence, the Fed Funds Rate stood at 9.25%. At present, one could search far and wide – all over the globe, all over the galaxy, and fail to identify a single debt instrument that pays the rate that America's leading financial institutions were laying down for overnight borrowing from the Federal Reserve in '69.
And it was no great shakes in the stock market either: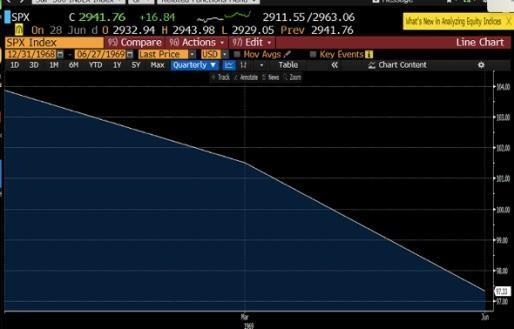 It doesn't look to me like there was a single uptick for the Gallant 500 -- all winter or all spring in -- '69. But then again we did have Woodstock. And the Moon Landing. And Vietnam. And Chappaquiddick.
Plainly, the fires of disputing political points of view are burning hot in the wake of the maiden Dem debates. And can only rage with more intensity. All year. And most of next. It doesn't exactly feel like a love fest, and it is likely to feel less so as the months melt away.
And I'll close with a couple of thoughts. If anyone on the Left, including our Thin Woman, takes the prize next November, and enacts even 20% of the likely policy agenda we're not looking at a '69 redux; it will look and feel much more like 1933. Which no one alive remembers. Not even me.
But here's the thing. One cannot look at the current equity tape and draw any conclusion other than that investors are placing Trump's re-election chances at about 100%. I agree with this in terms of direction, but not magnitude. I think, troubled soul though 45 is, his opponents are currently handing him another four years on a silver platter. But he could easily blow it, and he's got 18 months to do so.
Something is happening out there, and we don't know what it is, do we? I guess this is true, always. For each and every one of us. Because the whole damned lot of us are a bunch of Mr. and Ms. Jones.
And with that, I wish you all a joyful and pleasant holiday. If you're looking for inspiration or boredom relief, you could do worse than hoisting one this Wed/Thur to the original Thin Man: Brian Jones. He flew too high, too fast. It all came crashing down too quickly. But oh, within a couple of years there, with his floppy blond hair, iconic teardrop guitar and magnificent multi-instrument riffs, he changed the world. I hope you're having a good rest, Thin Man.
We'll carry on as best we can without you, because we cannot do otherwise.
TIMSHEL
This post is brought to you by General Risk Advisors, a full-service risk solutions group. For more information, visit genriskadvisors.com or contact GRA@genriskadvisors.com.