The Los Angeles luxury housing market has finally gotten the shot in the arm that it needed. The Manor, a 56,000 square-foot mansion in Holmby Hills, just sold for $120 million, according to the Los Angeles Times. The sale price is the highest in LA County history.
Despite not yet appearing in the public record, the transaction appears to be a "done deal", according to the report. It represents another "notch in the belt" for the county, where the previous sale record was $110 million.
It is the fourth sale of $100 million or more in LA ever and a third in Holmby Hills, which sold two mansions for more than $100 million in 2016, one of which was the Playboy mansion. Still, the price tag is astronomical for one of the largest single-family homes in the country.
The mansion is set on 4.7 acres and the Manor includes more than 1 acre of living space. It's 1500 square feet larger than the White House, which is about 50,000 square feet in size. It was built in 1991 for late producer Aaron Spelling and then sold to its current owner for $85 million in an all cash deal eight years ago.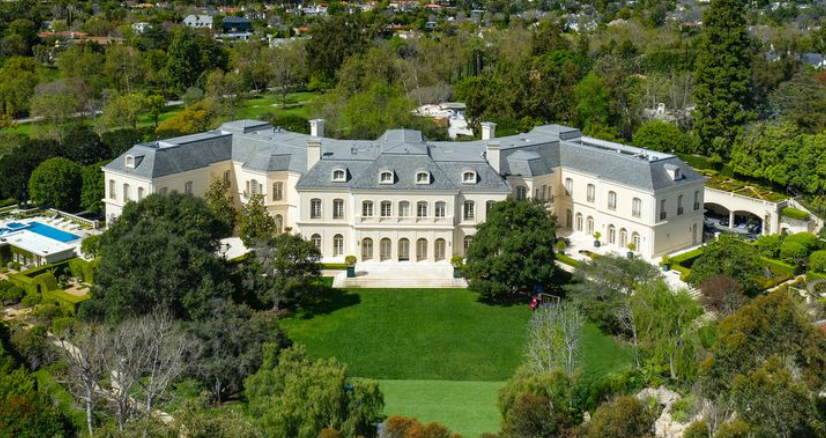 The mansion was nicknamed "Candyland" during the Spelling's tenure there. It has 20+ custom rooms, including a flower cutting room, a humidity controlled silver storage room, a barbershop and multiple gift wrapping rooms. It also includes a French wine and cheese room that is furnished with sidewalk tables, chairs, and French music. It also supports a one lane bowling alley.
A staff of 30 is required to take care of the mansion.
The current owner, Petra Ecclestone, daughter of Formula One billionaire Bernie Ecclestone, made some changes including opting for more contemporary interiors, a lounge lined in marble and a large aquarium. A room once used for Aaron Spelling's wife's doll collection has been converted into a hair salon and massage parlor. The home encompasses 123 rooms, including 14 bedrooms and 27 bathrooms.
There's also a tanning room, solarium, game room, statues, koi ponds, swimming pool, a spa and a tennis court.
The mansion had been shopped for $150 million in 2014 and was brought to market in 2016 at $200 million. At the time it sold for $120 million, it was listed on the market for $160 million.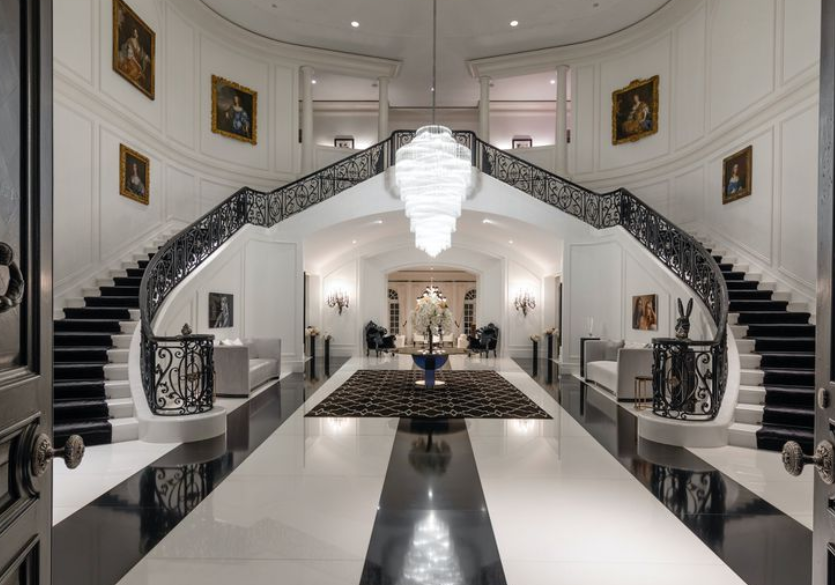 This looks to be a good sign for the stagnating LA real estate market. UCLA real estate professor Paul Habibi said: "If $120 million is the new benchmark, that makes it more plausible to sell a home for $75 million or $100 million."
"They're not looking for affordability thresholds, and they're not dependent on mortgage rates. Estates like these have an extremely limited, idiosyncratic buyer pool," he continued.
In Los Angeles as of June, there were about 230 sales of $5 million or more this year, down from 273 deals compared to the same period last year. For deals that have closed at $10 million or more, the market has seen a drop of more than 25% year-over-year. Sales of $20 million or more are down about 50%.
But the high-end market has heated up a little bit this summer:
Two transactions topped $40 million in May, including Adam Levine's Beverly Hills mansion that sold to Ellen DeGeneres and Portia de Rossi for $42.5 million.

Last week, Uber co-founder Garrett Camp quietly dropped roughly $71 million on a newly built home in Trousdale Estates.

The Platinum Triangle – comprised of Bel Air, Holmby Hills and Beverly Hills – is no stranger to massive sales. This year alone, the wealthy area has seen 11 property transactions of $20 million or more, records show.
"Holmby Hills is probably the most affluent submarket in L.A. County," Habibi concluded.