Is President Trump planning to make good on his longtime promise of a "full" and "complete" US troop withdrawal from Syria before the end of his first term? Recent diplomatic maneuvering suggests so, with new reports that US officials have requested that NATO ally Germany send troops to Syria to fill the "vacuum" left after a diminishing US presence. 
Special Representative for Syria Engagement James Jeffrey told Die Welt's Sunday edition in an interview that, "We want ground forces from Germany to partially replace our soldiers," according to a rough translation. "Germany plays an active role as a partner in the political process and also as an ally in the fight against the 'Islamic State' in northeastern Syria," Jeffrey continued. "We are looking for volunteers who want to take part here and among other coalition partners," he added.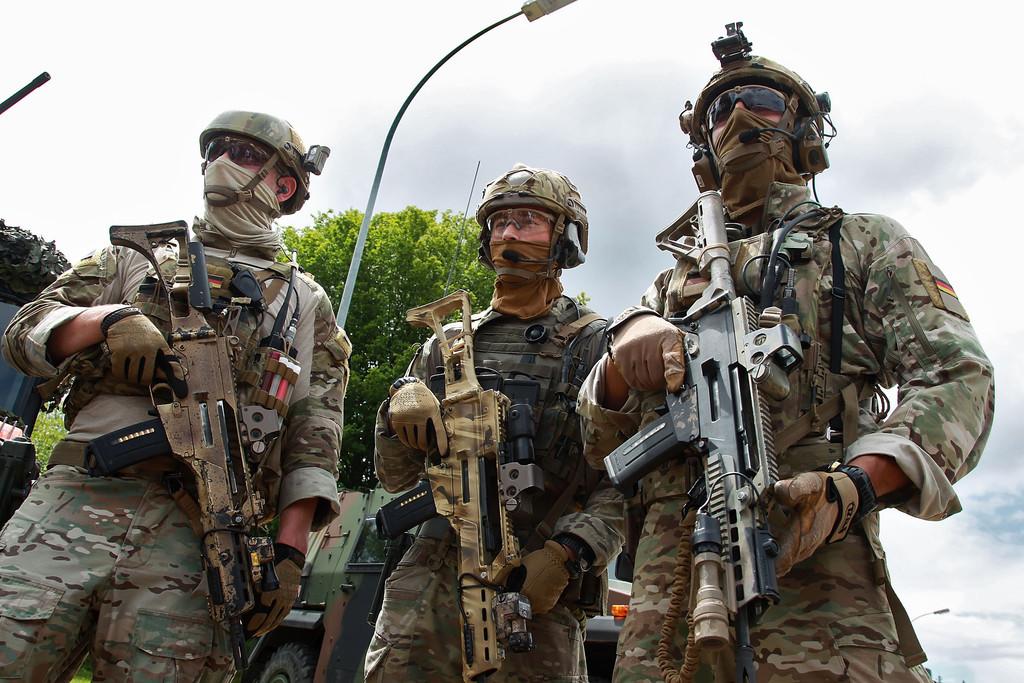 Currently Germany plays a limited support role in the anti-ISIS coalition fight; however, given recent announcements from the White House declaring the "total" defeat of ISIS, Trump reportedly sees less reason to be there. Yet long-term US policy in Syria has resisted allowing the Syrian Army to advance in places currently held by the US-backed Syrian Democratic Forces (SDF). 
The US call for increased German presence reportedly caused deep division in Merkel's ruling coalition, per the AFP:
Discord broke out in German Chancellor Angela Merkel's ruling coalition Sunday, after the United States urged the country to send ground troops to Syria as Washington looks to withdraw from the region.
Deputy conservative parliamentary leader Johann Wadephul led ruling coalition voices urging that Berlin "not reflexively reject" the US call for troops. 
However, others were quick to slam the Trump White House formal request:
Former Chancellor Gerhard Schroeder told business newspaper Handelsblatt on Saturday that Trump wanted "vassals" rather than allies.

"I'd have liked the federal government to tell him once or twice that it's none of his business" how much Germany spends on defence, Schroeder said.
The White House has of late been putting pressure on European allies to step up presence in Syria — likely to prevent either an Assad forces takeover or a Turkish military takeover amid an American troop draw down.
German defense officials and politicians who spoke to WELT in response to the US special envoy's request voiced deep reluctance to get further engaged in Syria, especially given that Damascus sees any foreign, US or European presence as "foreign invaders" illegally encroaching on Syrian sovereignty. 
One German defense official, Tobias Lindner, told WELT: "Foreign troop deployment can only be based on international law. German ground troops in Syria would only be conceivable if there is a mandate from the UN Security Council and a credible peace perspective."
Another defense policy politician told the newspaper:
"Germany should not let itself be further drawn into the Syrian war, let alone with ground troops. The US administration is only interested in replacing their soldiers, so they have a free hand in other fields."
Clearly, the White House faces an uphill battle attempting to get European allies to shoulder more burden in Syria at a time the northern and eastern parts of the country are made all the more complex by both Russian and Turkish military action. Add to this the strain among NATO allies after Trump's repeat demands that they rapidly increase defense spending. 
Ultimately, Washington still sees preventing Iranian entrenchment in Syria as the number one priority, putting Trump between a rock and a hard place: he's consistently voiced a desire to withdrawal, while also waging a proxy war against Iran inside Syria, also at Israel's urging. 
So despite the latest diplomatic pressures on Germany to "step up" in Syria, there likely won't be a US troop withdrawal anytime soon. As many warned years ago when overt US troop involvement in the conflict grew (to saying nothing of the massive covert US efforts), this will simply remain a quagmire from which America may never truly and fully exit.