Turkey and Europe are headed for a showdown in the eastern Mediterranean over Turkish plans for oil and gas exploration and drilling in Cypriot-recognized waters, with the European Union reportedly now mulling cutting financial assistance to Turkey over the illegal drilling. EU envoys are reportedly meeting Wednesday to discuss various punitive measures against Turkey, including suspending aviation talks and even sanctions.  
The latest crisis was triggered after Turkish drilling vessel Yavuz sailed to an area off Cyprus' east coast at the start of this week — the second to follow a first drilling vessel, Fatih, which had already been exploring in Cypriot waters. Notably, the vessels have been accompanied by the Turkish military, including drones, F-16 fighters, and warships.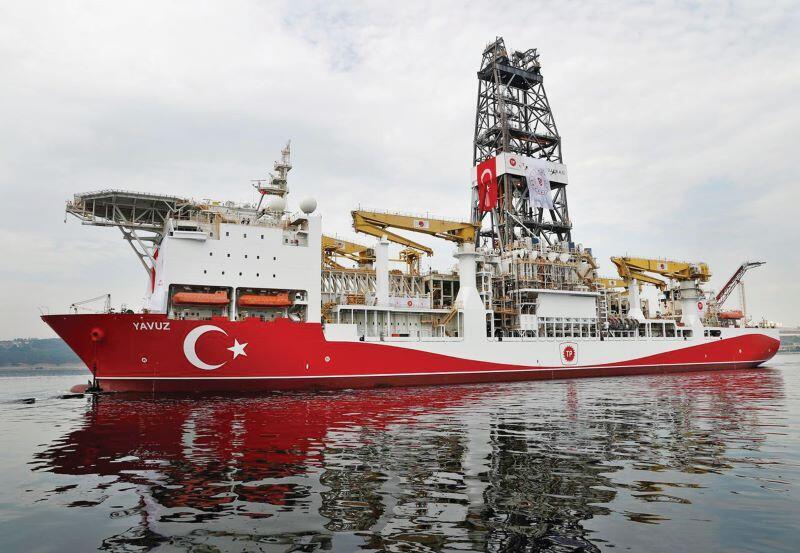 Turkish authorities have been brazen in publicizing their territorial claims and actions backing them, even as EU leaders have slammed the now months-long exploration and drilling expansion in solidarity with Cypriot condemnations (since last May). 
Turkish Vice President Fuat Oktay had warned over the weekend while speaking from the Turkish-occupied north of Cyprus: "Those who move against the legitimate rights of Turkey or the Turkish Cyprus and discount Turkey in the region will not be able to reach their aims," according to Hurriyet Daily.   
However, EU foreign minister Federica Mogherini warned Turkey this week that the EU would respond "appropriately and in full solidarity with Cyprus" after Ankara announced the deployment of the Yavuz drilling vessel. Previously, the Fatih had been deployed a mere 42 miles off the west coast of Cyprus.
Turkey's drilling vessel "Fatih" was given a salute by a Turkish Air Force F-16 jet pic.twitter.com/BtdOUM9DiP

— TRT World (@trtworld) June 28, 2019
The EU's Mogherini said following news of the second drill ship deployment that it's an "unacceptable escalation" which violates EU-member Cyprus' sovereignty: 
Turkey's declared intention to illegally conduct a new drilling operation northeast of Cyprus is of grave concern. This second planned drilling operation, two months after the start of the ongoing drilling operations west of Cyprus, is a further unacceptable escalation, which violates the sovereignty of Cyprus.
"We call on the Turkish authorities, once again, to refrain from such actions, act in a spirit of good neighborliness and respect the sovereignty and sovereign rights of the Republic of Cyprus in accordance with international law," she added. 
The Cypriot government has repeatedly condemned Turkey's "blatant violation of international law" and urged the EU to take firmer action. 
"The Republic of Cyprus is determined to continue to defend its legal rights to the benefit of all its legal citizens, intensifying its efforts at a legal, political and diplomatic level, using all means at its disposal, especially in the framework of the European Union," a new Cypriot government statement reads. 
The president of Cyprus Nicos Anastasiades previously slammed Turkey for its "unprecedented escalation of illegal action" which constitutes a "second invasion" in the eastern Mediterranean, blaming Ankara for illegally drilling inside its exclusive economic zone. 
Both the internationally recognized Greek Cypriot government and Turkey - which occupies northern Cyprus - have overlapping claims of jurisdiction for offshore oil and gas research in the natural gas-rich eastern Mediterranean.
Turkish President Recep Tayyip Erdogan has recently been provocatively sending warships near Cypriot waters in order to ward off foreign competition to oil and gas research, according to Cypriot officials, also seeking to bar Cypriot ships and planes from freely traversing its own European recognized waters. 
But Erdogan is also bumping up against other Mediterranean countries' plans in the region — notably Israel and Egypt as well, at a moment he's engaged in multiple crises both domestic and related to the West — even as Turkey has long sought EU membership.
Turkey has in the past demanded that Cyprus formally recognize the breakaway Turkish Republic of Northern Cyprus (since 1974) and allow it to share revenues from Cypriot gas exploration. 
Furthermore Turkey has laid claim to a waters extending a whopping 200 miles from its coast, brazenly asserting ownership over a swathe of the Mediterranean that even cuts into Greece's exclusive economic zone.
Such claims have been condemned by the US, European Union, and Egypt, with NATO officials recently signalling to Turkey that it was out of line. Should the Turkish military attempt to enforce its drilling claims and run up against Cypriot and Greek vessels, it could spark a deadly encounter which would force the EU and NATO to finally weigh in more forcefully.