The newest estimates out of the China Association of Automobile Manufacturers for 2019 are once again turning (even more) pessimistic, according to Reuters. Earlier in the year, the CAAM had thought zero growth for the year was a possibility, but now it looks as though vehicle sales will once again drop - even after an abysmal 2018. 
The sector contracted for the 12th straight month in June and sales were down 2.8% in 2018. 
Senior CAAM officials are hopeful that sales could drop by less than 5% in 2019 if Beijing can effectively implement stimulus policies. 
"Measures so far have not been as effective and strong as consumers had expected," the CAAM said. 
Auto sales for the first half of the year came in at 12.3 million vehicles, or 12.4% less than 2018. In June, sales were down 9.6% to 2.06 million vehicles.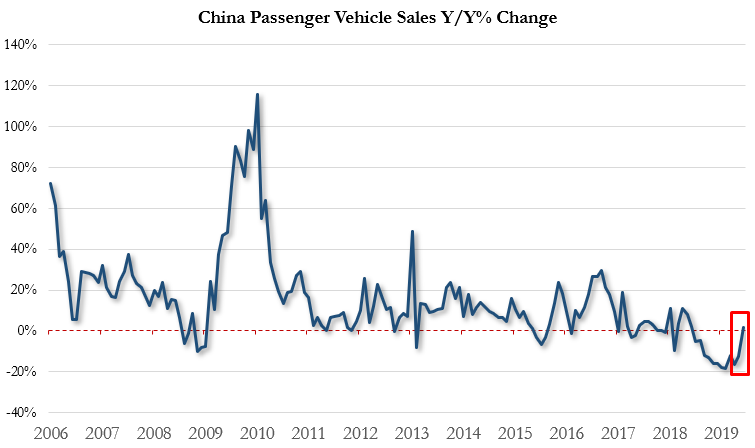 New electric vehicles continue to be the sole silver lining:
NEV sales rose 80% in June to 152,000 vehicles, bringing January-June sales to 617,000, up almost 50% from a year ago.

NEVs include plug-in hybrids, battery-only electric vehicles and hydrogen fuel cell vehicles. China, blighted by air pollution, has been a keen supporter of NEVs, requiring automakers to meet production quotas.

Last year, NEV sales in the country jumped almost 62% even as the broader market shrank.
On Tuesday, we noted that Chinese stocks in Hong Kong plunged after Geely slashed its 2019 net profit forecast by 40%. 
Also on Tuesday, we noted that retail passenger car vehicles in China finally showed the first tepid sign of recovery after a historic and record-breaking plunge in the country over the last two years, according to The Business Times and preliminary data from the China Passenger Car Association.
Of course, there is demand for everything... at the right price.
And as it turns out, China was able to - at least temporarily – shake itself from its inventory glut as a result of, drumroll, offering massive discounts to clear excess inventory before new emissions rules take place on July 1. 
Retail sales of passenger vehicles were up 4.9% to 1.8 million units in June from the year prior. This is the first increase since May 2018 for China, according to the CPCA data. 
Wholesale deliveries of passenger vehicles, on the other hand, fell 7.8 percent to 1.73 million units in June and have now slid for 12 consecutive months.
The latest update offers a small sliver of hope for automobile manufacturers and dealers in China, who have been struggling with the country's first slump in demand in a generation. The recession had been brought on by slowing economic growth, trade tensions and stricter emissions rules. Despite this, a sustained recovery is far from a guarantee and researcher LMC Automotive still estimated a decline of about 5% for the full year last month.
In recent weeks, dealers have slashed their prices by as much as 50%, according to local media reports, to help clear inventory. 18 provinces and regions will require vehicles to meet the new criteria as of July 1.