---
China Reports Slowest GDP Growth On Record, As Retail Sales, Industrial Output And Fixed Investment All Beat
The Chinese goalseek-o-tron was in perfect working order on Monday morning, when moments ago Beijing reported that China's Q2 Y/Y GDP rose at 6.2%, once again precisely as consensus had expected, down from 64% in Q1 and the lowest since "modern" records started to be kept 27 years ago in 1992, dipping below even the financial crisis low of 6.4$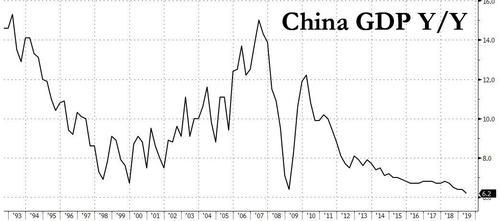 Additionally, 2Q cumulative GDP rose 6.3% y/y, also matching the consensus estimate, and down from 6.4% in Q1.
"We expect Beijing to ramp up stimulus measures in the second half despite more limited policy room, though markets should not put too high expectations on the scale and duration of these stimulus measures," Nomura's China economist Lu Ting wrote in a recent research note. "Domestic policies will to a large extent be dependent on the U.S.-China trade tensions."
The disappointing GDP print comes just day after another miss, this time in the value of exports, which sharnk by 1.3% in dollar terms in June, after inching up in May despite the tensions with the US.
Property investment moderated to 10.9 per cent in the first six months, compared with growth of 11.2 per cent in the year to May. Strong property sales helped brighten the economy into April, but the sector lost momentum in the second quarter.
But while the record Chinese slowdown was widely as expected, there was an unexpected silver lining to the lowest Chinese GDP print on record, as all three core June economic indicators - retail sales, industrial output and fixed investment - beat sharply lowered expectations, to wit:
Retail Sales: 9.8%, Exp. 8.5%, up from 8.6%
Industrial Output: 6.3%, Exp. 5.2%, up from 5.0%
Fixed Asset Investment: 5.8%, Exp. 5.5%, up from 5.6%
And visually: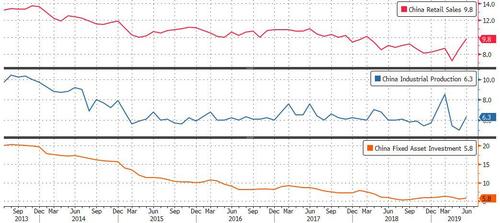 The fact that retail sales growth strengthened to 9.8% in June from 8.6% a month earlier, is an encouraging sign that domestic consumption has remained robust (that, or Beijing is now grossly manipulating every economic datapoint). Retail sales remained strong throughout the second quarter, as non-food inflation remained modest.
So while on one hand, the more widely followed GDP print indicates continued slowdown in the overall economy and adds to the pressure Chinese policy makers face as they attempt to negotiate a deal with the US - and while Chinese negotiators are talking with their U.S. counterparts again, there is no certainty that a deal will be reached - the sharp rebound in all three more contemporaneous indicators suggests that Beijing may finally be regaining control of China following some of the biggest credit injections on record as we discussed on Saturday.
Heading into today's data, China's Citi Econ surprise index was already down to a four year low, so with the improvement in today's non-GDP reports, we are confident that many will speculate tomorrow that China may have finally hit the bottom of its recent slowdown and is finally turning the corner.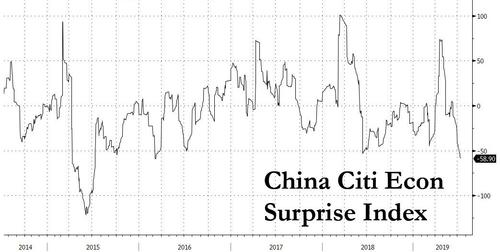 Whether that is true, or merely trade war propaganda to avoid the impression that China's economy is truly hurting, remains to be seen.
As a reminder, Beijing has set a target of doubling the size of its economy by 2020 compared vs 2010. Amid fears that the trade war will dent China's formidable export industry, Beijing has maintained a loose monetary policy and introduced industrial policies meant to stimulate investment. And now, to telegraph to the market that its policies are finally gaining traction, it is hardly a surprise that most non-GDP econ data solidly beat expectations.