More student loan borrowers are now carrying six-figure balances, according to CNBC. A recent article highlighted a woman named Elisha Bokman, who carries a student loan balance of nearly half a million dollars. Even better is the fact that her massive debt load is a result of getting a doctorate degree in naturopathic medicine and master's in acupuncture from Bastyr University.
Bokman now owes $499,322.69 as a result. We have to ask seriously: how many iPhones did she buy with that money?
Instead of taking responsibility, she now blames the student debt for her divorce ("He felt like he couldn't live his life or do the things he wanted to do") and was stunned that nobody wanted to lend her more money to open her own acupuncture practice after already being extended nearly $500,000 in credit to get her "doctorate" degree.
Exasperated that there was no more free money for her to live her dreams, Bokman commented: "It really effects the remainder of your life. There's no out."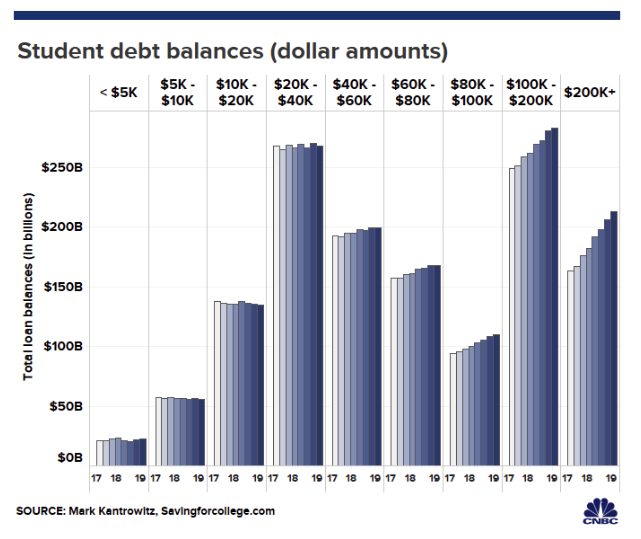 The article notes that the average graduate now leaves school with $30,000 in student debt, which is up from $10,000 in the 1990s. However balances like Bokman's are becoming more common.
About 178,000 graduate students owed more than $100,000 during the 2015–2016 academic year, up from 51,000 in 2003-2004.
In the first quarter of 2019, more than 6% of all borrowers owed more than $100,000, which is up from 5.4% in 2017.
Rebecca Grable, who works as a pharmacy manager at Walgreens, borrowed more than $310,000 to study at the University of Oklahoma and said she was denied by more than 11 banks when she tried to buy a car a few years ago.
She said: "I feel like I'm stuck under it. I just never imagined being a professional who still lives paycheck to paycheck."
Neither borrower made any comments regarding personal responsibility or their thought process when taking the loan out to begin with.