Years ago both Gaddafi and Assad famously warned that as their nation's borders were being flooded with NATO-backed arms and insurgents, the weapons and terrorist flow would soon go the other way into Europe.  And now more confirmation of this dark prediction come true in spectacular fashion with this unusual intro from the BBC: "Anti-terrorism police in northern Italy have seized an air-to-air missile and other sophisticated weapons during raids on far-right extremist groups."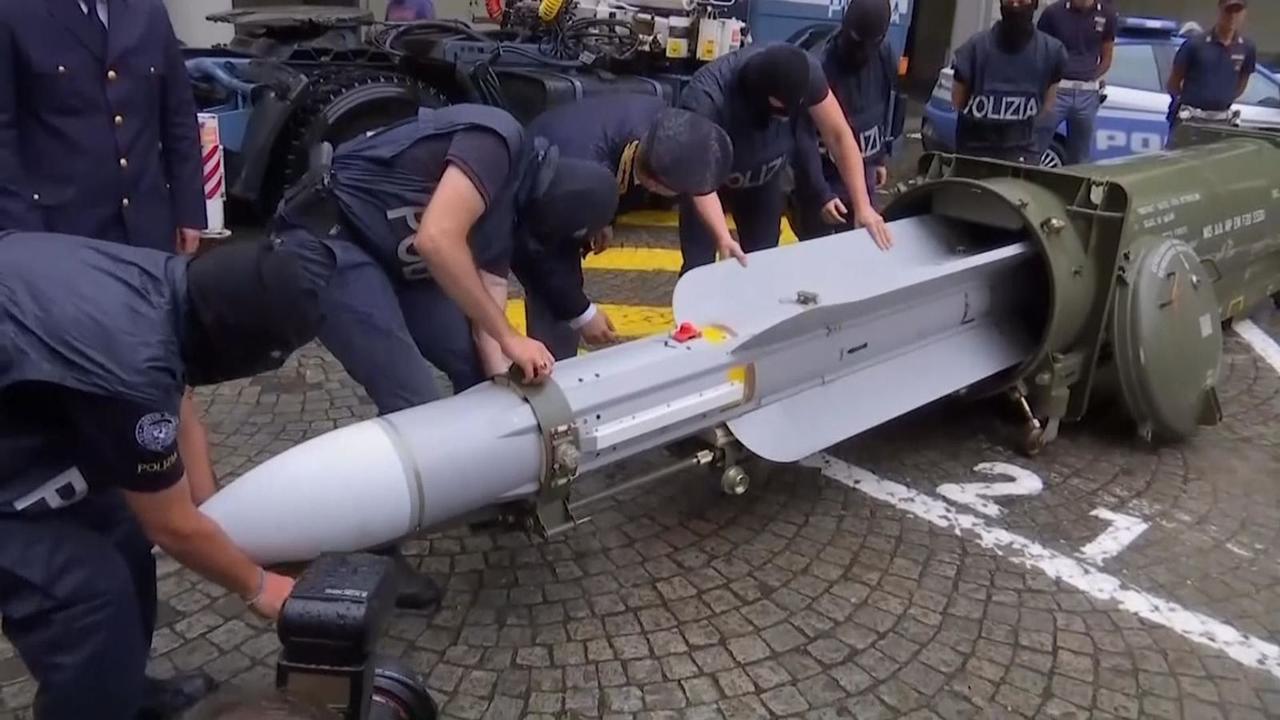 If it sounds too bizarre or surreal to be true, the photographs alone from the breaking report are even more shocking, which show a five-foot long monster of a rocket with a large military shipping container. 
What's more is the interesting likely origin of what's being described as a "combat ready" missile: it's from the gulf country of Qatar, which has for years been a major weapons source fueling wars across the Middle East, from Syria to Yemen to North Africa. 
"During the operation, an air-to-air missile in perfect working order and used by the Qatari army was seized," Italian police said in a statement.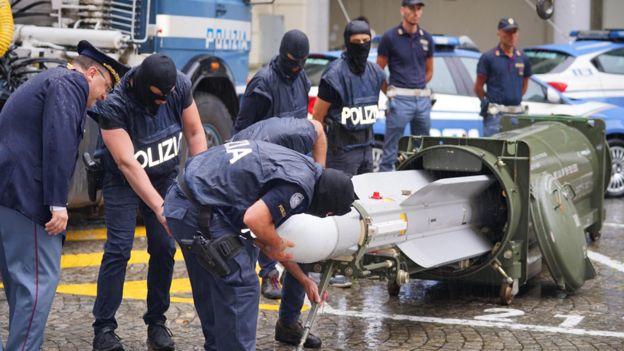 The missile was uncovered among a large cache of smaller arms during a major Italian police operation to break-up dangerous far-right militant groups:
Three people were arrested - two of them near Forli airport. Neo-Nazi propaganda was also seized, in raids in several cities.

Italian media say the raids were part of an investigation into Italian far-right help for Russian-backed separatist forces in eastern Ukraine.

...The Turin special police force, called Digos, led the operations, assisted by police in Milan, Varese, Forli and Novara.
Those among the arrested were alleged to have been active in fighting which has raged since 2014 in Ukraine's Donetsk and Luhansk regions.
Despite the BBC falsely reporting that those among the arrested had been supporting pro-Russian separatists in Ukraine, the Italian police press release states the opposite. 
Official Italian police statement says the Nazis with the missiles fought "against [pro-Russian] separatists". But BBC says the Italian Nazis fought *for* Russian-backed separatists.
Someone's dezinformatsiya-ing 🤔 https://t.co/jByo12vtjT pic.twitter.com/1XLF32YgIj

— Mark Ames (@MarkAmesExiled) July 15, 2019
Media reports suggest the missile was bound for the front lines in war-torn eastern Ukraine, or it may have also been up for sale on the black market. 
Italy's national police published images on social media showing weapons captured in multiple raids in different cities.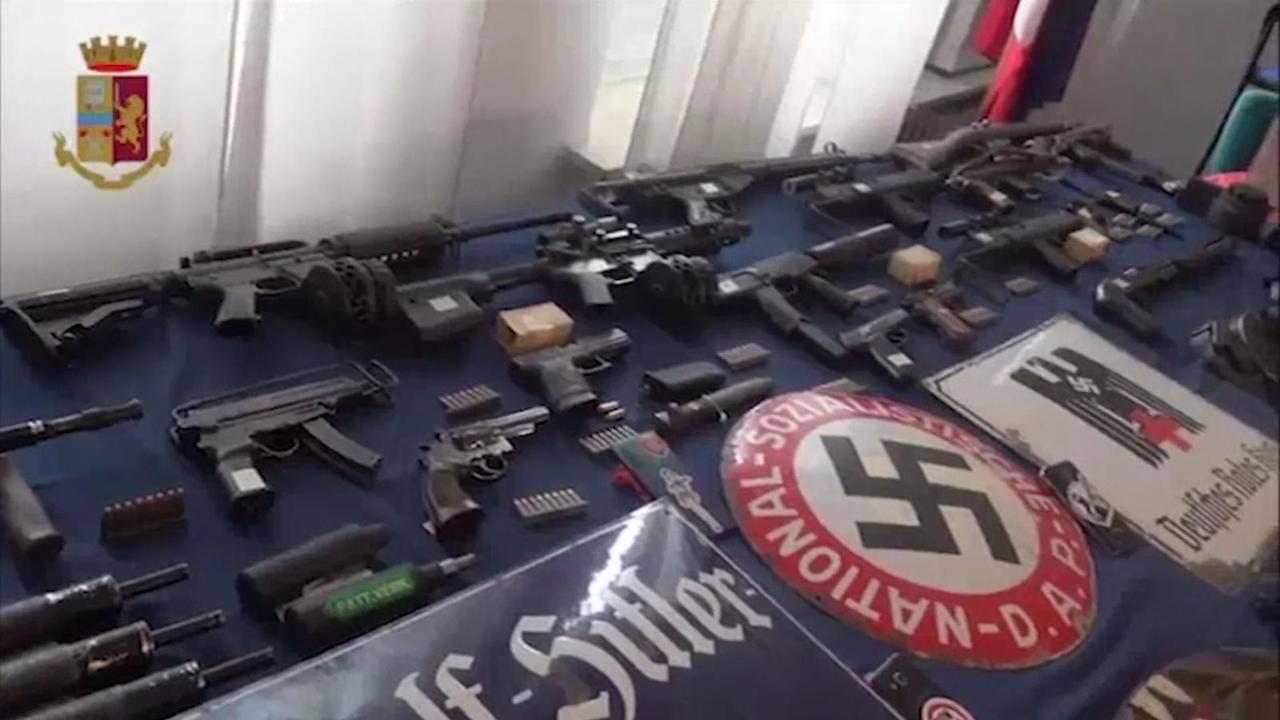 The recovered rocket was only identified by Italian authorities as an "air-to-air" missile, suggesting it would need to be mounted on an aircraft, but few other details over its type were given, other than its Qatari origin prior to reaching Italy. 
#BREAKING: #Italy's Police confiscated a Super 530F air-to-air missile which was found in possession of a Neo-Nazi group in #Turin pic.twitter.com/P5I8ymH1XE

— Amichai Stein (@AmichaiStein1) July 15, 2019
Analysts online were quick to identify it as a likely Matra Super 530, which is a French-manufactured short to medium-range air-to-air missile.
#Digos Torino ha concluso un'operazione nei confronti di 3 persone responsabili di detenzione di armi da guerra e da sparo.
Dalle indagini si è scoperta anche una trattativa per la compravendita di un missile aria – aria sequestrato in provincia di Pavia https://t.co/IvKFpgQ4Ox

— Polizia di Stato (@poliziadistato) July 15, 2019
Reports suggest the two men arrested specifically in relation to the missile, which was found at an airport hangar, may have been attempting to sell it. 
Media outlets identified some among the more notable and politically active suspects as Fabio Del Bergiolo, 50, an Italian ex-customs officer and far-right Forza Nuova party activist; Alessandro Monti, 42, a Swiss national; and 51-year old Italian Fabio Bernardi.
As the Middle East and again increasingly the Libya war 2.0, as well as Mediterranean migrant departure points become increasingly destabilized, we expect to hear about more such stories of heavy weaponry supplied by gulf states making their way to Europe's shores.