Ex-Fox & Friends co-host Clayton Morris has fled the country with his family amid more than two-dozen lawsuits alleging he committed real estate fraud, reported IndyStar.
According to Natali Morris, Clayton's wife and a former news anchor with MSNBC, the family moved last month from their $1.4 million mansion in New Jersey to a coastal resort town in Portugal.
Clayton left Fox News in 2017 to begin a new career in real estate, could have been inspired by the "greatest economy ever." His wife tagged along; she became his partner, and both of them linked up with Bert Whalen and his company Oceanpointe Investments.
In an email to IndyStar, Natali said the couple would fight the lawsuits from abroad. Both have denied responsibility for investor losses, have shifted the blame on Whalen.
"We have and continued to take responsibility for all of our legal challenges that came from our relationship with Oceanpointe. We have answered all of our attorney general requests in all states. We have answered all lawsuits," Natali said.

"We have not run from anything," she added. "We continue to show up for this until the last lawsuit is dismissed and it is clear that we neither had the money from Oceanpointe investors nor did we defraud anyone."
Investors and their attorneys have sounded the alarm about how Clayton and  Natali have left the country. They fear it would become complicated to serve Clayton and his wife with legal notices.
"In my clients' opinion, innocent people don't flee the country," said Jynell Berkshire, an Indianapolis real estate attorney who is representing some investors.
At the moment, there are no criminal charges against the Morris' or Whalen.
IndyStar asked local, state and federal law enforcement agencies in Indiana and New Jersey about the Ponzi scheme; all agencies declined to comment at the time.
In a blog post on Natali's website last Thursday, she outlined how legal problems with her and her husband forced the family to leave the country.
"I am not one of those who rejects America," she wrote. "We had a good life there. But my husband and I have had a hard few years in our business and this collective soul challenge forced us to question everything."
She said Clayton was mentally disturbed by all the negative press surrounding the lawsuits.
"Watching him endure this has felt like what I would imagine it is like to watch him endure chemotherapy," she said. "I wish I could take it from him. I wish I could fix it. I wish it were me instead. I carry a pain with me knowing that he is in pain and it is with me always. His health began to suffer. He began to withdraw emotionally and it was hard on our family. We both knew that we had to make a change if we wanted to survive."
IndyStar was the first to report Clayton's Ponzi scheme with Whalen's help back in March. They sold about 700 homes in distressed neighbors across Indianapolis.
Investors are claiming Clayton sold them homes with a guarantee to rehab them, find tenants, and maintain the properties. According to Clayton's YouTube videos, all investors had to do was relax and collect rent checks.
The lawsuits claim Clayton and Whalen covered their tracks by giving investors fake lease forms and sending rent checks even though the properties were vacant. It only took a few notices of code violations and condemnation notices from the city of Indianapolis to convince investors that something was terribly wrong with their investment.
IndyStar published a report last month found tenants in the flipped homes were living in dangerous and disgusting conditions.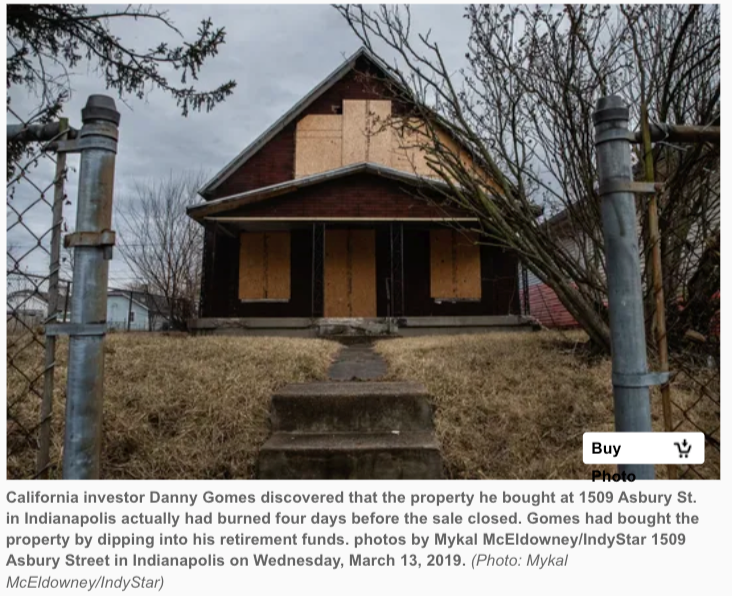 Natali's website talks about "financial freedom," and how real estate can make you rich.
"On this site I share with you new ways to think about and use your money in order to build legacy wealth for you and your family," she said.
As to why Clayton, Natali, and Whalen thought they could become stupid rich in flipping homes and renting them out for investors during a hiking cycle by the Federal Reserve and the eventual turning point in the economy that started in the summer of 2018 -- is beyond us. All schemes tend to come undone at the end part of a business cycle.