Jeffrey Epstein was denied bail on Thursday despite his legal team's best efforts to convince SDNY Judge Richard M. Berman that he isn't a flight risk. 
Judge Berman cites evidence of intimidation and evidence of Epstein missing sex-offender check-ins.

Also cites "sexually explicit photos" and "expired Austrian passport" with Epstein's photo, not his name, and a Saudi residence.

— Kevin Corke (@kevincorke) July 18, 2019
Berman:

"I find that the government has established danger to others and to the community by clear and convincing evidence," he says, also finding risk of flight by "preponderance of the evidence."

"I doubt that any bail package can overcome danger to the community."

— Adam Klasfeld (@KlasfeldReports) July 18, 2019
Epstein's attorneys offered a series of concessions and guarantees, such as 'deregistering' his vehicles and aircraft, wearing a GPS monitoring device, and installing surveillance cameras. Prosecutors, meanwhile, successfully argued that Epstein's vast wealth and international connections made him a prime candidate to flee the country. 
In arguing to keep Mr. Epstein detained, the government cited the fact that during a search of Mr. Epstein's Manhattan mansion after his arrest, law enforcement agents found a locked safe containing an Austrian passport, more than $70,000 in cash and 48 loose diamonds. The passport, which is now expired, showed a photograph of Mr. Epstein but contains a different name and lists his residence as Saudi Arabia, prosecutors said.

Stamps in the passport showed it was used to enter France, Spain, the U.K. and Saudi Arabia in the 1980s, according to the government. Prosecutors said the passport shows Mr. Epstein knows how to obtain false travel documents and assume foreign identities. -Bloomberg
The 66-year-old registered sex offender will remain in the Metropolitan Correctional Center (MCC) in lower Manhattan until his trial on charges of sex-trafficking minors, where he has been held since his July 6 arrest.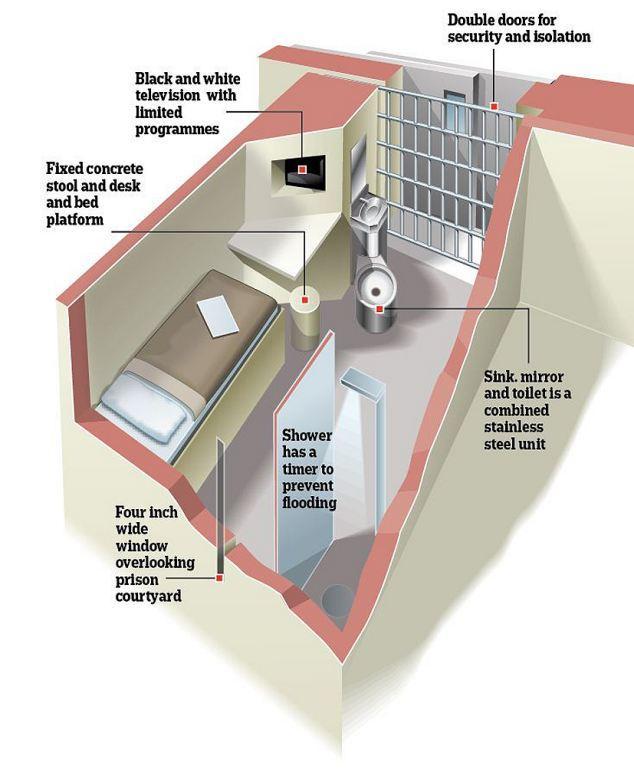 "When you have someone that's allegedly a sexual predator like Jeffrey Epstein, he'll need to be in protective custody," said lawyer Andrew Laufer, who has represented MCC inmates. And because of Epstein's high profile, he's likely in solitary confinement. 
As we noted last week, "This unit is completely isolating," said Jeffrey Lichtman - an attorney for Joaquin "El Chapo" Guzman, who has been at the jail's "harshest" 10 South wing for over two years, according to Bloomberg. There are approximately 800 inmates at MCC, most of whom are awaiting trial and have not been convicted. In addition to El Chapo, other prominent inmates have included New York Mafia bosses and Bernie Madoff. 
"The sex offenders have a hard time," said former BOP employee Jack Donson. "He's definitely going to get ostracized." 
"The contrast between his recent gilded existence and his life at the MCC is like "night and day," said Alan Ellis, a consultant and criminal defense lawyer who wrote a guidebook on federal prisons. "And that would be understating it." -Bloomberg. 
Epstein faces a maximum sentence of 45 years in prison if convicted. 
And as Bloomberg points out, "The bail decision means Mr. Epstein is likely to spend more time in jail awaiting trial in New York than he did in Florida after pleading guilty in 2008 to two state counts following an investigation into similar allegations of sex abuse against minors."