Tesla has now been sued for the second time in three months by the family of a car owner who was killed while using Autopilot, according to Bloomberg.
50-year-old Jeremy Banner died when his Model 3 sedan failed to break or avoid a semi trailer that ran a stop sign on a Florida highway in March. According to the lawsuit, which also named the semi driver as a defendant, Banner had engaged Autopilot about 10 seconds before the collision.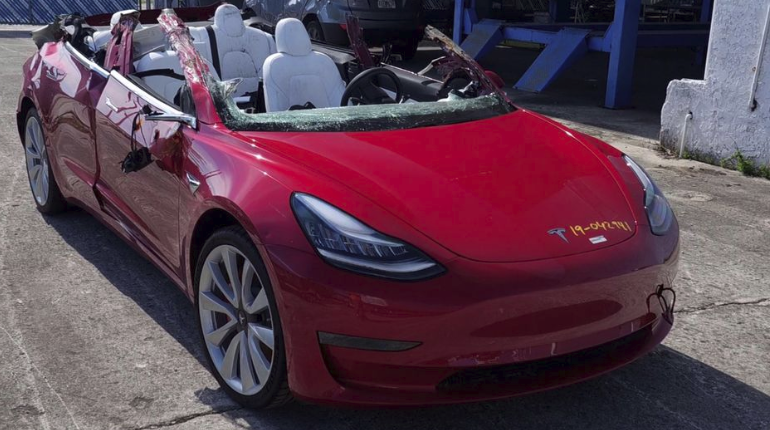 Tesla didn't respond to Bloomberg's request for a comment on the lawsuit, which makes the claim that the company knew its product was defective. We reported back in May that the National Transportation Safety Board had put out a preliminary report on the crash.
The report describes the events leading up to the incident:
As the Tesla approached the private driveway, the combination vehicle pulled from the driveway and traveled east across the southbound lanes of US 441. The truck driver was trying to cross the highway's southbound lanes and turn left into the northbound lanes.

According to surveillance video in the area and forward-facing video from the Tesla, the combination vehicle slowed as it crossed the southbound lanes, blocking the Tesla's path. The Tesla struck the left side of the semitrailer. The roof of the Tesla was sheared off as the vehicle underrode the semitrailer and continued south. The Tesla came to a rest on the median, about 1,600 feet from where it struck the semitrailer. The 50-year-old male Tesla driver died as a result of the crash. 
The report then goes on to note that Autopilot had been engaged 10 seconds before the collision and that the vehicle, traveling about 68 mph, didn't execute evasive maneuvers: 
The driver engaged the Autopilot about 10 seconds before the collision. From less than 8 seconds before the crash to the time of impact, the vehicle did not detect the driver's hands on the steering wheel. Preliminary vehicle data show that the Tesla was traveling about 68 mph when it struck the semitrailer. Neither the preliminary data nor the videos indicate that the driver or the ADAS executed evasive maneuvers.
Trey Lytal, a lawyer for the family said: 
"We're not just talking about the consequences of this defect to the Banner family, which is horrific. These products are defective."
The lawyer compared the crash to one involving a Tesla Model S owner who died in a similar tractor trailer collision in 2016. We also reported that the family of an Apple engineer who died in a Model X last year sued the company in May.