As a peaceful Saturday demonstration spiraled into chaos, Hong Kong police have fired tear gas at anti-government activists who have been protesting for nine weeks against a controversial bill which would have allowed people to be extradited to mainland China to stand trial.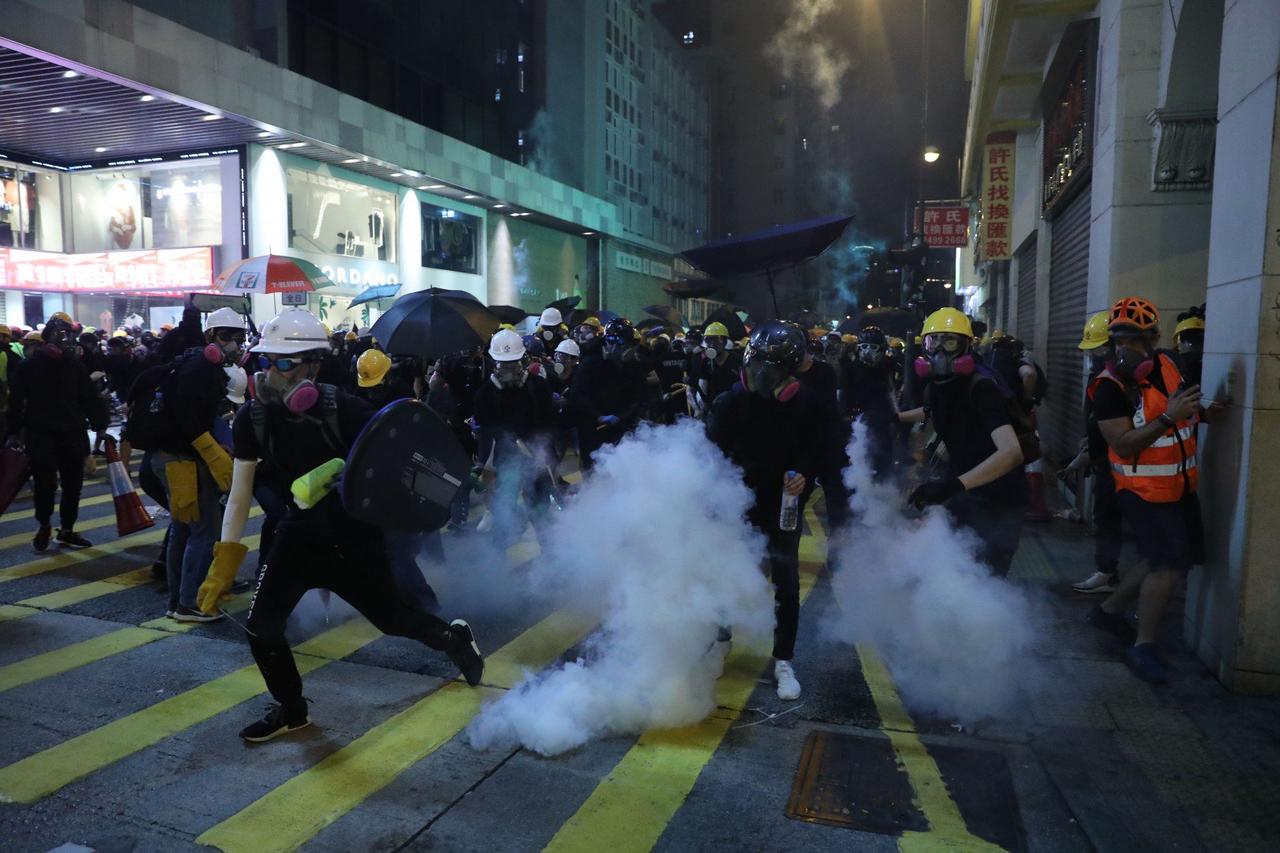 Protesters donning hard-hats, masks and other gear could be seen hurling bricks at the Tsim Sha Tsui Police Station in Mong Kok province, while others set fire to garbage cans and other debris in the streets, according to SCMP.  
WATCH: Protesters enveloped by tear gas as they retreat down Nathan road pic.twitter.com/JwjlcFbaKW

— Victor Ting (@VictorTing7) August 3, 2019
First round of tear gas fired onto Shan Tung Street. A team of #protesters rushed into work and one tossed the tear gas canister back towards the police. pic.twitter.com/MdWDSXvrE0

— Rachel Cheung (@rachel_cheung1) August 3, 2019
Protesters could be seen hurling bricks at the Mong Kok province police station, while others vandalized walls, vehicles and lamp posts.  
A day after thousands of civil servants took to the streets in Central to urge authorities to give in to protesters' demands, people gathered on Saturday for an approved rally in the shopping hub of Mong Kok, but which soon splintered off into different directions, ending in clashes in Mong Kok and Tsim Sha Tsui as police used tear gas. 

Outside Tsim Sha Tsui Police Station, some had hurled bricks into its car park, while others vandalised vehicles and lamp posts. The force said it had issued a warning for the crowd to leave before firing rounds of tear gas. 

Earlier, protesters marched all the way to the Cross-Harbour Tunnel, briefly blocking it and bringing traffic to a halt, before circling back to Mong Kok and Tsim Sha Tsui. Along sections of the main thoroughfare Nathan Road, some set up barricades and geared up with helmets and masks as night fell. -SCMP
Riot police charged towards the crowd on Nathan Road and arrested a number of protesters. pic.twitter.com/lqATBBxaWw

— Rachel Cheung (@rachel_cheung1) August 3, 2019
According to reports, thousands of civil servants have defied government orders not to join the protests - and were met with applause from Hong Kong residents as they took to major roads in the heart of the city's business district.  
"I think the government should respond to the demands, instead of pushing the police to the frontline as a shield," 26-year-old government worker Kathy Yip told Reuters.
Protesters are also demanding that the government look into allegations of police abusing their power, as well as a full withdrawal of the extradition bill, which has only been suspended for now. They are also demanding that all arrested protesters be exonerated, along with the implementation of universal sufferage and that the government stop referring to their demonstrations as riots. 
Will China intervene?
As we reported on Friday, Bloomberg thinks that the Chiense military could soon intervene after reports emerged last week that Chinese security forces had amassed just outside the semi-autonomous city. TThis was followed by the chief of the Chinese military garrison in Hong Kong warning this week that the army stands ready to "protect" Chinese sovereignty.
Chinese military officials, and especially state media have begun floating the argument for "military options" and intervention. Officials also recently described the US as a "black hand" behind the anti-Beijing protests - which began over a proposed extradition bill - something which the US state department dismissed as "ridiculous". 
⚠️ Armed soldiers and water cannons

China's People's Liberation Army in Hong Kong posted this video on social media as the #antiELAB protests stretch on #香港 #反送中 pic.twitter.com/2IMtUSLNIF

— Bloomberg TicToc (@tictoc) August 1, 2019
According to the Bloomberg report, "A senior Trump administration official told reporters Tuesday that the White House was monitoring a congregation of Chinese troops or armed police gathering across the mainland border from Hong Kong. The nature of the build-up was unclear, and the report coincided with a swearing-in ceremony for 19,000 officers in the neighboring province of Guangdong.
If Chinese security forces do intervene in the Hong Kong protests, the "worst-case scenario" would likely include a declaration of martial law or a state of emergency, while intervention from Beijing could also prompt the US to rescind Hong Kong's preferential trading designation. 
"There may be a possibility that they need to call for the PLA," according to Kevin Lai, an economist at Daiwa Capital Markets Hong Kong Ltd., who added that the odds are still low. "If they do that, it would be very negative for Hong Kong."
China's new UN reprsentative, Zhang Jun, meanwhile, appeared to suggest that action from Beijing was imminent - saying that the protests in Hong Kong are "really turning out to be chaotic and violent and we should no longer allow them to continue this reprehensible behavior."