The government of Hong Kong has warned that the ongoing protests could devolve into a "very dangerous situation" after demonstrators filled the streets, squaring off with riot police as traffic came to a complete standstill. 
🇭🇰 HAPPENING NOW: Riot police fire tear gas in Hong Kong's Causeway Bay district on the 9th consecutive weekend of #HongKongProtests #香港 #反送中 pic.twitter.com/EdmeuE5hoO

— Bloomberg TicToc (@tictoc) August 4, 2019
Sunday marked the third consecutive day of demonstrations out of a nine-week protest which began with outrage over a controversial bill which would have allowed suspects to face extradition to mainland China - a measure which has been paused but not taken off the table. Since then, demonstrators have demanded that arrested protesters be exonerated, along with the implementation of universal suffrage.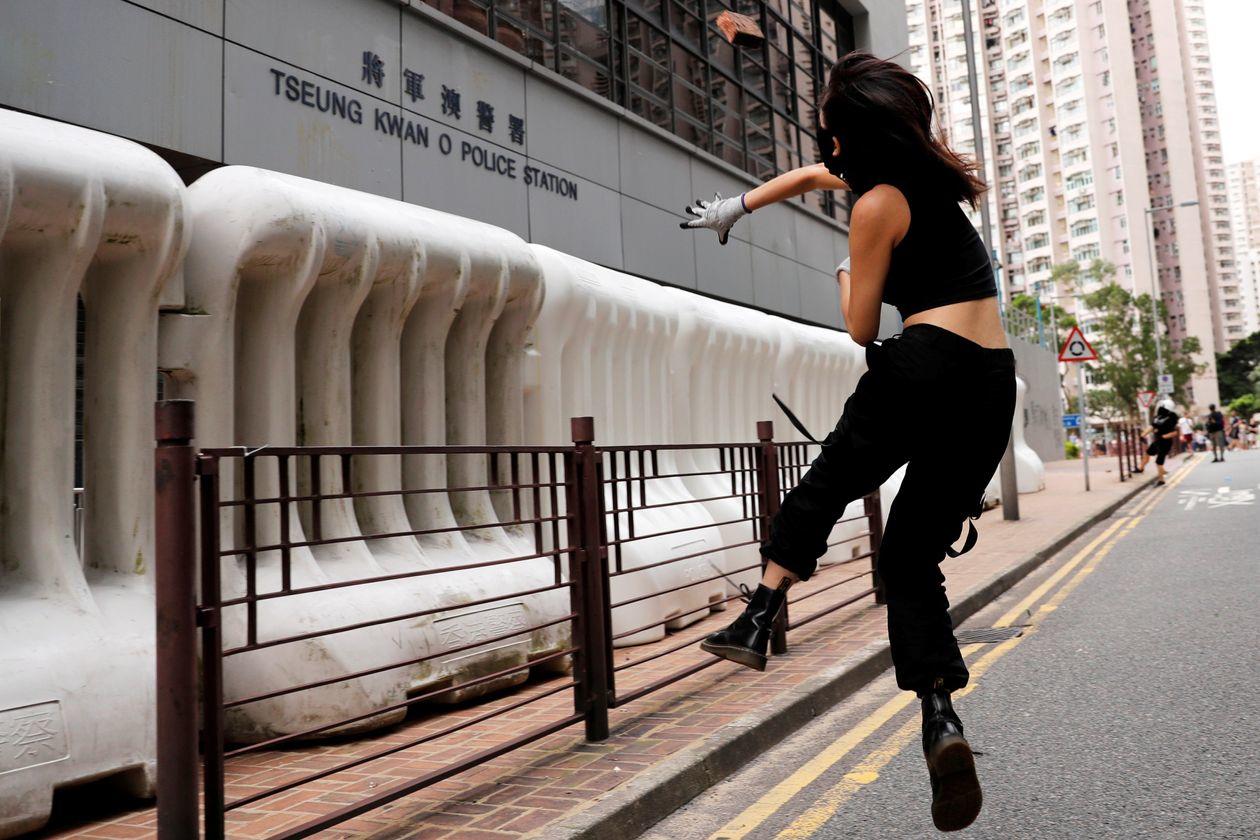 Protesters staged two massive rallies on opposite sides of the city, according to the Wall Street Journal. 
Thousands marched in the largely residential area of Tseung Kwan O while more rallied in Kennedy Town on the west side of Hong Kong Island.

In the city's Western district, police fired tear gas to disperse protesters who deviated from the approved rally location. Later, many suddenly decided to head to Causeway Bay, a popular shopping and entertainment district, occupying a busy thoroughfare. Sirens blared across the city as a group of protesters blocked the entrance to the cross-harbor tunnel, causing a massive traffic jam. -WSJ
🇭🇰 HAPPENING NOW: Riot police fire tear gas in Hong Kong's Causeway Bay district on the 9th consecutive weekend of #HongKongProtests #香港 #反送中 pic.twitter.com/EdmeuE5hoO

— Bloomberg TicToc (@tictoc) August 4, 2019
On Sunday night, Hong Kong authorities said that the unrest was a "blatant violation of law, wanton destruction of public peace and violent attacks on the police will harm Hong Kong's society, economy and our people's livelihood," adding "Such acts have already gone far beyond the limits of peaceful and rational protests for which the government and general public will not condone under any circumstances." 
"Otherwise they will push Hong Kong into a very dangerous situation."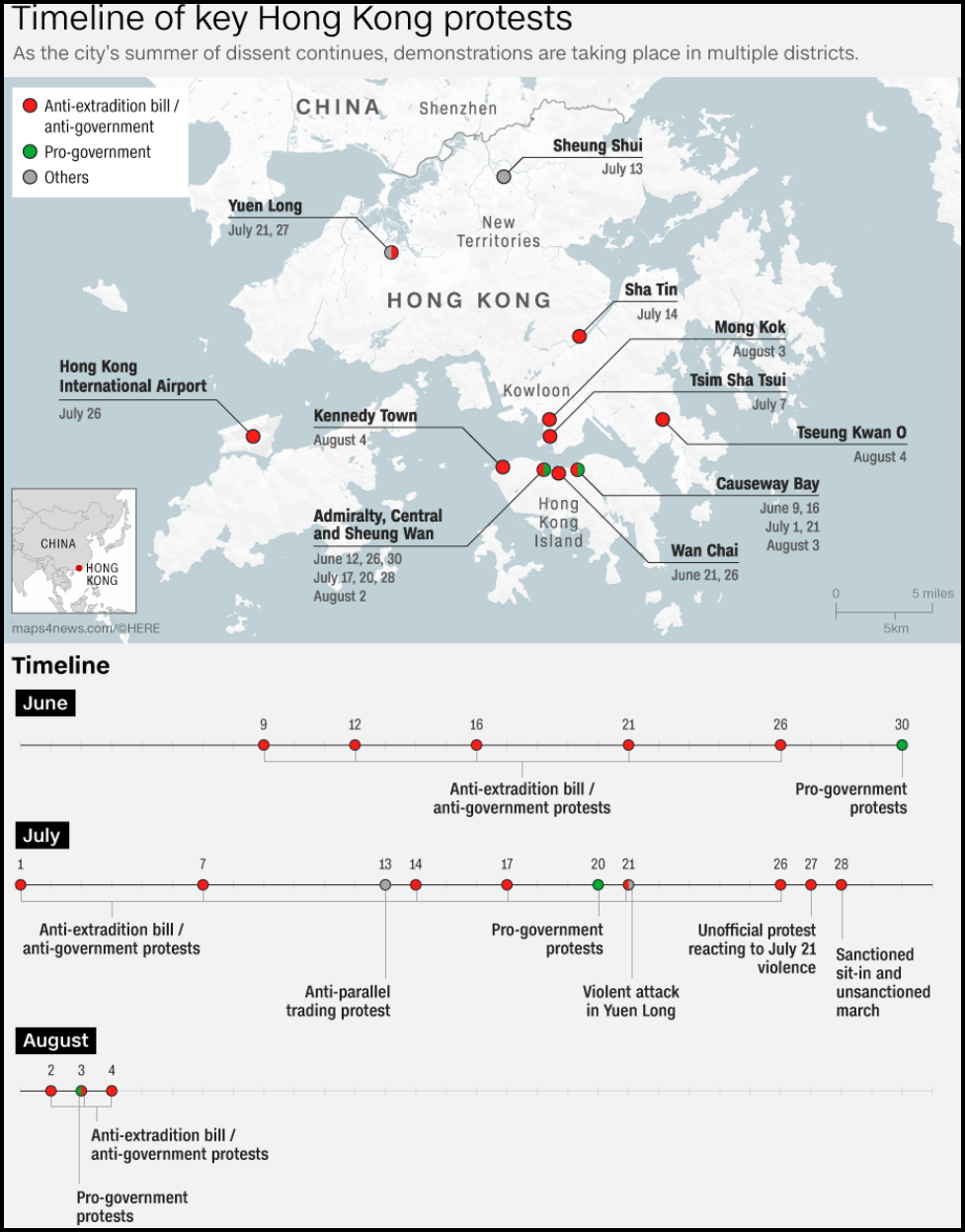 On Saturday, police and protesters clashed across five districts, with multiple police stations besieged and hundreds of activists confronting riot police.  
The antigovernment protest movement has appeared to gain steam even as police use more aggressive tactics to bring it to heel. After tense confrontations last weekend, police arrested dozens and took what many here viewed as a hard-line step by charging them with crimes that carry prison terms of as long as 10 years. Police said they arrested more than 20 people in relation to Saturday's protests, including for unlawful assembly and assault. -WSJ
Press freedom? Riot police have kept flashing the lights to obstruct journalists from doing their work #hongkongprotests #hongkong pic.twitter.com/Kpv2k3HJ9r

— Jeffie Lam (@jeffielam) August 4, 2019
"If the government is waiting and hoping the protests fade out on their own, they are going to be disappointed," said attorney Antony Dapiran, who authored a book on dissent in the city. 
When the protests began in June, an estimated two million people marched against the extradition bill. Since then, local business leaders say the movement is taking an economic toll - as they have reported soft sales vs. last year. One firm found that travel bookings to Hong Kong appear to have fallen. 
"They hurt me from my back. No warning."

This Tseung Kwan O resident says he's bleeding after being attacked by police #香港 #反送中 #HongKongProtests pic.twitter.com/VG96VNplpZ

— Bloomberg TicToc (@tictoc) August 4, 2019
That said, the protests show no sign of slowing down - as the mostly younger demonstrators say they are angry over bleaker political and economic prospects than their parents faced. Hong Kong is one of the world's most expensive places to live, and has one of the largest disparities in wealth to boot. 
"The situation is really precarious," said Hong-Kong human-rights lawyer Albert Ho, who told the WSJ "Right now, there are a lot of young people out there who feel they have nothing to lose, who feel they are looking at the end of rule of law, of a legal system, of a culture."
Meanwhile, China's Xinhua News Agency said "We must warn all the ugly forces that try to challenge the central authority and undermine the bottom line of the 'one country, two systems' principle," adding "he central government will not sit idly by and let this situation continue." 
It's only a matter of time before this gets incredibly ugly...