China is, to the surprise of many observers, actually mulling joining a proposed US-led maritime coalition to protect oil shipping lanes in the Gulf following Iran's military confirming it has seized three foreign tankers this summer. "If there happens to be a very unsafe situation we will consider having our navy escort our commercial vessels," the Chinese ambassador to the UAE Ni Jian told Reuters in Abu Dhabi.
"We are studying the U.S. proposal on Gulf escort arrangements," China's embassy later confirmed. The question that remains, however, is which side would the Chinese escort actually be trying to protect? Perhaps Beijing joining such a joint operation is a strategy for attempting to shape outcomes in the Gulf? 
After all, while the consideration is on the table it remains that China is among a handful of countries that continues to defy US sanctions, as it continues to import its crude via at least a dozen Iranian tankers, a New York Times investigation confirmed just days ago.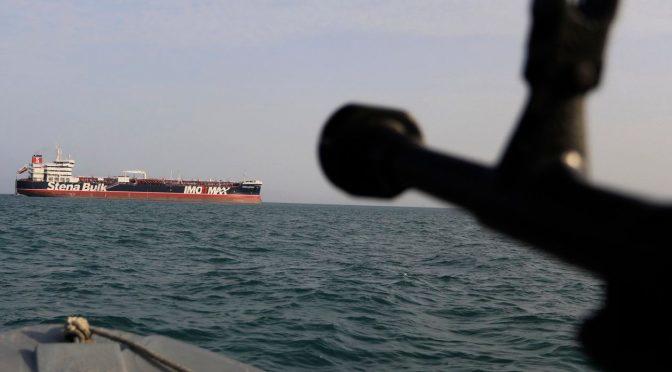 But at a time the White House has struggled to get its proposed joint maritime mission off the ground, given deep reluctance in Europe, President Trump over a month ago directly appealed to China and Japan via a tweet, saying they "should be protecting their own ships" in the contested region. 
China gets 91% of its Oil from the Straight, Japan 62%, & many other countries likewise. So why are we protecting the shipping lanes for other countries (many years) for zero compensation. All of these countries should be protecting their own ships on what has always been....

— Donald J. Trump (@realDonaldTrump) June 24, 2019
It remains unclear whether any formal request accompanied the public appeal. China has walked a fine line in the crisis, not wishing to add more fuel to the fire of worsening Sino-US relations, especially with recent failed attempts to mend the trade war. 
"We have the position that all disputes should be sorted by peaceful means and by political discussions, not... military actions," Ambassador Ni continued as part of his comments. 
Meanwhile the only European country to enthusiastically jump on board the US administration's joint patrol plan has been the United Kingdom, with Germany and France trying to distance themselves, even as they attempt to form a European-led maritime initiative. 
Should China actually joint US efforts to patrol the Gulf and Strait of Hormuz - an initiative which Tehran has vehemently rejected while saying Iran's military alone can provide security for the vital waterway - it could highlight an intensely awkward situation and contradiction. 
UPDATE on US Maritime Gulf Coalition vs #Iran

• US ✅
• UK ✅
• China , Australia : Considering
• Germany ❌
• France, Japan, India : Undecided
• Israel : Intel
• South Korea: To send Naval Unit https://t.co/G0IIM9CaRu

— Joyce Karam (@Joyce_Karam) August 6, 2019
It's ultimately China which plays a large part in preventing Trump's desire to take Iran's exports down to zero, as the recent New York Times report describes:
Twelve of the tankers loaded oil after May 2 and delivered it to China or the Eastern Mediterranean, where the buyers may have included Syria or Turkey. Only some of those 12 tankers were previously known to have recently delivered Iranian oil, and an analyst said the scale of the shipments documented by The Times investigation is greater than what had been publicly known.

The continued flow of oil underscores the difficulty the Trump administration has had in using sanctions to bring Iranian oil exports to zero after breaking with allies and partners on Iran policy. 
So again the fact that China hasn't immediately dismissed the US invitation, and appears to be actually considering it, begs the question: perhaps the Chinese navy's presence as part of a US joint maritime Gulf coalition would gain Beijing leverage in efforts to preserve the JCPOA? Perhaps it could shape outcomes favorable to Iran and block potential US aggressive action in the region?