Reuters reports intense clashes broke out Wednesday along the Line of Control in contested Kashmir between Indian and Pakistani troops. 
Citing local media, Reuters described that "troops on the border had exchanged heavy fire and that Pakistani troops have fired mortars in the clashes." The exchange of fire took place according to local media at the Sunderbani Sector along the Line of Control (LOC) after 10pm local time, with each side blaming the other for breaching a ceasefire.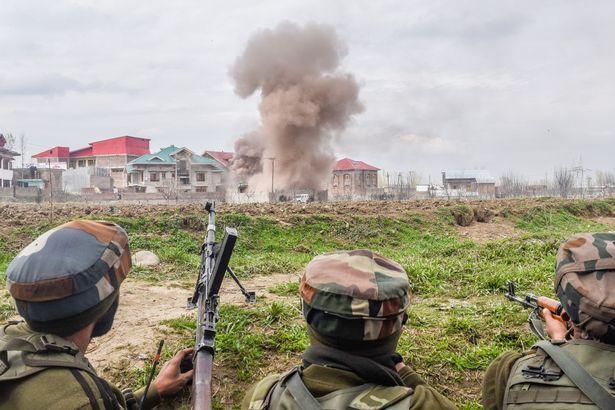 Though few details were given, especially with a near total communications blackout on the Indian-administered side in Jammu and Kashmir (J&K), military observers have been expecting intensifying shelling and clashes between the nuclear armed rivals after earlier this week the Hindu nationalist Bharatiya Janata leadership in New Delhi revoked Article 370 of the constitution which protected Muslim-majority J&K's special autonomous status.
Unverified social media reports from regional observers say the death toll is mounting amid a broad Indian crackdown on its side of the LOC.
I have received confirmed reports of over 250 casualties of civilians clashing with Indian security forces in Kashmir. Just one hospital in Srinagar has recieved 50 bodies so far....
I have also seen around 14 dead bodies of Indian troops killed in the violent clashes.

— Zaid Hamid (@ZaidZamanHamid) August 7, 2019
Pakistan's Prime Minister Imran Khan placed his armed forces on alert and on Wednesday recalled its ambassador while expelling its Indian envoy, and crucially took the drastic step of suspending bilateral trade with India. 
PM Khan further directed the military to "continue vigilance" after previously saying Pakistan would take "all possible options" in support of Kashmir's Muslim-majority population - this after regional media reported "tens of thousands" of Indian troops have surged into Kashmir, while a phone and internet blackout is in place. 
A day prior to the fresh clashes, which are likely to escalate without external mediation, Khan had suggested a "genocide" could be unfolding as Indian reinforcements continued pouring into the restive border region.
This is Srinagar, Kashmir - some of the first images we've seen since the lockdown. At least one protestor has been killed and over 100 people have been arrested by Indian military forces. pic.twitter.com/EFpTsr0Ac7

— Sana Saeed (@SanaSaeed) August 7, 2019
India and Pakistan have fought two wars specifically over Kashmir, resulting in the deaths of tens of thousands amid a nearly three decade armed revolt.