Previously little had been known of Russia's new combat stealth drone, the Sukhoi S-70 Okhotnik, or Hunter-B, which has been described as a stealth heavy unmanned combat aerial vehicle (UCAV) being developed by Sukhoi as a sixth-generation aircraft.
On Wednesday, for the first time the Russian Defense Ministry released footage of the Sukhoi S-70 Okhotnik drone in action, in a 20 minute low altitude flight at about 2000 feet. Russian news agencies reported it as the next generation drone's maiden flight.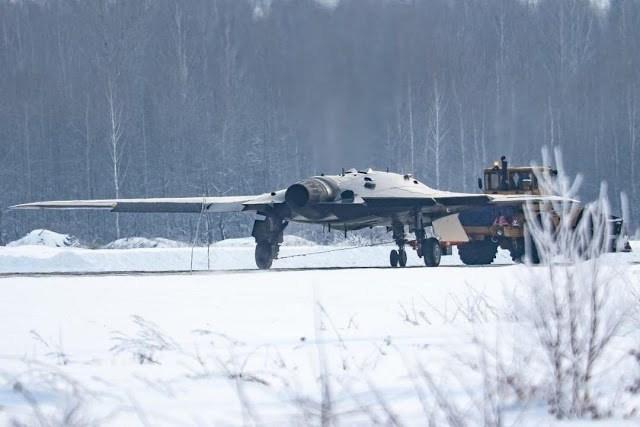 Earlier this year the secretive aircraft was first spotted by land-based cameras at an airfield in Novosibirsk in southern Russia, and then picked up by commercial satellite imagery in May at the Chkalov State Flight-Test Center. New footage now confirms its first major test flight as successful.
The flight analysis site The Aviationist described the new "Hunter-B's" first flight as "significant since the aircraft is to provide the first heavy, jet-powered, armed, long-range drone capability for Russia." And further:
The new Su-70 Hunter-B is said to have low-observable capabilities, providing it with the ability to penetrate heavily defended airspaces without detection to conduct covert precision strikes. The remotely piloted aircraft may also be tasked to work as a "leading edge of battle" penetrator, conducting the first strikes such as enemy air defense suppression during the opening phase of a major air war.
The wedge-shaped drone is considered among Russia's most advanced aircraft to date, and looks like something straight out of Star Wars. 
Russian media commonly described the Okhotnik as capable of traveling up to 5,000 kilometers (3,100 miles), despite it's significant weight of about 20 tons.