Hong Kong has fallen into violence amid the 10th straight week of protests, as police fire tear gas on thousands of demonstrators donning yellow helmets and black clothing.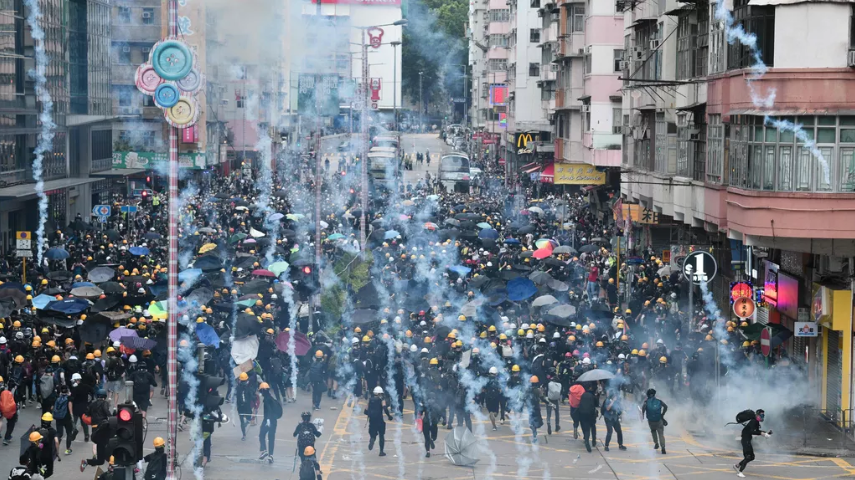 Flash mob-style protesters broke off from an earlier approved demonstration, causing police to deploy crowd control measures, according to SCMP. 
Riot police charging at protesters on Park Lane, Tsim Sha Tsui. Credit: SCMP staff pic.twitter.com/8EVJJFLY7y

— Olga Wong (@Olgawys) August 11, 2019
another arrest in shatin and police officers apparently interrupting reporters from reporting this arrest. not sure why .#hongkong

Tear Gas, Petrol Bombs Mar 10th Week of #HongKongProtests https://t.co/hEisDcmB0j @bpolitics pic.twitter.com/t8KMglcarh

— Fion Li (@fion_li) August 11, 2019
Live feed: 
In Causeway Bay, an approved rally at Victoria Park earlier morphed into an illegal march, with anti-government protesters engaging in a stand-off with police in Wan Chai, while in Sham Shui Po, clashes at a police station result in the first tear gas rounds of the day. Meanwhile, in North Point, tensions run high with the local community bracing for confrontations with protesters, while at the airport a third day of a sit-in is under way. 

Locations where rounds of tear gas have rained down on protesters are: Sham Shui Po, Wan Chai, Tsim Sha Tsui and within Kwai Fong MTR station in Kwai Chung. -SCMP
The protests were sparked by outrage over a controversial extradition bill which would have allowed suspects to be transferred to mainland China to face trial. In response, the government shelved the bill - however much like France's Yellow Vest movement, Hong Kong's demonstrators have expanded their cause into a general anti-government protest despite Beijing's dire warnings that a nearby military contingent will use deadlier measures to control the situation. 
Protesters flooded various Mass Transit Railway (MTR) stations on Sunday, some of whom were met with tear gas. 
About 50 protesters arrived at the North Point MTR station but decided to turn back as they were warned by some protesters that there was a heavy police presence at the MTR exist @SCMPNews pic.twitter.com/v6s2vVNBYN

— Phila Siu (Bobby) (@phila_siu) August 11, 2019
Another video from the same metro station (Tai Koo). The riot police is shooting at head level and barely 3 feet away. Huge risk of causing death, and appallingly excessive use of force. #HongKong #HongKongProtests #antiELAB pic.twitter.com/Ufa73deFG9

— Wilson Leung 梁允信 (@WilsonLeungWS) August 11, 2019
Meanwhile, activist Ventus Lau Wing-hong, who organized two anti-government rallies last month, had his home vandalized and received what he says was a death threat. 
Three days of demonstrations at the Hong Kong International Airport are winding down, as protesters gathered in the halls on Friday to try and explain what's going on to foreigners - passing out handmade postcards and stickers. 
Crowd in the airport's chanting "stand with Hong Kong/fight for freedom" Credit: SCMP staff pic.twitter.com/KRbHR3q9A1

— Olga Wong (@Olgawys) August 11, 2019