What if I showed you a plan for U.S. economic growth that involved destroying 80 percent of what's left of the Amazon Rainforest? Would you be shocked to learn that the American administration has already set the plan in motion? And you thought those Amazon wildfires just came about naturally. There's not that much lightning over the Amazon these days, read on and discover who the real firebugs are.  
Good Macron, Bad Trump, or Vice Versa?
When French President Emmanuel Macron Tweeted "Our house is burning," a fire alarm went off inside my head. "Why on Earth would a Rothschild banker minion pretend to be concerned about the Amazon?" I thought. Maybe Macron was taking a European poke at U.S. President Donald Trump over dumping the Paris Agreement. Or, like the mean little kid who instigates the classroom chaos, perhaps Macron just needed to divert blame away from his benefactors. Whatever the reason, something was just not on the level with these new Amazon blazes.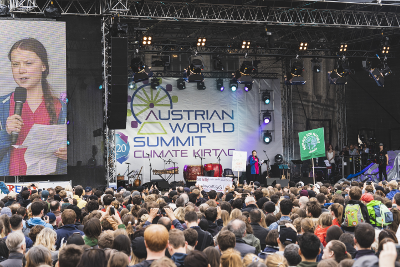 The news cycle hit on the trend #AmazonRainforest. The left and the right screamed at one another at watercoolers across America. And the politicians milked the topic for all it was worth. Then a new climate trend came along. 16-year-old Swedish environmental activist Greta Thunberg (above) and #ClimateStrike caused a flurry of concern, both real and contrived. I waded in myself, out of genuine concern the world is at the threshold of self-annihilation by 1,000 cuts. Then a BBC story flashed in my notifiers. "US and Brazil agree to Amazon development." There is was, bold as Trump's smartass comments and his orange hair. "Really?" I thought. And now we see President Trump's legions with personal attacks on a child who's trying to do the right thing. 
As it turns out, USAID has been mucking it up in the Amazon since before 2014. The agency's literature proclaims its, "implementing programs to acting as a strategic partner and catalyst for country-led growth." Yes, really. There's also a video from the U.S. State Department showing snake-eyed Mike Pompeo. In one segment, the Secretary of State announces a $100 million dollar program to "help" Brazil. This reveals the real plan. Pompeo and Brazilian Foreign Minister Ernesto Araujo pledged the funds and cooperation allegedly aimed at conservation in the Amazon. But the fact that notorious private sector companies are involved tells the real story.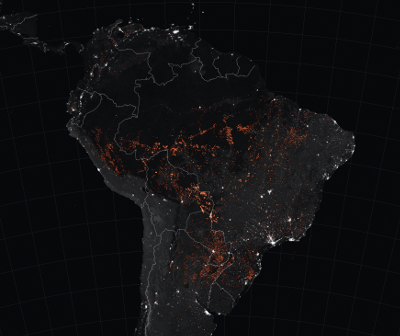 What Are We Really Preserving?
USAID, which as most of us know is aimed at aiding American corporations, reported about the Biodiversity Conservation Program in the Amazon two years ago. The program is supposed to be about preserving the Amazon. What it really does is use U.S. taxpayer dollars to seed fund companies that want to harvest billions in profit from the world's biggest rainforest. The USAID/Brazil's holistic approach aims to "build capacity." You'll never guess which U.S. company is slated to lead the way into this new biodiverse and sustainable Garden of Eden in Brazil.
Monsanto and cosmetics giant Natura are slated The remaining will be used by the beauty company to extract palm oil from the indigenous pequi trees. If we are to believe this report, "the ecosystem would benefit from certain health and climate regulation factors." It's a strange coincidence that rainforest farmers are required by law to preserve 80 percent of native vegetation on their plots. Since the Obama administration, a new "plan" for the Amazon has been taking shape. 
This is interesting since the Trump administration is supposedly all about rolling back Obama initiatives. Moving on, who can forget that Monsanto is Satan incarnate for many Brazilian farmers? I'll not digress into the Roundup Ready Soybean catastrophe here. What I would like to point out is the fact that soybeans produced in the ever-dwindling Amazon region, go to feed cattle, which also has a detrimental environmental and health impact. Now let's look at so-called "wildfires" in Brazil.
This Reuters investigative report tells the story of a Brazilian farmer named Julimar Pansera. This farmer, like hundreds of others, saw the financial benefit of growing soybeans on land that was previously mixed vegetation or savannah. According to the report, Pansera:
"...mowed down most of that vegetation, set it ablaze and started planting soybeans. Over the past decade, he and others in the region have deforested an area larger than South Korea."
Even if we forget about the downstream effects of creating immense soybean fields, this vast tropical savanna is home to over 5 percent of the species of our planet. And guess who is in charge of Agriculture in Brazil?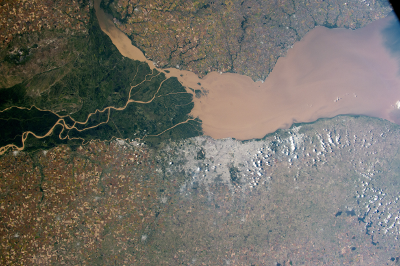 Monsanto and Blackstone and the Soy King
Not too many reading this will have ever heard of Brazil's former (until January 2019) Agriculture Minister Blairo Maggi. Known lovingly as Brazil's "Soy King," Maggi is a billionaire whose family runs the largest private soybean operations in the world. To many, Maggi is the Skeletor of environmental destruction, a man who unapologetically ruins whole regions of Brazil. Maggi's ties with Monsanto are no secret. 
Experts say the majority of the 80,000 plus fires across Brazil this year are caused by human activity such as farmers and loggers clearing land for crops or grazing. Natura was in the original USAID planning. Now the cosmetics company is bragging about pioneering biodiverse agroforestry systems on degraded land for sustainable palm oil production through a public-private partnership with USAID. Rather than being persuaded to protect their lands, farmers are actually being forced to deforest their property in Cerrado or risk losing it. You read that correctly.
Enter Blackstone investments and its co-founder and CEO Stephen Schwarzman, who is a close ally of Donald Trump. A recent story in The Intercept reveals how U.S. investors are behind the deforestation and "cultivation" of Brazil as a cash cow. Two companies, one heavily invested in by Blackstone and another tied to Senate Majority Leader Mitch McConnel, are neck-deep in destroying what's left of the rainforests. To quote author Ryan Grim on who's causing the carnage:
"The companies have wrested control of land, deforested it, and helped build a controversial highway to their new terminal in the one-time jungle, all to facilitate the cultivation and export of grain and soybeans. The shipping terminal at Miritituba, deep in the Amazon in the Brazilian state of Pará, allows growers to load soybeans on barges, which will then sail to a larger port before the cargo is shipped around the world."
Digging a little deeper into the USAID effort in Brazil, it doesn't take long to identify much of the initiative as lip service. A look at seminars organized by USAID and constituents reveal images of thin audiences and tired looking stakeholders on the one hand, and investment gurus on the other. Looking at the list of private collaborators with USAID, I am struck by the breadth and depth of the financial interests involved.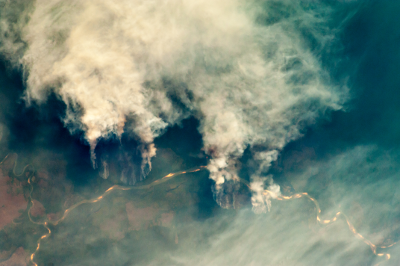 Forget about notorious Cargill or Dow chemicals, the holding funds and financial tentacles like Natixis Investment Managers, with ties to names like Rothschild,  Blackstone, and a laundry list of notorious environment pillagers. Funny thing, in social media these last days Trump pundits have been saying Greta Thunberg is sponsored by Dow and some of these others. Can you think of a reason for Earth's worst corporate denizens to get behind the world's most powerful message? Sorry, I know you once thought USAID was really about food for poor people too. 
A meetup called the Global Landscapes Forum (GLF) in Luxembourg ties corporate food production and land use directly to what appears to be a pitch contest to see who has the best biodiversity pirate idea. This is from the PDF describing the Luxembourg summit:
"How can banks and investors drive more capital to sustainable, commercially-viable agricultural production and processing models that are aligned with the U.N. Sustainable Development Goals (SDGs) and the Paris Climate Agreement?"
Or in other words, a call for ideas on how to milk more profit from an already devastating situation. It's not surprising that this meetup circles us back around to French President Macron and a vested interest known as Fondaction, a worker fund that's contributing $10 million to "converting" degraded land to profitability with the Land Degradation Neutrality (LDN) fund. Excuse me, but this makes the frantic fires in the Amazon all the more logical. The more forests and savannah that can be degraded before the public gets wind, the more soybeans and palm oil can be planted in Brazil.
Brazil: A "Whopper" for Business
The current Brazilian President Jair Bolsonaro has been a long-time proponent of turning the Amazon over to agri-business. And this is just what USAID's role seems to be. Agropalma, which is listed as one of the private concerns USAID is partnering with through Platform for Partners in the Amazon (PPA), is the massive palm oil producer and refiner under investigation for illegal land grabbing practices. Throw in a multi-year corruption probe known as Operation Car Wash involving another USAID collaborator and Anheuser-Busch subsidiary called Ambev, and the Brazilian rainforest starts to look like gangland Chicago from the 1930s. And I can't seem to get this 1970s ad jingle out of my head now:
"It takes two hands, to handle the whopper, cause the burgers are bigger at Burger King!"
The mess that is the Brazilian rainforest situation is further exacerbated by what also looks like mafioso tactics. The list of USAID collaborators seems two-sided. Notorious names like Monsanto or Cargill are mixed in with positive bio-trade companies like Beraca and Natura. The matrix of companies and NGOs seems orchestrated to let good vibes rub off on very bad reputations. The rabbit hole is too deep to discuss here, but since I mentioned Anheuser-Busch Inbev, a good place to end this report is with Brazilian billionaire Jorge Paulo Lemann, who owns a huge chunk of such stocks.
Brazil's second richest man, according to Forbes, Lemann runs a philanthropic effort called the Lemann Foundation, which has partnered with the Humanize Foundation of another Brazil billionaire named Jose Roberto Marinho. I don't wish to make the reader Brazilian billionaire dizzy, but these two foundations also hook up with Brava Foundation, founded by Lemann's billionaire business partner Carlos Sicupira. USAID lists Humanize on the website but rest assured these billionaires have interests that intersect with burning forests. Forgive me if I throw in a joint acquisition between Berkshire Hathaway and Lenmann's 3G Capital that brought H. J. Heinz Company under the Brazilian's umbrella for $28 billion in 2013. Like I said, the rabbit hole of profiteers operating in Brazil is wide and deep. Let me leave you with a kind of "full circle" roundup (pun intended) here.
USAID Amazon partner Cargill sells soy that is used for the animal feed that feeds livestock that goes into burgers, chicken nuggets, hot dogs and other meat products. Burger King, the world's second-largest hamburger chain, is controlled by Lemann's 3G Capital. And there's part one of a whopper of a Burger King story.