---
Class 8 Heavy Duty Truck Orders Fall 49%, Marking 12th Monthly Decline In A Row
While analysts following Class 8 Heavy Duty Truck orders will be quick to point out the sequential improvement from September's dismal numbers, October's Class 8 sales still fell significantly on a year over year basis, according to preliminary data from ACT Research. 
The industry booked 22,100 total units in October, which was up 74% sequentially, but down 49% from 2018. It marks the 12th month in a row that orders were lower on a year over year basis.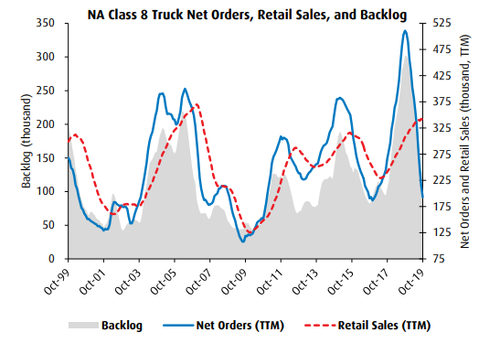 Buckingham Research commented in a note out Tuesday morning that they believed the numbers were "just strong enough" to indicate that Class 8 production won't fall to a "recession like" level in 2020.
Someone should inform them that 12 months of falling Y/Y numbers likely means that the industry is already in recession. 
BMO had a slightly less optimistic take in a note released on Tuesday morning, calling orders of heavy duty trucks "anemic". 
"And although October's one-month SAAR of around 214K trucks improved from 177K in September, it remains well below a peak of 743K units in July 2018. Moreover, cancellations totaled about 23% and 21% of net orders in August and September, respectively, and showed some moderation from July's roughly three-year high of 30%, but are still elevated. Meanwhile, prices of used vehicles are depreciating at faster-than-normal rates."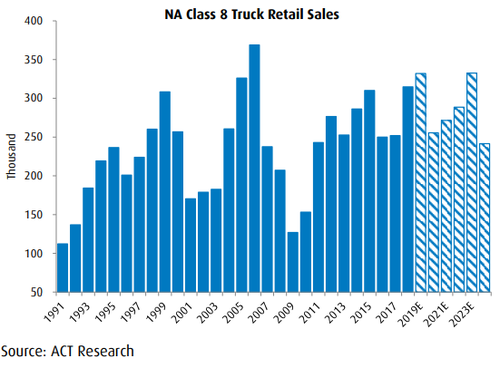 BMO also says that commercial vehicle makers are likely going to continue to "chew through order books, which likely stood at 4.2 months' worth of production in October compared with more than 10 months in December."
The industry's backlog looks to have fallen to under 125K units at the end of October, BMO says. This compares to just over 300K in October 2018. Their note concludes: 
"Although freight volumes have held up well, other transport metrics have stayed pressured, as more carrying capacity enters the market. For example, spot rates for dry vans dropped more than 13% y/y in October and were down 2% compared with September, according to DAT solutions, a freight-exchange service. Moreover, the Cass Freight Index, a measure of monthly freight activity in the U.S., fell more than 3% y/y in September and marked the tenth consecutive month of declines. Thus, it is hard to see the trends reversing anytime soon."
Orders of medium duty, Class 5-7 trucks fell 12% sequentially in October to 16,400 units.