Things couldn't possibly be looking any worse for the Chinese auto industry.
Even before the coronavirus scare, the industry had already been mired in a steep recession that we have been covering at length for nearly the last two years. To make matters worse, that recession was predicted to continue for a third straight year, through 2020, with sales forecasted to fall yet again. And this was before the coronavirus...
Now, with the entire country locked down due to the coronavirus, things look as though they could be much worse for China's auto industry. And that, in turn, could very easily pull down the auto industry globally.
Last month, inventory of unsold cars in China rose by 6.5%, according to Bloomberg. Average inventory levels were at 62.7% for January, according to the China Automobile Dealer Association. These numbers are far above the standard 50% level that is considered normal in the industry. 
And the forecast for the immediate future, let alone the rest of the year, looks pessimistic. Dealers are expecting sales in February to be less than half of those a year ago. In fact, Bloomberg notes that 70% of dealers polled by the CADA said they had seen "almost no customers" since the end of January. 
This follows China's Miao Wei, Minister of Industry and Information Technology, saying in mid-January (prior to the coronavirus outbreak becoming severe) that the industry still faces "big downward pressure".
At the time, he predicted sales of just 25 million units for the year. We obviously think that this number could wind up being materially lower. 
Recall, sales for 2019 totaled 25.769 million units. Sales of just 25 million units - an optimistic prediction in our eyes - would mark a third straight year of declines for the world's largest auto market regardless.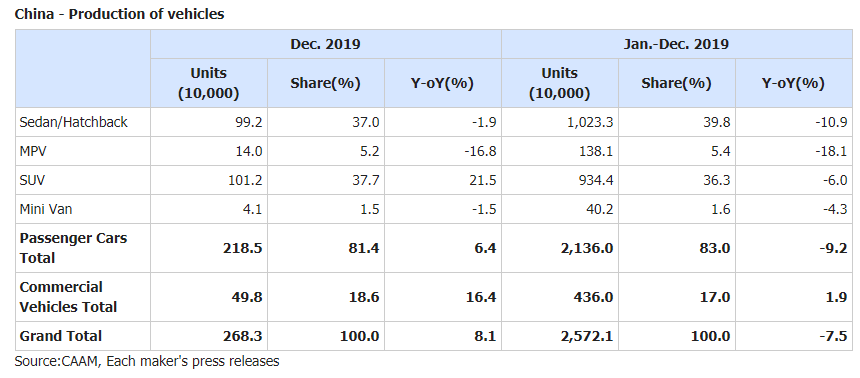 As we noted several weeks ago, passenger car vehicle sales in China fell to end 2019, plunging 3.6% to 2.17 million units, according to the China Passenger Car Association. 
It marked the 18th drop in the past 19 months for the country. For the full year 2019, sales in China declined 7.5%, marking the country's second straight annual decline.