Yesterday we put out a wish list for the Federal Reserve Bank of New York regarding purchases of mortgage securities and financing for same.  And this AM, by a stroke of providence, the Fed did indeed ride to the rescue, taking the gloves off in terms of purchases of Treasury and mortgage backed securities paper.  Of note, GCF repo volumes have barely moved all month, as shown below. 
GCF Repo (DTCC)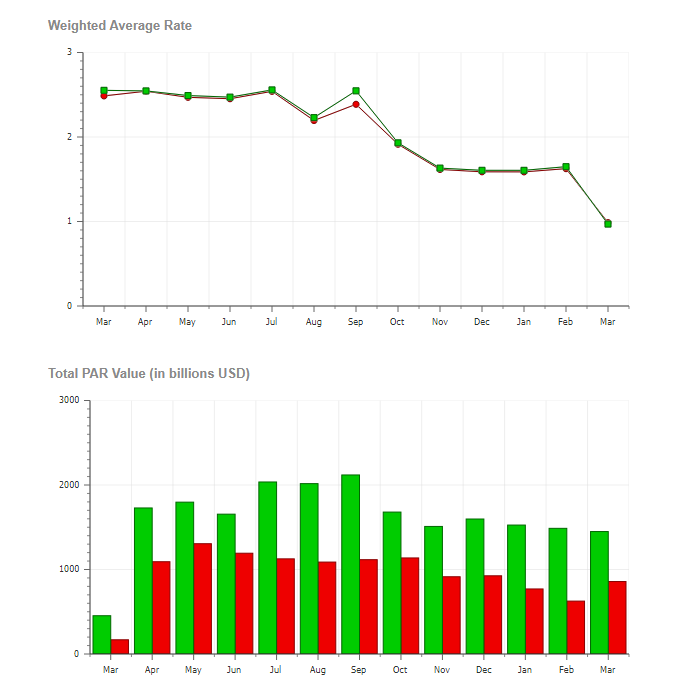 The good news is that the Fed's action probably saved the failure of several large REITs this AM.  The bad news is that this morning was the final Battle of Helm's Deep, in Tolkienesque terms.  We have a long, long way to go.
One CEO said this AM: "If we'd opened today the way we opened last Friday, there'd be no REITs left..."  We hear similar from other quarters of the secondary mortgage markets.  But in truth the response time now compared to 2008-2009 is far better than a decade ago.
Several smaller nonbank lenders defaulted last week.  A lot of residential loan rate locks are being repudiated as you read these words, especially in the non-QM sector which was on track for a record year.  And on Park Avenue, small groups of vultures and other scavengers are gathering as the Street looks for the next opportunity.
The immediate problem is what happens between now and Friday.  There are a lot of investors and issuers that are wearing some pretty substantial losses on books that were, in theory on March 1st, hedged.  The securities buy from the FRBNY does not include either adjustable rate mortgages (ARMs) or the credit risk transfer (CRT) transactions by Fannie Mae and Freddie Mac, which are trading in distressed territory this AM.  Just imagine what would have happened to the GSEs this morning had they been "private."
How the financials end Q1 2020 is going to matter a great deal.  Even with the liquidity assistance from the Fed and the GSEs, the mark-to-market losses on hedge books that were not hedged and things like CRTs ad ARMs, which are not agency eligible securities and are essentially no bid today, will be significant  Yet it needs to be said that all of the paper in the agency mortgage complex is money good and should not raise concerns from investors as was the case a decade ago, when non-agency paper was half the market.
In the world of alt-a and non-QM loans, however, the damage is considerable and is not likely to be fixed in the near term.  Even paper that proves eventually to be money good is likely to require a substantial negative mark after Friday's close.  Conduits filled with non-QM loans are going to require heavy marks. And the banks, while solvent and highly liquid, are going to be taking significant increases in loan loss reserves – whether the folks at FASB force the implementation of CECL or not.
The good news is that the supply of liquidity is rising.  The bad news is that the illusion of zero or even negative cost credit that we've seen over the past few years has suddenly ended, forcing an immediate reckoning two week hence.  With this mark-to-reality in terms of credit comes a reduction of trillions of dollars in notional wealth in the global equity markets and a substantial downgrade in the book value of global financial and commercial firms. 
Somebody mention CLOs? Ponder this excerpt from TCW last week: "In the beginning of February, about 45% of loans were trading above par. By the time we hit the middle of the month, roughly 38% of loans traded above par as we watched loans generally drift lower despite a very light primary calendar. However, by the end of the month, merely 2.8% of the loan market remained above par."
Only way to fight the short-term deflation is for the Fed to keep buying Treasury and MBS paper until yields fall.  When we see residential mortgage refinance loans getting done at or near 3%, then we'll start to see a real recovery.