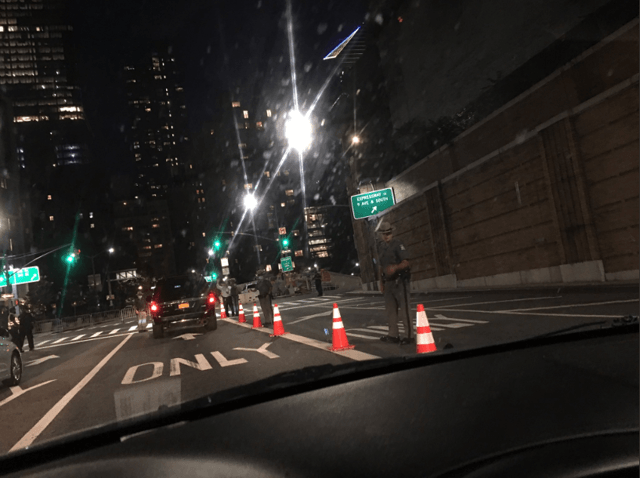 New York State troopers turn back cars at Manhattan's Lincoln Tunnel entrance (photo via journalist Michael Tracey). 
Driving Through Chaos
In a previous post, I described how the engine we use for security selection had expanded from 4 cylinders to 10. Here, I wanted to update how that's working now, but before I do, I wanted to share a few thoughts on the current situation in America. 
From One Epidemic To Another
Two months ago, President Trump mooted a quarantine of the greater New York City area, to limit the spread of COVID-19. His call for a quarantine was rejected by local officials, but much of the U.S. economy was shut down to prevent the spread of the disease. Movie theaters were closed, gyms were closed, sports were canceled, and people were required to wear masks when leaving their homes and to keep 6 feet apart from each other. That's how we dealt with the epidemic of COVID-19 which, as of June 2nd, had killed over 107,000 people in America, with more than 40,000 of those deaths in New York and New Jersey. 
Now all of those restrictions on outdoor gatherings have gone out the window, as America has erupted in mass protests of another putative epidemic: deaths of blacks as a result of police brutality. That issue came to the fore at the end of May, when a black man, George Floyd, died while in custody of the Minneapolis police.
As of June 2nd, Manhattan below 96th Street appeared to be quarantined to limit looting. The looting is happening in conjunction with protests in the wake of the death George Floyd. 
The Scope Of This Epidemic
Given how quickly we've abandoned social distancing, and given the extent of the protests, you might assume the epidemic of unarmed black men being killed by police rivals COVID-19 in scope. Yet according to official data, only 41 unarmed individuals were killed by American police in 2019, and of those, only 9 were black. Deaths of unarmed blacks at the hands of American police have actually declined by about three-fourths since 2015.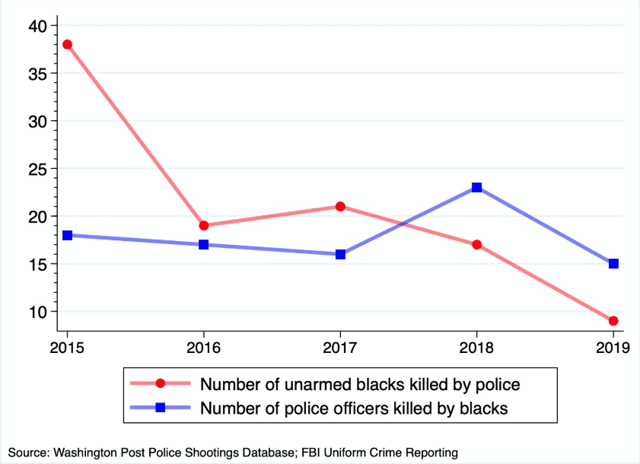 Who Is The Target Of The Protests?
What's extraordinary about these protests is that I can't think of anyone in power who doesn't claim to agree with the protesters. The policeman who knelt on Floyd's neck has been arrested by authorities in Minnesota, along with the three other policemen who were with him; the Attorney General of the United States has launched a separate investigation, and everyone from the current President of the United States, to his predecessors, to the leaders of America's largest companies and most prominent brands has paid obeisance to the protests. Many of the brands have been looted during the unrest, but this hasn't dented their fervor. 
What Is Going On? 
In part, we're probably seeing some effects of most Americans going two months without any sports or live entertainment, gyms, and similar outlets. Beyond that, I don't know. One theory is that the current movement is akin to a religious awakening, as suggested by video such as the one in the second tweet below. 
Another theory is that this is an attempt to oust President Trump. 
Why Is the Market Unperturbed By This?
Two reasons come to mind. The first is that the messages of solidarity with the protesters by brands from PepsiCo's Doritos to Disney's Star Wars suggest Corporate America has nothing to fear from the unrest, aside from some smashed in storefronts. 
The second is that the tolerance of the mass protests indicates that the COVID-19 lock downs are effectively over. So, after the unrest ends, the economy can reopen. COVID-19 deaths will tick up or down, but economic life will go on. 
Selecting Securities In This Environment
Every trading day, Portfolio Armor analyzes every security with options traded on it in the U.S. It looks at total returns as well as options market sentiment to select its top names - the ones it expects will do the best over the next six months. Because its universe includes exchange traded products as well as stocks, it's able to shift to different asset classes as market conditions change. 
In most markets, the top names tend to be mostly stocks. March 2nd's top names cohort was the first one to shift away from stocks after the COVID-19 Correction started in late February. That cohort only had two stocks in it, LogMeIn (LOGM) and Allergan (AGN) (since acquired by AbbVie (ABBV). The rest of the names were gold or fixed income ETFs, with the two gold ETFS, IAU and GLD leading the pack so far.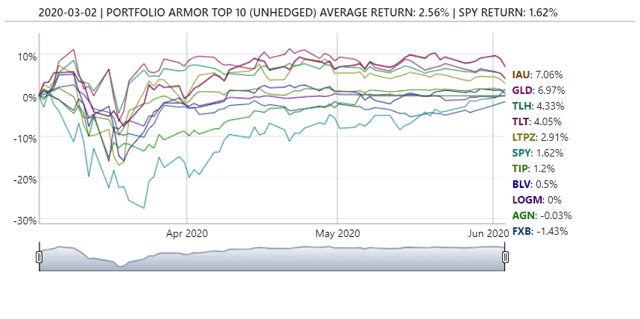 Despite the SPDR S&P 500 ETF (SPY)'s climb back from the March 23 low, this cohort is still outpacing the market slightly.
Shifting Back To Stocks
Partly as a result of the changing market conditions, and partly as a result of the changes we made under the hood recently, 8 of the top 10 names on June 3rd were stocks. We track performance for these top names cohorts for 6 months. We've been doing that in real time since June of 2017, so we have full 6-month performance data for 130 weekly top names cohorts now. So far, they've outperformed SPY by 0.78% annualized so far. We'll start to see in 6 months if the changes we've made recently will increase our performance relative to that of the market.