Authored by Steve H. Hanke, Professor of Applied Economics at Johns Hopkins University. Follow him on Twitter @Steve_Hanke.
Each day, I accurately measure inflation for countries experiencing elevated inflation rates using high-frequency data and the principle of Purchasing Power Parity.
Lebanon has only recently been added to my weekly roundup. But now, just one month after its first appearance, Lebanon has become the world's 62nd occurrence of hyperinflation.
Below is my list of countries with annual inflation exceeding 25%/yr.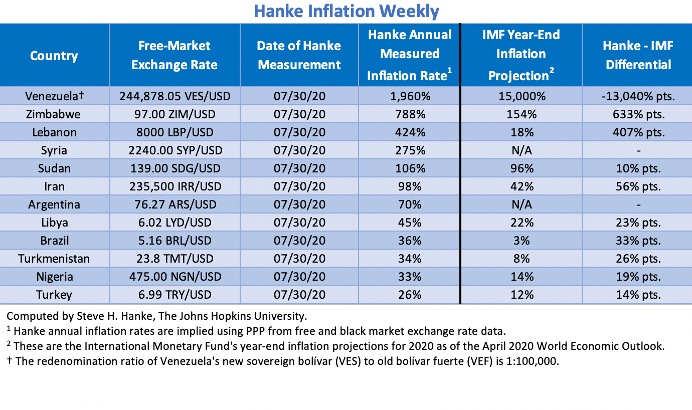 Note that my MEASUREMENT of implied inflation rates is accurate and often veers far from the widely reported International Monetary Fund's (IMF) FORECAST. It's important to remember that while I can MEASURE high inflation episodes with great accuracy, no one can FORECAST their durations or magnitudes. Nevertheless, the IMF routinely attempts the impossible: to FORECAST inflation in high-inflation environments. Doing this only creates wrong data, and wrong data generates misinformation.
1) Venezuela - Inflation Rate of 1,960%/yr
Inflation has run rampant in Venezuela. By my measure, inflation is at a stunning 1,960%/yr. This comes as the Bolivar remains severely weak, hovering around its lowest exchange-rate ever at 250,000 VEF/USD.
2) Zimbabwe - Inflation Rate of 787.55%/yr
Second on my weekly inflation roundup is Zimbabwe, with an inflation rate of 788%/yr. Adding to instability, Zimbabwe's government recently signed an agreement worth $3.5 billion to compensate white farmers who were evicted from their land during a controversial and violent land redistribution program under former President Robert Mugabe. However, the Zimbabwean government likely cannot afford to make the compensation.
3) Lebanon – Inflation Rate of 424%/yr
On July 22, 2020, Lebanon reached its 30th consecutive day of having monthly inflation greater than 50%. As Lebanon became the world's 62nd occurrence of hyperinflation, it also became the first MENA country to hyperinflate. However, Lebanon's hyperinflation period lasted only for 30 days, with monthly inflation falling to 36% on July 23, 2020. The Central Administration of Statistics reported in their latest June 2020 report that inflation was 89.74%/yr. However, by my measure, annual inflation ending on the last day of June was over 469%/yr. The pound's value has stabilized against the dollar, staying at 8,000 LBP/USD for 3 consecutive days at the end of this past week.
4) Syria - Inflation Rate of 275%/yr
Following a period of relative cooling, the Syrian pound is once again burning: in just six days, it has depreciated over 19% against the dollar.
5) Sudan - Inflation Rate of 105.74%/yr
Sudan takes fifth place on my weekly inflation roundup, with an inflation rate of 106%/yr. The free market rate of the Sudanese pound is now 139 SDG/USD, the highest it's been since the start of the month. Sudan exported two tonnes of gold on Monday in a bid to provide foreign reserves for the Central Bank of Sudan and improve the status of the local currency. Sudan is planning to export two tonnes of gold each week.
The inflation rate has remained above 100%/yr for almost 30 consecutive days. Furthermore, Hambok intends on initiating a currency adjustment plan, aiming to reach a full float in two years.