---
Gold dn $20, BTC up $500: "Bitcoin is Replacing BoomerCoin"
​
​​
Follow Vince on Twitter; Gold Technical levels courtesy of  MoorAnalytics.com 
Good Morning. As of this writing, everything is up except for precious metals. Gold futures are offered down $15.60 at $1869.50 after almost touching $1860 this morning. Silver is 30 cents lower. Stocks are solidly firmer with the Dow leading. BitCoin continues its "broad-based" acceptance run above $18,000 this morning the USD is slightly lower.  Oil is up 75 cents and Natural Gas is up 2 percent. Grains are firmer with Soy futures up 12 cents.
Bullion boys are gonna push it a bit

— VBL (@VlanciPictures) November 17, 2020
Yesterday's market between Comex and Globex closes saw Gold getting sold with sell flow on traders' books. The market had traded flat for hours all day. Then at 3:30 or so some noted flow changes to this author.
The following is an excerpt from Moor Analytics Gold Technical Report. Posted here with permission
...trade below $1,869.6 (+1.2 tics per/hour starting a 8:20am) will project this downward $34 minimum, $110 (+) maximum;but if we break below and back above decently, look for short covering to come in. This can be more aggressively drawn to come in at $1,875.2 (+1.5 tics per/hour starting at 8:20am).

Decent= $6.80
VBL Comment: Apparently BitCoin is replacing our beloved BoomerCoin. We need PayPal to put buy buttons on their site to buy Gold now.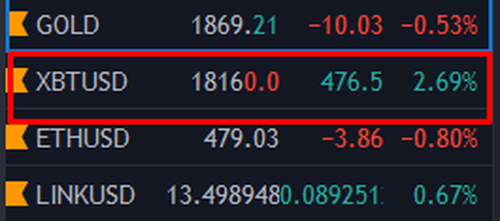 Gold lower with everything else being higher might simply be a comment on Covid premium coming out. We likely saw sell orders above get forced into the market about 4am ET this morning as a result of the meltdown between 1:00 and 3:00pm yesterday. From here Gold can continue fishing for real buyers as momentum algos sell weakness. The first real buyers should come in between $1851 and $1869 using Micheal's levels as a guide.
GOLD FUTURES 240 MINUTE CHART: Gold Bounces like a Marble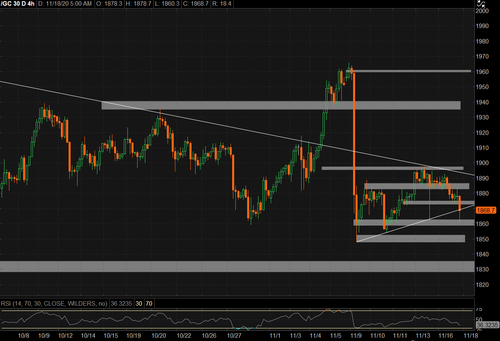 Today's GoldFix will discuss HOW TO TAKE PROFITS USING OPTIONS
That's it. Good Luck
VBL