---
Gold: Seventh Time Sub $1870 is the Charm
​
​​
Follow Vince on Twitter; Gold Technical levels courtesy of  MoorAnalytics.com 
Good Morning. As of this writing, almost everything is down except for the USD and Bonds. Gold futures are offered down $14.00. Silver is 40 cents lower. Stocks were lower all night and started bouncing at 4am ET. BitCoin is down small trading around $17,730 after reaching $18,500 two days ago. Oil is 25 cents lower and Natural Gas is down over 2% with December futures trading $2.64 last. Soy futures are down 9 cents.
Selling It to Buy It
Gold has swooned several times down here these past 2 months only to recover in a mostly orderly fashion. The orderly bounces suggest to some that the first sellers are the last buyers. The lack of rip higher after these selloffs is telling that there are few momentum algos selling the hole as there had been for the past few months. The orderly rallies also suggest patient marketmaker style buy programs.
Yesterday we said the following
How many more sweeps under $1870 can gold take?
Conversely: who is buying it when it gets there?
and
Is noone "selling in the hole" to start a rip higher?

Concerning pic.twitter.com/hjTJZNk9bl

— VBL (@VlanciPictures) November 18, 2020
Basically the market longs are getting stopped out and dealers are buying from them lower. Same old Gold. Prior to that, noted technician Adam Mancini noted the frequency we had pushed and recovered in that same area
"For the 6th time since September now, $GOLD has washed below the $1870 level and recovered.
This level is getting vulnerable to a breakdown so bulls want to see direct upside from here on this recapture ($1900 then $1940 targets). If this bounce fails support isnt until $1830" - Adam Mancini
That makes sense. We've dropped and bounced several times here. The lack of short covering rally says there are no shorts to cover. And here we are down there again, possibly breaking one more time as the season of selling Gold ends
The following is an excerpt from Moor Analytics Gold Technical Report. Posted here with permission
The decent trade back above $1,869.6 (+1.2 tics per/hour) only brought in $14.6 of short covering before failing back below where it came in at $1,871.3, negating the short covering bias. We are called $13 lower as of 5:03am.

Decent= $6.50 today
VBL Comment: It's still sell season for metals and pressure from December liquidation makes us biased bearish as we have been for a month. But if it does go to $1830, we wont be aggressively short. It's too close to the beginning of the fresh allocation buying for us to be aggressive - maybe a put spread or something we can hedge for a reversal.
GOLD  CHART: 4 hour futures - Some Moor Tech levels in gray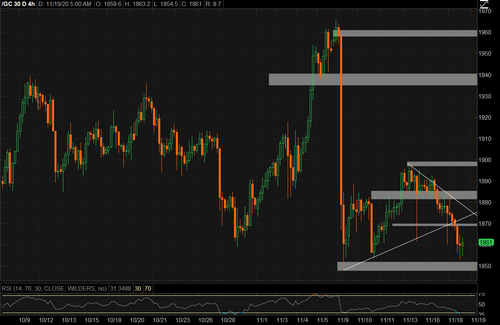 Today's GoldFix will discuss HOW TO TAKE PROFITS USING OPTIONS
That's it. Good Luck
VBL