---
GoldFix: Sour Bitcoin Grapes
 Follow Vince on Twitter; Gold Technical levels courtesy of  MoorAnalytics.com
Good Morning. As of this writing, The DXY is up 32 bps at 89.85. Gold futures are up $9.00 at $1917.60. March Silver is trading up $0.16 at $27.20 and change. US stocks are all at or near ATH. The ES is 3756 up 15+; NQ is up 72 at 12689 and Dow futures are 30,807 adding 85 after yesterday's impressive protest defying rally.  Copper is flat after its own  2 day rally.  Bitcoin is up 690 or 1.8% at 37,587.  Its kid brother Ethereum is down 1% at 1200 after making ATHs yesterday also.    Oil is flat  at $50.70 after a strong  2 day run up. Volatility as measured by VX futures are trading at 24.05. Soybeans are trading $1356 down a nickel with Corn and Wheat also down on the session.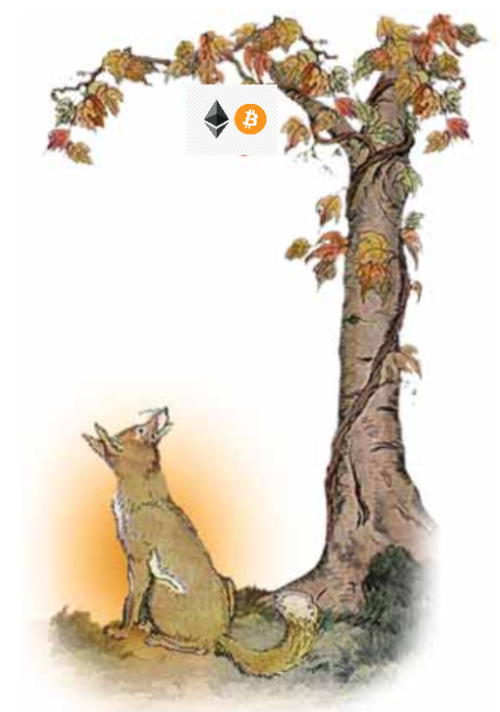 h/t Hayata
The Fox & the Grapes
A Fox one day spied a beautiful bunch of ripe grapes hanging from a vine trained along the branches of a tree. The grapes seemed ready to burst with juice, and the Fox's mouth watered as he gazed longingly at them.
The bunch hung from a high branch, and the Fox had to jump for it. The first time he jumped he missed it by a long way. So he walked off a short distance and took a running leap at it, only to fall short once more. Again and again he tried, but in vain.
Now he sat down and looked at the grapes in disgust.
"What a fool I am," he said. "Here I am wearing myself out to get a bunch of sour grapes that are not worth gaping for."
And off he walked very, very scornfully.
There are many who pretend to despise and belittle that which is beyond their reach.
Stock Grapes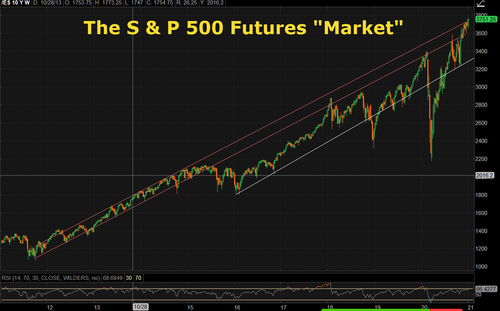 Crypto Grapes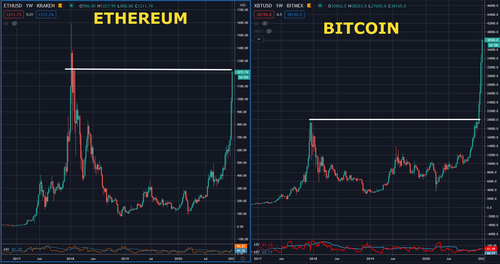 Gold, NG, and WTI Technical Comment
The following are excerpts from Moor Analytics Gold and Energy Technical Reports posted here with permission.  Charts and live tutorials on how to read Michael's work supplied by VBL daily
Gold (G) - 1/5 Get long above $1,926.2-9.6 (a moderate suggestion). If we break above $1,944.2-6.2 and back below, look for pressure. Sell against/into $1,958.8 - 62.5.

GC 4 Hour

Natural Gas (NG) F - MACRO FORMATION: We settled in a bull leg. Settlement below 2422 will start this in a bear leg. On a macro basis: We are in a bullish correction or trend against the move down from 3452 in October. My take is that this is likely not just a correction, and we may see some
wide consolidation over the next few weeks to...

 NG

Crude Oil (WTI) (G) -MACRO FORMATION: We settled in a bull leg. Settlement below $48.40 will start this in a bear leg. On a macro basis: On 4/29 we left a bullish reversal below that warned of renewed strength for days—we have seen $35.96 from that open at $14.98 in the (M).

CL

Go to MoorAnalytics.com for 2 weeks of his Gold and Energy reports free.
That's it. Good Luck.
VBL
Yesterday: OCC Weighs in on Bitcoin