---
GoldFix: : Analyst Price Predictions for 2021
Good Morning.  The compiled predictions by various sell side banks and analyst firms is presented in this 3rd party piece for your perusal. Beyond the snapshot of these annual predictions, it is helpful to have some context of past prognostications. We note there is little disagreement among the banks with investment clients this year. Usually there is one bank which predicts a much lower number for whatever reason. That not being the case this year, it might imply something about their client base and prop trading book positions.  Sometimes it helps to focus on analyst changes as the year progresses. We suggest keeping this bookmarked (or a snapshot of the table) as a reference to see how Bank and/or analyst predictions change in response to market action. Changes are often telling of bias and new orderflow.  Not unlike stock analysts  upgrading Tesla price targets after it goes up, how some firm analysts react to price moves is their "job security gamma" being hedged. If Gold goes up, see who upgrades their price higher fastest and the most. If the year progresses and Gold does not breach any of these levels, see who downgrades their prediction first or last. Frequently taken as a whole these type of changes can give you an idea how seriously to take the reports offered. We hope to discuss these on the GoldFix broadcast as they change over time. There are some genuine historical biases known to us among the analysts here. We follow them all. - Follow Vince on Twitter
2021 Gold Price Prediction, Trends, and 5-Year Forecast
By Jeff Clark, Senior Analyst, HardAssetsAlliance.com
Most price forecasts aren't worth more than an umbrella in a hurricane. There are so many factors, so many ever-changing variables, that even the experts usually miss the mark.  Further, some forecasters base their predictions on one issue. "Interest rates will rise so gold will fall." That's not even an accurate statement, let alone a sensible prediction (it's the real rate that affects gold prices, as I'll show below).  But there is value in considering predictions. It can solidify why one has invested, offer factors that may have been overlooked, or even cause one to revise their expectations.  So while we take predictions with a grain of salt, let's look at what might be ahead for the gold price in 2021 and the next 5 years. We'll first summarize what many analysts are predicting, and then look at the factors that are likely to have the biggest impact on gold. I'll conclude with the probable prices I see based on those factors, as well as some long-term projections.  
The Golden Crystal Ball
I've compiled gold price predictions from a number of banks and precious metals analysts.  The table below shows the gold price prediction from various consultancies and independent analysts. Not all gave a forecast for both time periods, but I've listed what they've stated publicly. Here's what they think is ahead for gold.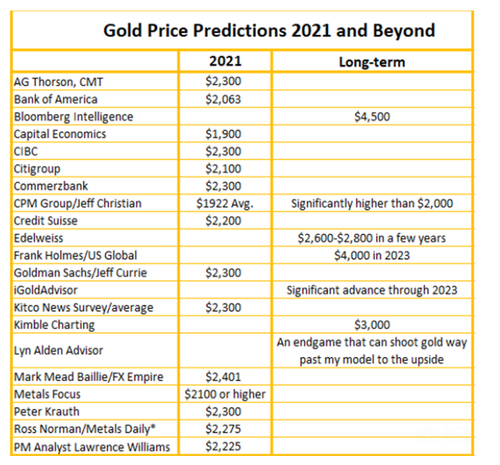 Q4 Performance Major Asset Classes
You can see that most analysts predict gold will exceed $2,000 per ounce in 2021. Two project it will average in the $1,900-range. And of those I found, all are very bullish long-term (though this survey is not exhaustive, as there are always analysts who are bearish).   A couple interesting points to highlight from these analysts…  
CPM Group's projection is lower than most, but if gold averages $1,922 in 2021, it would represent an 8.2% increase over 2020 and a record annual average. They also state that "we expect prices to rise sharply at some point in the future, to new records significantly higher than $2,000. Such an increase would be expected to be caused by investors buying increased volumes of gold in a future economic and political crisis… the period 2023 – 2025 is perhaps the most likely time period to expect such." (Their outlook and projections can be viewed in more detail in their monthly Precious Metals Advisory on their website.)  
Meanwhile, we'll note that analyst Ross Norman has won first place in the LBMA gold price survey nine times. He predicts gold will rise 20% this year.   Last, the average 2021 gold price forecasts from these analysts is $2,228.  So what is my 2021 gold price prediction? To answer that question we have to look at the various factors that are likely to have the biggest impact on the price, both positive and negative.  
The Golden Path
Based on my experience in the gold sector, here is a review of the factors I believe will have the most influence on the price this year.  Monetary and Fiscal Stimulus: Monetary stimulus (from the Fed) is not expected to let up this year. As one example, Chicago Fed President Charles Evans said, "Economic agents should be prepared for… an expansion of our balance sheet…"  And fiscal stimulus (from congress and the president) is likely to explode in 2021. The interesting thing about this type of stimulus is that it bypasses the banks and puts funds directly into the hands of people who will have a propensity to spend it.   
President-elect Joe Biden has explicitly stated that his "first priority" when he takes office is a stimulus package. And with the return of Janet Yellen—now as Treasury Secretary—further stimulus will be supported. During her tenure as Fed Chair and in recent communications, the message is very clear: more fiscal stimulus is coming.  Fiscal stimulus amounts are not finalized as we write, but based on what has been said publicly so far, we should expect something in the range of at least $3 trillion in fiscal spending in 2021.  Monetary and fiscal stimulus is arguably one of the strongest catalysts for gold, not to mention the ramifications that can come from it. Of course if they don't enact stimulus, or much less than expected, it would be a drag on the gold price. But that isn't likely to happen, at least this year. 
(Abridged for space)
Here's today's Technical report for Gold including a Moor Analytics report tutorial.
GoldFix live now. https://t.co/wBx0QWNomt

— VBL (@VlanciPictures) January 22, 2021
That's it,Good Luck