---
SLV: "Authorized Participants May Be Unable to Acquire Sufficient Silver..."
As of this writing, SLV tokenized futures are up 1.24% Sunday night. trading $25.72 after settling $27.31 on Friday.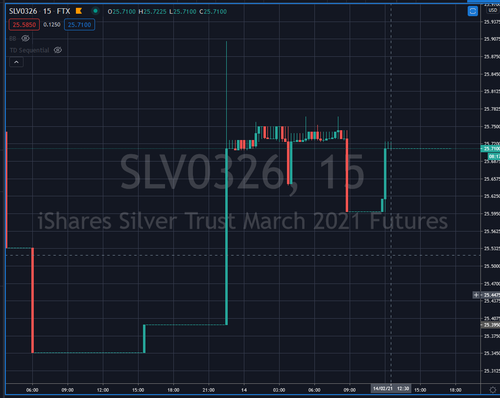 We saw this on Twitter tonight via GATA

It was linked in a twitter post by James Turk here.
Thanks to @BullionStar and https://t.co/DIvFwhiogM for alerting me to change in #SLV prospectus that let's SLV off the hook if it is full of paper instead of #silver. This admission by SLV could be the trigger that launches the silver rocket. More here: https://t.co/w1EabVxOAN pic.twitter.com/0qr5NUj4Cy

— James Turk (@FGMR) February 14, 2021
We went to  the source document and took a look. Here is what we found on first pass, adding to what James Turk posted: Emphaisis and "hot takes" ours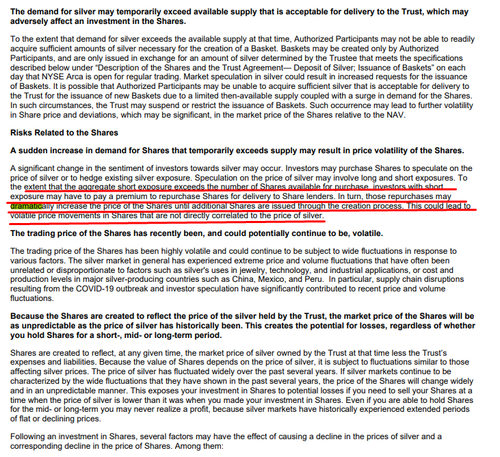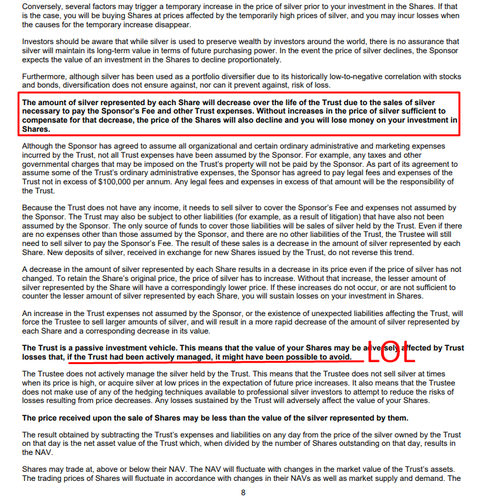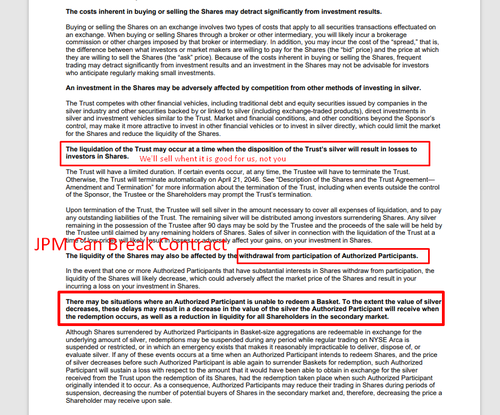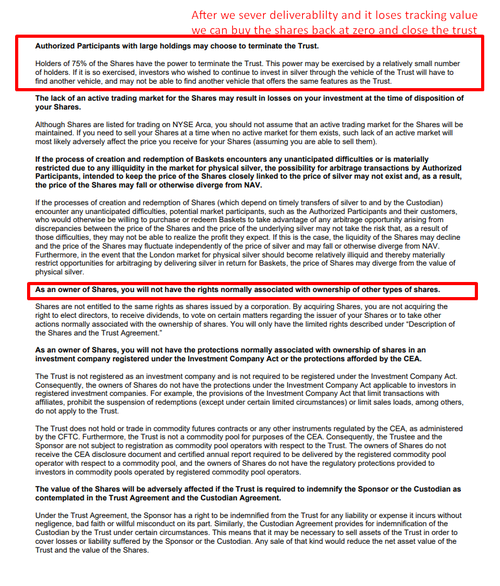 We do not know if this is new in the prospectus or has been there since inception. It would not surprise us if it was there since inception. As professional traders know, the Comex itself does not have to stand for delivery on its futures contracts if  there is a squeeze. It is also known that to suspend \delivery on a futures contract is to kill it  and the reputation of the exchange that lists it. So We assume much of this was already there, but will look into the previous version to verify. For now we just thought it good to get this out there.
Special thanks to Daniela Cambone for drawing attention to this tonight
Here you go. My quick coverage
CC: @danielacambone @FGMR and at https://t.co/22TUkApg6Z $SLV #silversqueeze https://t.co/u4c8by4NEj pic.twitter.com/10zxxZzoN4

— VBL (@VlanciPictures) February 14, 2021
Here is the phrase that generated the headline:
It is possible that Authorized Participants may be unable to acquire sufficient silver that is acceptable for delivery to the Trust for the issuance of new Baskets due to a limited then-available supply coupled with a surge in demand for the Shares. In such circumstances, the Trust may suspend or restrict the issuance of Baskets. Such occurrence may lead to further volatility in Share price and deviations, which may be significant, in the market price of the Shares relative to the NAV.
That's it. Good Luck
Open the document
Press CTRL F
Enter the word you want to search for
 by Soren K. Group on Scribd