---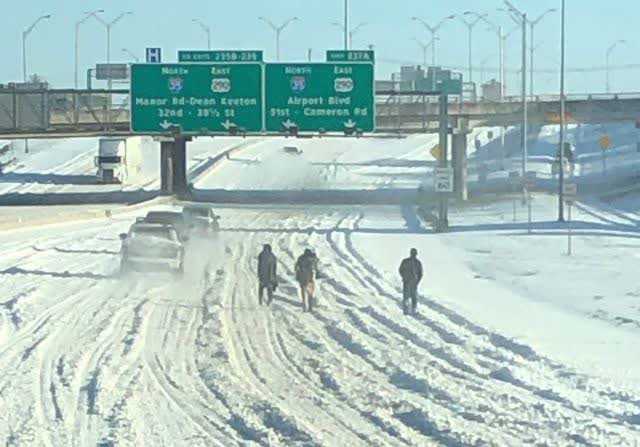 Texans trudge through the snow on Interstate 35 in Austin (image via the Texas Department of Transportation). 
Winter Storm Messes With Texas
As of Tuesday night, the winter storm in Texas had caused 17 deaths and left millions without power. Naturally, it's been politicized already, with some pointing to the failures of green energy, 
And others suggesting the problem was not enough green energy.
Apparently, though, subfreezing temperatures in Texas took ten thousand megawatts of power generated by multiple sources offline: some windmills were down, but also some natural gas and coal power generation was down too. Bloomberg Green, in an article which wasn't as tendentious as "Green" would suggest, said "everything went wrong at once":
Power plants weren't fully weatherized, wiping out generation capacity. The ones that were still standing struggled to get enough fuel, with shale wells experiencing so-called freeze-offs. Many wind turbines stopped spinning. Texas, with a grid notoriously isolated from the rest of the U.S., was unable to call on neighboring states for help.
Investment Implications
Bloomberg TV aired a special about the situation in Texas on Tuesday afternoon; the segment in which Alix Steel interviewed Mark Rossano of C6 Capital was informative. It starts at about 4 minutes into the clip embedded in the tweet below. 
As we noted in the tweet above, Rossano said he'd been bullish on Generac (GNRC), a company that manufactures backup generators. Readers may recall we mentioned Generac in our previous post, Silver Blindness. We noted that GNRC was one of our top ten names at the end of last year,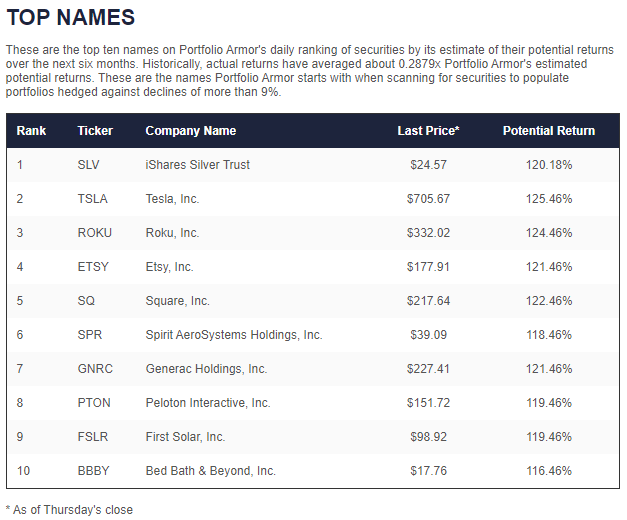 Screen capture via Portfolio Armor on 12/31/2020. 
And we closed by asking what might be the GNRC of today that silver-focused investors might be missing. Since it hit our top ten on December 31st, GNRC is up 54.14%.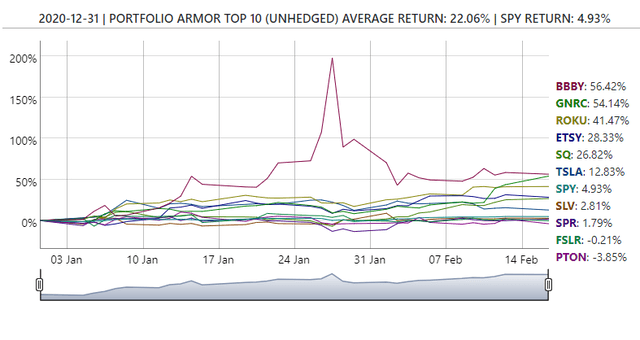 Checking our records, GNRC was also one of our top ten names back in September of 2019. We track these top names cohorts for six months, so that one ended near the market nadir in March of 2020, but GNRC actually posted a positive return over that time frame. 

A Recent Top Name Which May Be Peaking
Generac was up 7.25% on Tuesday, but another recent top name of ours boosted by the crisis in Texas was Permian producer Laredo Petroleum (LPI). It was up 11.43% on the day. Laredo was one of our top ten names on January 21st. 
Our top ten names on 1/21/2021. 
Incidentally, readers may recognize another top name from our January 21st cohort, Bionano Genomics (BNGO). We mentioned it a post a week later (GameStopped), where said it looked like it had more room to run. It was up another 41% as of Tuesday's close.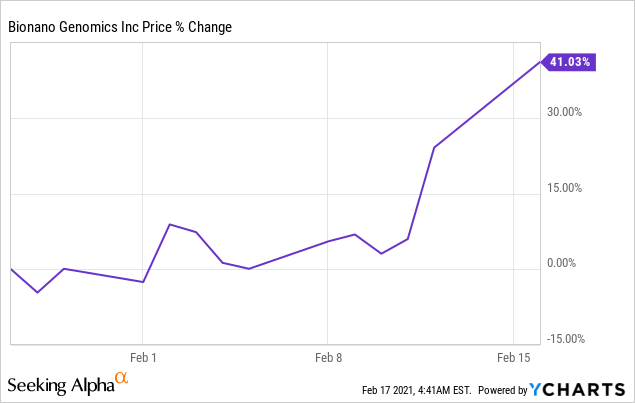 BNGO is our top performing name so far from our January 21st cohort, with Laredo Petroleum the next best performer.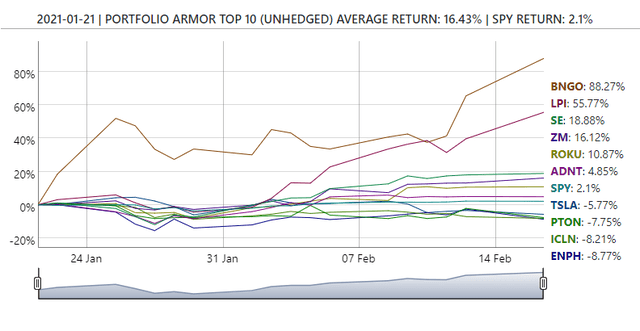 We're not particularly bullish on LPI now: our system estimates a potential return of only about 8% for it over the next six months. Also, in his Bloomberg interview, Mark Rossano mentioned he was turning bearish on crude now, thinking oil prices had gotten overextended recently. Let's look at a way LPI shareholders can try to capture another 8% upside, while limiting their downside risk. 
Adding Downside Protection To LPI
Since Laredo is too expensive to hedge with puts right now, here's an optimal collar you can use to hedge it. Our assumptions here are that you own 1,000 shares of LPI and can tolerate a decline of up to 12% over the next month, but not one larger than that. We capped this collar at 8% as that's our current potential return estimate for the stock. 
Capped Upside, Zero Cost
This was the optimal collar, as of Tuesday's close, to hedge 1,000 shares of LPI against a >12% decline by March 19th.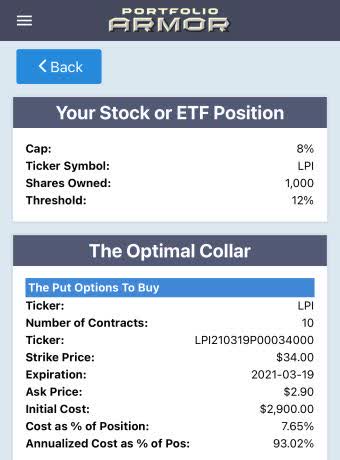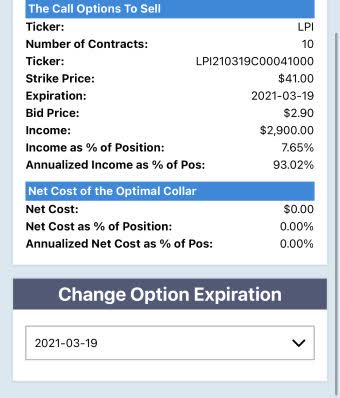 Screen captures via the Portfolio Armor iPhone app. 
Here, the cost of buying the puts was canceled out by the income generated by selling the calls, so the net cost of the collar was $0. That cost was calculated conservatively, assuming you placed both trades at the worst ends of their respective spreads. Most likely, you would have actually had a net credit when opening that hedge. 
Finding The Next GNRC, BNGO, LPI, Etc.
As a reminder, we post our top ten names each trading day for subscribers to our website and to our top names feature on our iPhone app. We get end of day files from our data providers by about 6pm New York time, and usually have our top names posted by about 9pm, after our system has crunched all the numbers.