---
"When's The Last Time You B*tches Won A War?"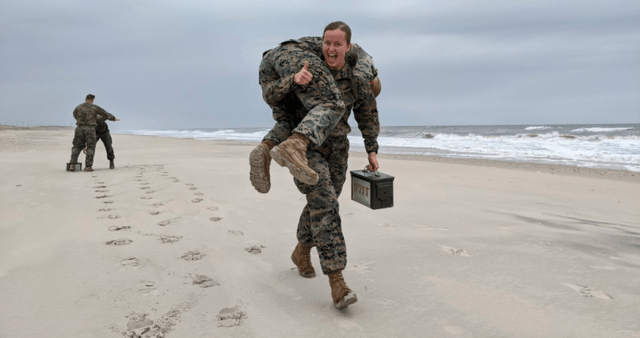 Photo via the U.S. Marines. 
The U.S. Military In Another War It Can't Win
Fox News anchor Tucker Carlson's segment last week contrasting the current feminization of the U.S. military (exemplified by maternity flight suits for pregnant fighter pilots), struck a nerve with those who run the now fully woke U.S. armed forces. 
Senior U.S. military officers' and NCOs' increasingly strident responses to that criticism appear to have struck a nerve with a number of Americans. Here is a selection of responses to official military accounts via Twitter. 
On The Military's New Partisanship
Alienating Its Base Of Supporters
Questioning The Military's Core Competence 
Wondering What We're Fighting For
Investment Implications 
This is the part where, if we sold bullion, we might say it's time to buy gold and silver, because this is all a sign of American decline. You could also bet against the U.S. dollar via forex (see this axitrader review). But we don't sell bullion, and we know that, as Adam Smith said, "there's a lot of ruin in a nation". Not an inexhaustible amount, of course, but it's also not inevitable America will continue on its current trajectory. Maybe ultimately some good will come out of this, if we see a bipartisan coalition for channeling some hundreds of billions of dollars from Department of Defense bloat and pointless wars to improving infrastructure other useful spending at home. We have no investing suggestion related to this beyond our usual approach: buy and hedge an handful of securities that we estimate are likely to do well over the next several months and are also relatively inexpensive to hedge. Speaking of which, here's a quick follow up on the last batch of those securities we presented here. 
Follow Up On "Starbase Tesla"
In our post published at 4:25am last Tuesday morning (Starbase Tesla), we shared our top names as of Monday's close:
Last time we wrote about the stock (Tesla Crashes), we said our system was bullish on Tesla as of Friday's close. It was bullish on Tesla again on Monday, as you'll see below.

Every day the market is open, our system analyzes the 4,500+ stocks and ETFs with options traded on them in the U.S. It starts by assuming their returns will revert to historic means, and then it tests that assumption by gauging options market sentiment on each one. On Monday, despite its ~6% drop, Tesla was our #1 name.

Screen capture via Portfolio Armor.
Here's how those top names have performed since: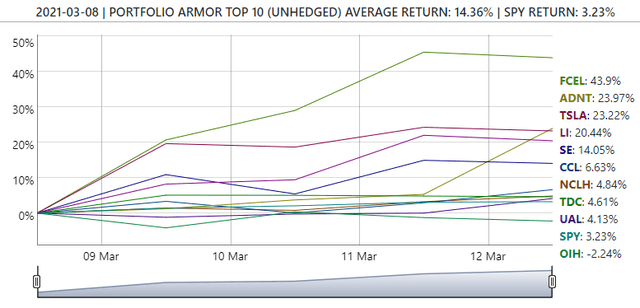 FCEL, ADNT, TSLA, and LI were all up >20% on the week. 
Follow Up On Boeing
Finally, a quick update on our most recent post (Boeing's Shares Have Been On Fire Too), which bears some relevance to the extraordinary situation of our military engaging in a social media war with an American cable news pundit.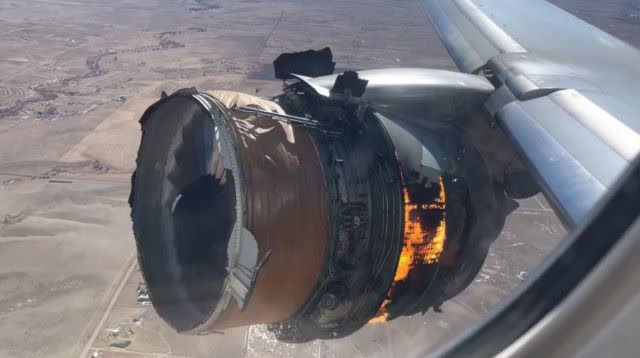 A Pratt & Whitney engine on a Boeing 777 catches fire during United Airlines flight 328 in February (image via passenger video at CNN).
Boeing (BA) is relevant here first because obviously its a major defense contractor. But it's also relevant because, like America, it has been in apparent decline for years, but you would nevertheless have made money betting on it recently. As we wrote there:
If you only pay attention to Boeing (BA) when an engine on one of its planes catches fire, or when another one suffers a similar fate the same day, or when a third Boeing plane makes an emergency landing a couple weeks later, you may be surprised to hear this. Since our system selected Boeing as one of its top ten names last September, Boeing shares are up 66%.
After that post was published at 3:35am on Friday, Boeing shares spiked another 6.8% in Friday's trading. 
Hopefully, America's leaders can pull its institutions out of their current tailspin. In the meantime, we can hold onto our metaphorical parachutes (hedges) and try to make more money while staying safe. 
Monday Morning Update: 
May have to write a follow up post to this, as the reactions to the military social media offensive keep coming in. In the meantime, a new post with an investment idea for you: "Spinning Their Wheels And Going Nowhere?"