---
"This Is Banana Republic Sh*t"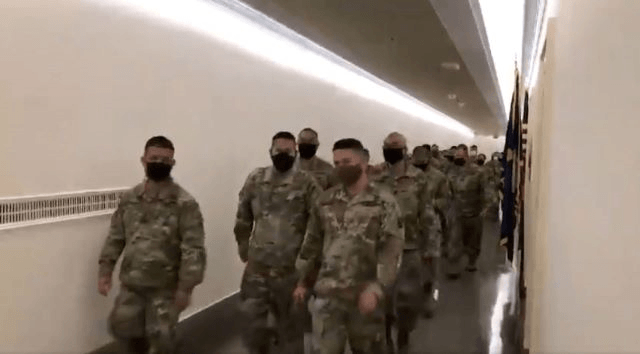 Guam National Guardsmen March To Rep. Marjorie Taylor Green's Office gt(screen capture via video shared by The Hill). 
No Brakes On This Train
You might have thought that after last weekend's social media assault on a cable news host backfired ("When's The Last Time You B*tches Won A War"), the U.S. Military would have laid low for a bit. Instead, members of the Guam National Guard marched over to Rep. Marjorie Taylor Green's office in a show of force. Green, you may recall, was elevated by the media last month as a Trump outrage replacement. After mistakenly (or "falsely", to be tendentious as The Hill was in its tweet below) saying Guam wasn't part of the United States, Guam's non-voting Congressional delegate paid her a visit, with a platoon of his territory's Guardsmen in tow. 
This prompted reactions similar to the ones we documented in our previous post. Let's look at a few of them. 
Reactions To The Guam Insurrection 
Credit to Ron Coleman for calling this an "insurrection", borrowing the hyperbolic language the establishment used to describe the January 6th chaos in the Capitol. 
Frank Burton was one of several observers rhetorically asking what the reaction would have been had a right-leaning politician shown up at AOC's office backed by troops. 
Pete D'Abrosca added to calls from the right for drastically cutting the Department of Defense's budget. 
And credit to J. Reuben Clark for inspiring the headline of our post. 
More Backlash Against The Military 
In further examples of the right souring on the military, Richard Hanania pointed out how much money the Defense Department spends on propaganda. 
Jim Hanson reminded Rep. Ted Lieu that military "information operations" weren't supposed to target U.S. citizens. 
"Indian Bronson" responded to the U.S. Army's post about its chief diversity officer with an example of a downside of emphasizing diversity: soldiers showing loyalty to the country of their ancestry instead of the United States. 
In a pushback against the military's cheerleading of the lethality of female "warfighters",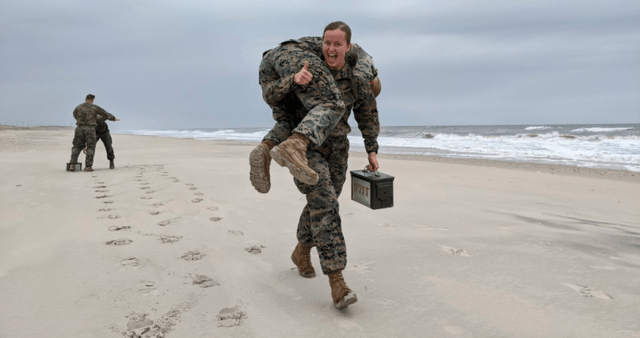 Photo via the U.S. Marines.
Chris Benoit III shared a video of a coed military grappling match ending in a predictable result.
And James Kirkpatrick questioned the wisdom of the military's campaign to lose American hearts and minds while Washington risks blundering into a war with China over Taiwan. 
Presumably, the U.S. military's baizou cringe-posting hasn't upped its deterrence capability in the eyes of China. Lomez expanded on the cringe aspect here. 
And, finally, The American Sun showed how confidence and trust in the U.S. military has declined since 2018, predicting a further fall. 
Betting On A Banana Republic
In our previous post, we cautioned against making investment decisions by extrapolating from America's current craziness:
This is the part where, if we sold bullion, we might say it's time to buy gold and silver, because this is all a sign of American decline. But we don't sell bullion, and we know that, as Adam Smith said, "there's a lot of ruin in a nation". Not an inexhaustible amount, of course, but it's also not inevitable America will continue on its current trajectory. Maybe ultimately some good will come out of this, if we see a bipartisan coalition for channeling some hundreds of billions of dollars from Department of Defense bloat and pointless wars to improving infrastructure other useful spending at home.
After we wrote that though, a bearish bet on U.S. Treasuries popped up on our top ten names on Monday (as of this writing, our system was still crunching the numbers on Tuesday's top ten). Before we get to that, quick caution about our top names. 
Predictions Are Hard
Our system starts out agnostic about U.S. Treasuries and every other asset class, including stocks. Its universe includes every stock, ETF, and ETN with options traded on it in the U.S. Every trading day, our system analyzes each of them based on their past total returns and options market sentiment. It then ranks those names based on their potential returns over the next six months, net of hedging cost. 
We track how our top names do over the next six months. As we mentioned last week ("1.9 Trillion Reasons To Rethink Precious Metals"), our 15-week streak of beating SPY with those top names ended last week.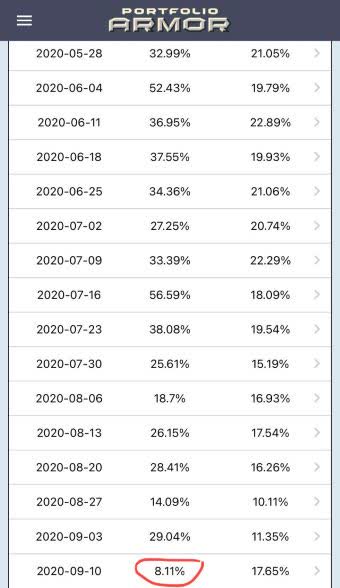 September 10th's top names cohort ended our 15-week streak of beating SPY. Screen capture via the Portfolio Armor iOS app.
With that said, this was the top name of ours from Monday that may appeal to those betting on a banana republic scenario: the ProShares UltraPro Short 20+ Year Treasury ETF (TTT). It's triple-leveraged, so we'd suggest hedging it if you buy it. Fortunately, it's inexpensive to hedge now if you do so with an optimal collar.