---
Lemon Juice In The Eyes For Citron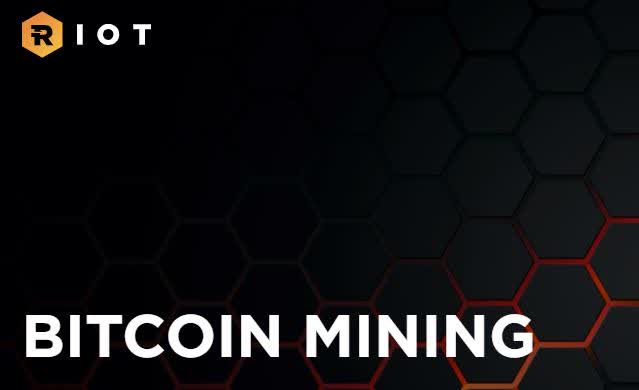 Screen Capture via Riot Block Chain.
Lemon Juice In The Eyes 
In New Yorker writer William Finnegan's Pulitzer Prize-winning memoir, Barbarian Days: A Surfing Life, Finnegan describes getting lemon juice squeezed in his eyes by a local bully: 
Once, it was true, a Mexican kid, a stranger, got me down under some pepper trees after school, pinning my arms, and squeezed lemon juice in my eyes... I couldn't quite believe what was happening. Lemon juice? In my eyes? Put there by someone I didn't even know? My eyes burned for days. 
We imagine Citron Research's Andrew Left felt something similar on Tuesday. He went on Bloomberg TV that morning to tout his firm's short of Bitcoin miner Riot Blockchain (RIOT). 
Riot Blockchain jumped 15% on the day, and the $1.6 million dollars in RIOT puts someone bought 17 minutes before Citron released their bearish report dropped 45%. 
Citron shorting a Bitcoin miner on fundamentals on the eve of the Coinbase (COIN) IPO, with Bitcoin near an all time high, was probably bad timing. 
Our Take On Riot Blockchain
In a post in early February (Silver: The Family Circus Of Investments), we mentioned that Riot Blockchain had been one of our top ten names on February 1st. Unlike Citron, our system doesn't consider fundamentals when ranking stocks; instead, it analyzes price action and options market sentiment. Based on that, it was bullish on RIOT on February 1st. Since then, shares of RIOT have nearly tripled. 
We're still bullish on RIOT over the next few months. However, as we wrote a couple months ago (How The Next Crash Happens), we're mindful of Anatoly Karlin's prediction of an "epochal" crypto boom followed by a bust this year. 
When that crypto bust happens, whether or not it comes this year, we expect Riot Blockchain shares would get absolutely demolished. But there's a way you can bet on RIOT now, with five times more potential upside than downside. 
Heads You Win, Tails You Don't Lose Too Much
On Tuesday, if you scanned for optimal, or least expensive, put options to hedge Riot Blockchain against a greater-than-20% decline by mid-September, you got this error message.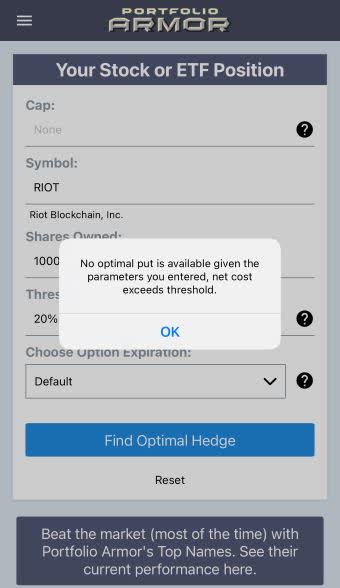 This and subsequent screen captures via the Portfolio Armor iPhone app.*
The cost of protecting against a >20% decline in RIOT over that time period was itself greater than 20% of your position value, so it wasn't optimal. 
However, if you were willing to cap your possible upside at 100% over the same time frame, this optimal collar would have protected you against a >20% decline.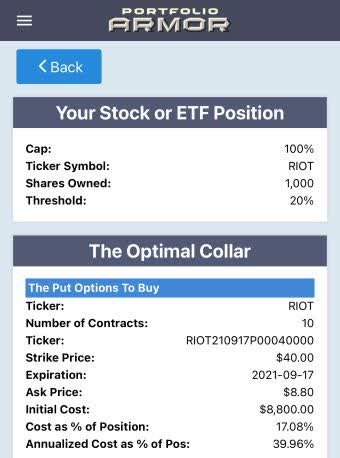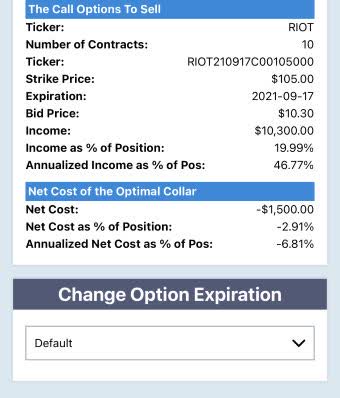 The net cost of that hedge was negative, meaning you would have collected a net credit of $1,500 when opening it, assuming you placed both trades (buying the puts and selling the calls) at the worst ends of their respective spreads (in practice, you can often buy and sell options at some price within the bid-ask spread. 
So your best case scenario was a gain of 100%, your worst case scenario was a loss of 20%, and you essentially got paid to hedge. If you want to bet on Bitcoin while strictly limiting your risk, it might make sense to scan to see if you can find a similar or even more attractive collar on RIOT today. 
Wednesday Afternoon Update
Shares of RIOT have given back most of Tuesday's gains so far, as it and other "Bitcoin proxies" drop in the wake of Coinbase's monster opening. So some of yesterday's lemon juice has been rinsed out of Citron's eyes. 
We'll post a follow up on our hedged RIOT bet down the road. If you can get an optimal collar on it today with the same ratio of upside to downside as the one posted here, it's probably still a good bet. 
*We don't have an Android app, but Android users can use our website to scan for optimal hedges.