---
Guess What Happened the Last Two Times Government Spending Unleashed Inflation?
During the last few days, we've outlined the following disturbing items:
Inflation is deeply embedded in the financial system to the point that we are seeing distributors/ retailers hike prices outright (the third and final phase for an inflationary breakout).

The Fed has got its "blinders" on to this development, claiming that the inflationary trend is "transitory" and nothing to worry about.
As investors, we now must ask ourselves... "what does this mean for the markets?"
History provides some clues here.
First and foremost, we need to acknowledge just WHAT is causing today's inflation.
The answer is money printing… specifically, government stimulus.
While it's true that the Fed helped create this inflationary storm by printing over $3 trillion between March and June 2020, the fact is that since June 2020, the pace of Fed money printing has slowed dramatically as the below chart shows.

So yes, the Fed has printed $3+ trillion. But the Federal Government has printed upwards of $5 trillion via its stimulus programs. And the Biden Administration wants to spend another $2.25 trillion for infrastructure, $2 trillion on climate change, $1.8 trillion for social spending via his American Families Plan, and more. All told that would mean ANOTHER $5+ trillion in spending.
Put another way, while the Fed played a big part in the money printing at the beginning, the bulk of the spending/ money printing and its subsequent inflation came from the Federal Government.
The last two times that inflation ignited as a result of government stimulus/ money printing were during Franklin Delano Roosevelt (FDR)'s New Deal in 1933 and Lyndon B. Johnson's Great Society plans in 1964.
FDR's government stimulus plans occurred in two stages. The first was launched soon after his 1933 inauguration. That ignited a four-month stock market rally. After that, stocks rolled over until FDR introduced new greater spending programs.
That second round of spending programs triggered a bull market that lasted over two years until inflation reached a boiling point and the Fed was forced to tighten. Stocks promptly crashed ~40%.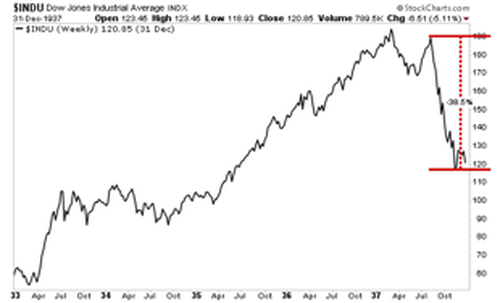 Bottomline: during the massive government spending programs of FDR, the stock market did a crack up boom until inflation was so out of control that the Fed was forced to hike rates.
A similar scheme happened during Lyndon B. Johnson's (LBJ's) Great Society scheme in 1964: stocks initially erupted higher on greater spending from 1964 to 1966. They then peaked as inflation entered the financial system and effectively traded sideways for the better part of the next two decades.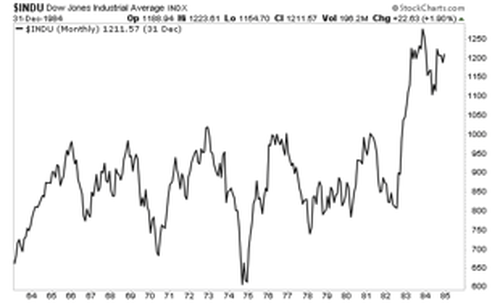 So here again we see that stocks love the initial burst in government spending. But the subsequent inflation soon erases those gains.
On that note, we just published a Special Investment Report concerning FIVE secret investments you can use to make inflation pay you as it rips through the financial system in the months ahead.
The report is titled Survive the Inflationary Storm. And it explains in very simply terms how to make inflation PAY YOU.
We are making just 100 copies available to the public.
To pick up yours, swing by:
https://phoenixcapitalmarketing.com/inflationstorm.html
Best Regards
Graham Summers
Chief Market Strategist
Phoenix Capital Research