---
Warning: REAL Inflation is WAY higher Than 5.4$
Over the last few weeks, I've been outlining how the Fed and the federal government have unleashed an inflationary storm onto the financial system.
Yesterday's Consumer Price Index (CPI) data confirms it. And the worst part? The CPI is dramatically UNDER-stating inflation.
In case you missed it, yesterday the Bureau of Labor Statistics (BLS) announced that CPI increased 0.6% in May of 2021. Year over year for the month of May, CPI is up 5.4%, which is the largest 12-month increase since 2008 (back when oil spiked to $150 a barrel).
But wait, it gets worse…
U.S. Core CPI, which is thought to represent the real rate of inflation consumers experience. is up 0.7% since April 2021 and 3.8% since May of 2020. This is the highest jump since 1992.
And we're still not done…
As I mentioned earlier, both of these data points (CPI and Core CPI) are dramatically understating the real rate of inflation in the U.S.
As Bill King's King Report notes, house prices are rising at record rates… and yet the BLS claims shelter costs in the U.S rose a mere 2.2% while "Rent of Primary Residence" (another measure of the cost of living) is up a mere 1.8% year over year.
Here's what home prices did over the same time period. Yes, you're looking at a year over year price increase of over 12.5%. And somehow the BLS believes this translates to shelter inflation of 2% or so.

The BLS also claims food prices are up 2.2% year over year. Anyone who's been to a supermarket in the last few months knows this is a load of bull.
Case in point, agricultural commodity prices (the stuff that is used to MAKE food) are up over 50% during the same time period. Corn prices are up 75%, Soybean prices are up 46%, Livestock prices are up 30% and Sugar prices are up 18%.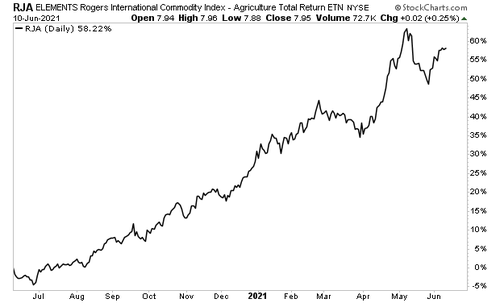 Heck, everyone from Coca-Cola to General Mills and Nestle are raising prices. In fact, Chipotle just announced it is raising prices by 3.5% to 4% in a single week! Do you really believe that food inflation is a mere 2.2% as the BLS is claiming?
Give me a break.
Bottomline, REAL inflation is MUCH higher than the 5.4% the BLS claims it to be. This is why gold is ripping higher in every major currency. And it's why inflation plays are where you NEED to put capital to work if you want to profit from this insanity.
On that note, we just published a Special Investment Report concerning FIVE secret investments you can use to make inflation pay you as it rips through the financial system in the months ahead.
The report is titled Survive the Inflationary Storm. And it explains in very simply terms how to make inflation PAY YOU.
We are making just 100 copies available to the public.
To pick up yours, swing by:
https://phoenixcapitalmarketing.com/inflationstorm.html
Best Regards
Graham Summers
Chief Market Strategist
Phoenix Capital Research