---
What Happened to Stocks on Friday? (a Technical Analysis Update)
Friday did some significant technical damage to the stock market.
After finally breaking out of a two month consolidation pattern to the upside earlier in the week, stocks rolled over and broke down back into it (blue rectangle in the chart below).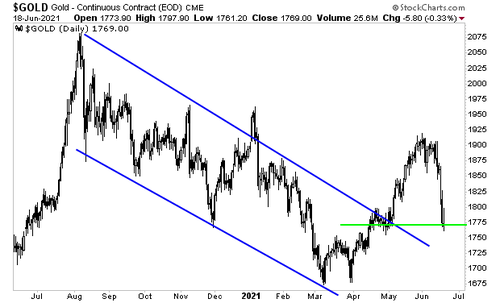 Even worse, the S&P 500 broke closed below its 50-day moving average (DMA) for only the second time this year. As the below chart shows, every other instance in which stocks broke below this line during the trading session, stocks surged to insure a close above it.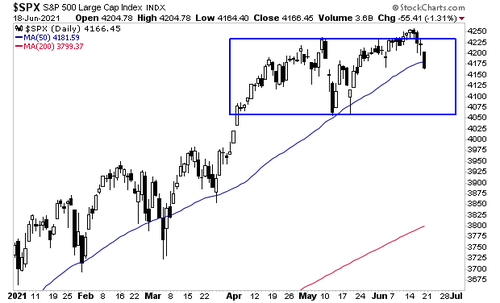 So, Friday was significant as far as the technical damage to the market. The onus is now on the bulls to ramp stocks above the 50-DMA and keep them there soon.
The bigger question concerns what precisely caused this sell-off. Some options include:
The Fed's announced shift in policy caught many hedge funds off-sides on the bond market, resulting in liquidations.
Wall Street used Friday's options expiration as an excuse to shred investors who sold put (pushing the market down on purpose).
The stock market is reacting to the terrible performance President Biden put on at the G-7 meeting (forgetting things, getting lost, generally bumbling around).
Some other issue occurring in the plumbing of the financial system which has yet to fully reveal itself.
Of the four, #1 is the most likely. Going into last week's Fed meeting, the hedge fund crowd was massively short Treasuries (betting Treasuries would fall) based on inflation expectations (Treasuries fall when inflation rises).
When the Fed announced it intended to start tapering QE in late 2021/early 2022 while also raising rates late in 2022, Treasuries, particularly long-term Treasuries (20+ years) caught a major bid.
The long-term Treasury ETF (TLT) jumped 4% in the span of a few days. This forced widespread liquidations at hedge funds in their short bond positions. And when hedge funds start liquidating losses, they often will liquidate winners as well to free up capital.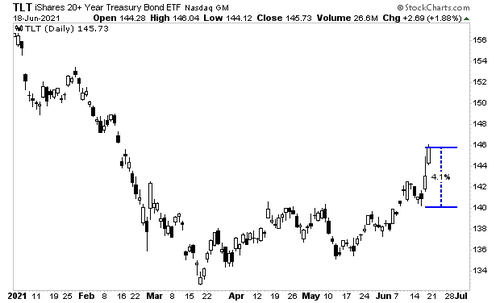 You can see this in the stock market when compared to TLT: they are a mirror image of one another (blue rectangle in the chart below) with stocks falling in near perfect synchronization as TLT rallied.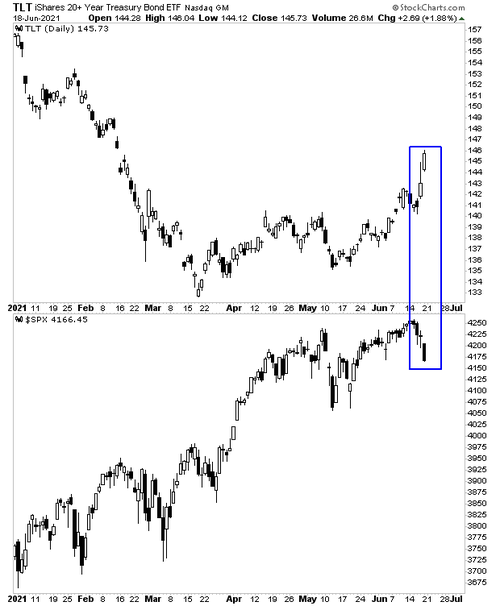 This suggests that the sell-off in stocks was collateral damage from the move in bonds, NOT necessarily a bearish development outright for stocks. However, as I mentioned, the onus is now on the bulls to reclaim the 50-DMA on the S&P 500 to get the market back on sure footing.
For those of you who are worried about a potential stock market crash, we've reopened our Stock Market Crash Survival Guide to the general public.
Within its 21 pages we outline which investments will perform best during a market meltdown as well as how to take out "Crash insurance" on your portfolio (these instruments returned TRIPLE digit gains during 2008).
We are making just 100 copies available to the general public.
To pick up your copy of this report, FREE, swing by:
http://phoenixcapitalmarketing.com/stockmarketcrash.html
Best Regards
Graham Summers
Chief Market Strategist
Phoenix Capital Research