---
Betting On A Bitcoin Bounce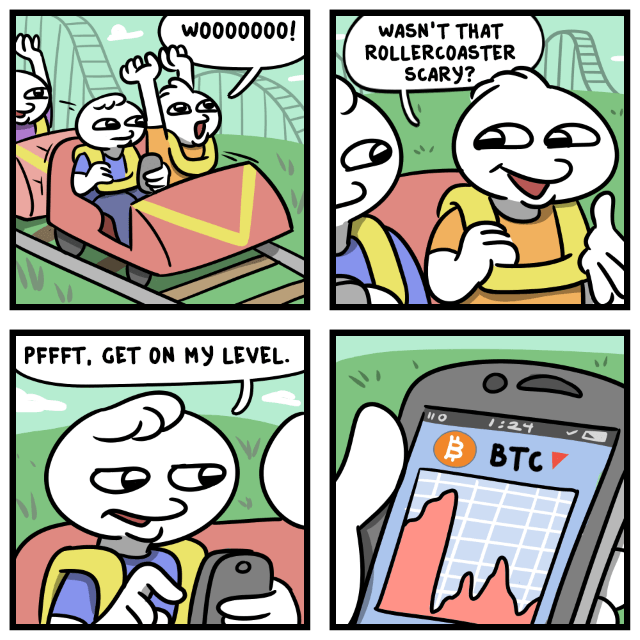 Pseudonymous cartoonist "Stonetoss" on Bitcoin volatility.
Here We Go Again
Bitcoin breaks below a support level then bounces back, and few minds are changed. Bitcoin bear Peter Schiff still thinks it's headed for zero; Bitcoin bull Spencer Schiff still thinks it's going to the moon. In a recent podcast appearance, Peter Schiff said his son Spencer wanted to sell the Audi Q3 his father bought him to buy more Bitcoin. Unfortunately for the younger Schiff, the car was in his father's name for insurance purposes, according to Peter. For those who fall somewhere in between Peter and Spencer on the Bitcoin sentiment spectrum, our top name as of Tuesday's close may be of interest. 
Our Top Name From Tuesday
Every day the market's open, our system gauges underlying price action and options market sentiment to pick the securities it estimates will perform best over the next six months. As of Tuesday's close, the top name in that ranking was the Bitcoin miner Marathon Digital Holdings (MARA). 
A Top Name Earlier This Month As Well
Marathon Digital was also a top ten name of ours a couple of weeks ago, on June 10th.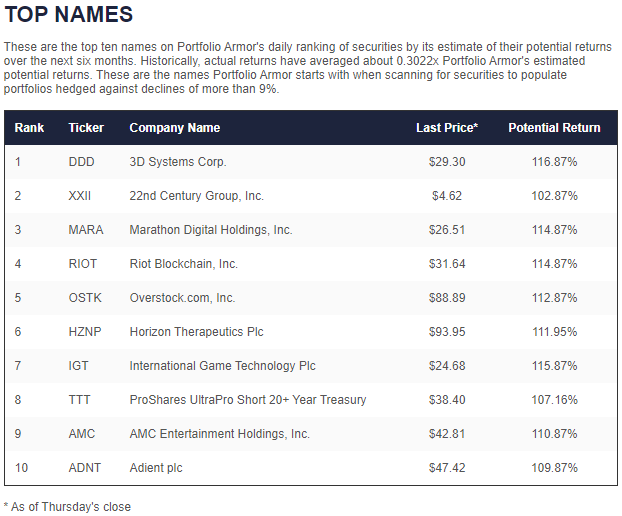 Screen capture via Portfolio Armor on 6/10/2021. 
Since then, MARA was up about 3% as of Tuesday's close.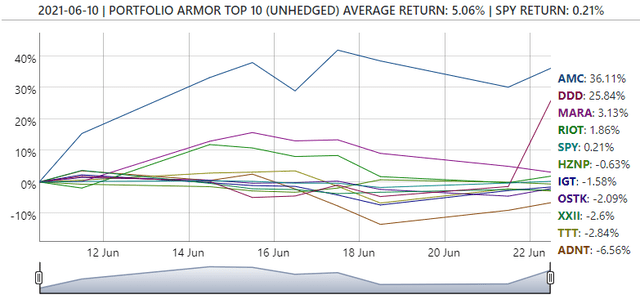 Why Cautious Bitcoin Bulls May Be Interested
The reason why MARA might appeal to some investors who aren't fully committed Bitcoin bulls or bears is because of the way it's possible to hedge it now. The optimal collar below offers cautious Bitcoin bulls a maximum possible upside that's twice as large as its worst possible downside. 
A Hedged Bet On Marathon Digital 
As of Tuesday's close, this was the optimal collar to hedge 1,000 shares of MARA against a greater-than-20% drop by mid-December, while not capping your possible upside at less than 40%.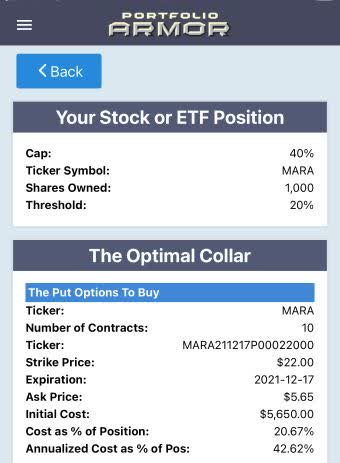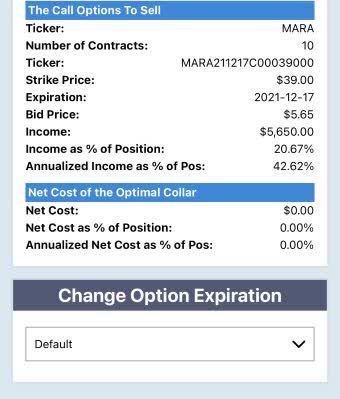 Screen captures via the Portfolio Armor iPhone app. 
As you can see above, the net cost of that hedge was $0. To be conservative, the app assumed you were going to place both trades at the worst ends of their respective spreads (buying the puts at the ask and selling the calls at the bid). Since, in practice, you can often buy and sell options at some price between the bid and ask, if you opened that optimal collar on Tuesday, you would likely have collected a small net credit. 
If you think Bitcoin is going to crab along in the $30,000s or possibly head higher over the next six months, this sort of hedged bet on Marathon Digital might make sense. If Bitcoin instead drops another 50%, your downside risk on a MARA position hedged as above would be limited to a drop of 20%. 
If You Want To Stay In Touch
You can follow us on Twitter here, subscribe to our email list here, and subscribe to our YouTube channel here.
Friday Morning Update
MARA is up about 7.8% since Tuesday's close. It appeared in our top ten again Thursday night.