---
America's Descent To Third World Status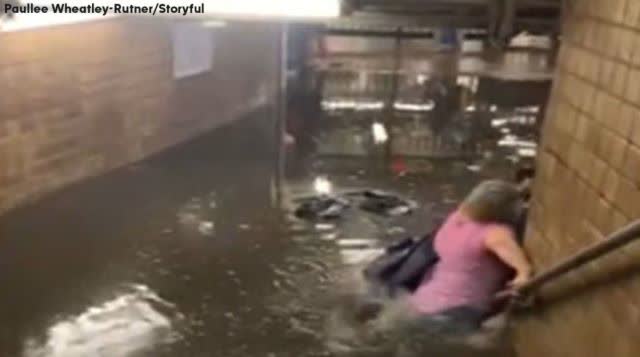 A woman wading through a flooded subway station in Manhattan on Thursday.
America's Third World Infrastructure 
One of this year's disturbing revelations has been the extent to which America's infrastructure is of third world rather than first world quality. February's storm that knocked out power to much of Texas, the tragic Surfside condo collapse in Florida, and this past week's video of New York City commuters wading through waist-high water in a subway station all exemplify this. 
A New York Times reporter blamed the subway flooding on climate change, but given that the record for July precipitation in New York was set in 1889, institutional decline seems a more likely explanation. 
A week before the subway flooding, New York City Mayor Bill de Blasio begged New Yorkers to use less electricity, lest the city suffer power outages. Having utility-generated electricity 24/7 is something Americans may have taken for granted as citizens of a putatively first world country. They may need to become more self-reliant. Enter one of our top names from Friday: Generac Holdings (GNRC), manufacturer of home generators and energy storage systems.
A Top Name At The End Of Last Year Too
Generac was one of our top ten names on New Year's Eve, 2020.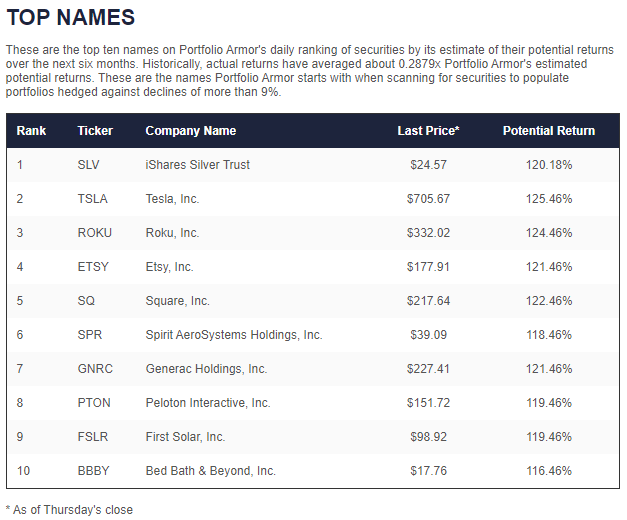 Screen capture via Portfolio Armor on 12/31/2020.
Over the next six months, it was up more than 82%, boosted in part by February's disaster in Texas.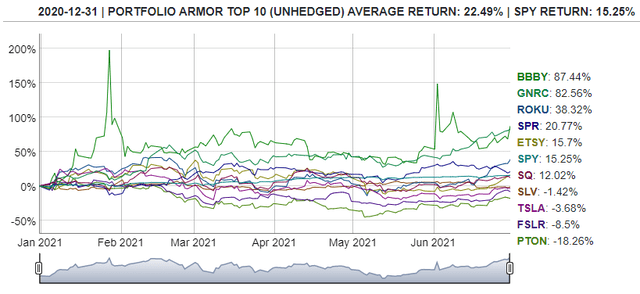 As of July 9th, Generac was one of our top ten names again. It seems likely that threats of outages due to summer heat waves will provide another tailwind for Generac, but below we'll look at a way shareholders can limit their risk in the event our system ends up being wrong about GNRC this time. 
In Case We're Wrong About Generac This Time
In case we're wrong about Generac this time, and it does poorly over the next several months, below are a few ways you can cost effectively hedge it. 
We used our app to scan for hedges against >17% declines in that video, for illustration purposes, but if your risk tolerance is higher or lower than that, you can adjust accordingly. 
If You Want To Stay In Touch
You can follow us on Twitter here, subscribe to our email list here, and subscribe to our YouTube channel here.