---
Corona Doom 2.0: FDA Approval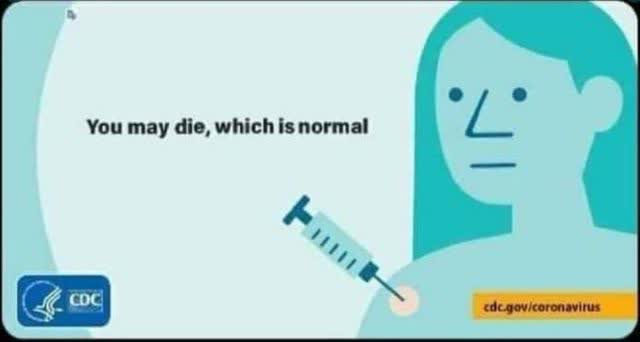 CDC safety meme. 
FDA Approval Greases Skids For Booster Shots
In our Corona Doom 2.0 post earlier this month, we wrote that the government would use the threat of renewed lockdowns to push the unvaccinated to get vaccines, and that that would benefit one of our recent top names, BioNTech (BNTX), the vaccine maker that partnered with Pfizer (PFE). 
In our follow up last week, we wrote that the prospect of booster shots would give BioNTech and another recent top name of ours, Moderna (MRNA) an added boost: 
In a nice twist, the vaccine makers are benefiting from an unexpected decline in the efficacy of their vaccines. As a result, the Biden Administration is now recommending Americans who are already vaccinated get a booster shot of the vaccine eight months later.
On Monday, the vaccine-makers got another boost when the FDA gave full approval to the Pfizer-BioNTech vaccine (the vaccine had been available up to now under an emergency use authorization). 
Skeptics Question The Timing 
Our friend Andy Swan was one of the observers who wondered whether the FDA was too hasty in giving full approval of the vaccine, as some of the data relating to possible side effects won't be available for FDA review for years.  
The pseudonymous "LoFi Republican" noted past, problematic drugs that had been given FDA approval. 
Alex Jones Isn't Happy 
Over the weekend, Donald Trump encouraged supporters to get vaccinated; Alex Jones didn't appreciate that. 
Business Goes On 
Canada commits to buying Pfizer-BioNtech boosters for all of its citizens for the next two years. 
Our Top Name BioNTech Benefits
BioNTech first hit our top ten on May 13th.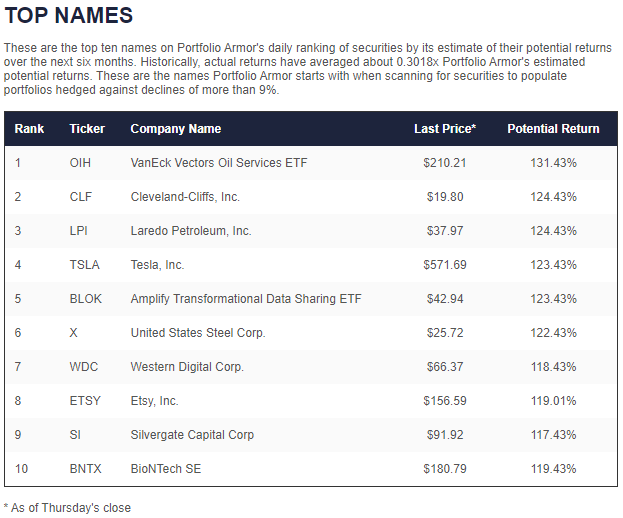 Screen capture via Portfolio Armor on 5/13/2021. 
After Monday's 9.6% pop on the FDA news, it was up 111% since then.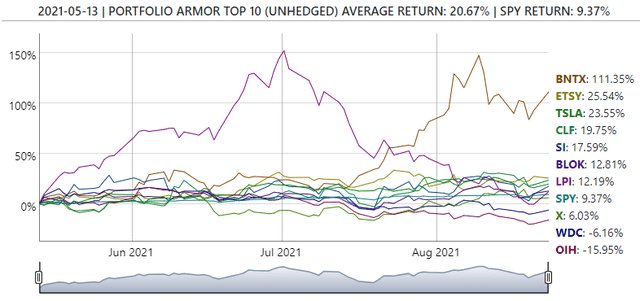 We're still bullish on BNTX, but nevertheless, risks remain. Let's look at a way to limit them. 
Safety First
We got the BioNTech vaccine last spring, and suffered no ill effects from it. If you're worried that more people will suffer side effects from the booster shots, and that might hammer the stock, here is a way you can limit that risk. 
As Monday's close, this was the optimal collar to hedge 100 shares of BNTX against a >25% decline by March, while not capping your possible upside at less than 36%.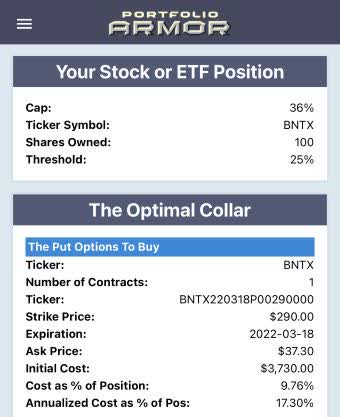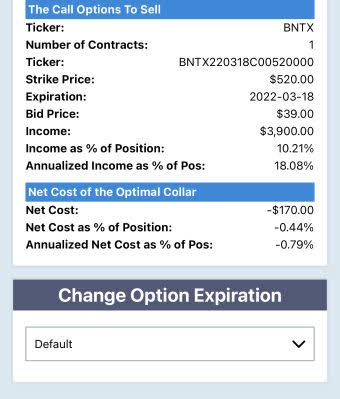 Screen captures via the Portfolio Armor iPhone app. 
Here, the net cost was negative, meaning you would have collected a net credit of $170 when opening the hedge, assuming (to be conservative) that you placed both trades at the worst ends of their respective spreads (buying the puts at the ask and selling the calls at the bid). 
If You Want To Stay In Touch
You can follow us on Twitter here, subscribe to our email list here, and subscribe to our YouTube channel here.