---
Is China Sidestepping A Crypto Cataclysm No One Else Sees Coming?
(Submitted by Quoth the Raven at QTR's Fringe Finance)
The biggest headline overnight involving China didn't belong to Evergrande, but rather to the People's Bank of China who, once again, reiterated its extraordinarily hawkish stance on cryptocurrencies. Most of the market has become numb to China's standing objection to cryptocurrencies, which I why I think it's a great time to examine some potential black swan-esque scenarios that China could actually be in the midst of preparing for.
The country's central bank on Friday said that all digital currency activities were illegal and, in a Q&A, "said services offering trading, order matching, token issuance and derivatives for virtual currencies are strictly prohibited", according to reporting by CNBC.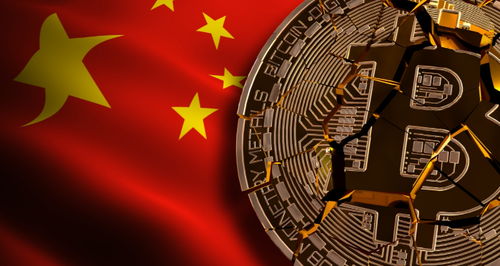 "Overseas virtual currency exchanges that use the internet to offer services to domestic residents is also considered illegal financial activity," the PBOC said, also noting it had improved systems to monitor crypto-related transactions.
"Financial institutions and non-bank payment institutions cannot offer services to activities and operations related to virtual currencies," the PBOC added, per CNBC's translation.

The tough talk once again sent Bitcoin plunging, down more than 5% at one point in overnight trading.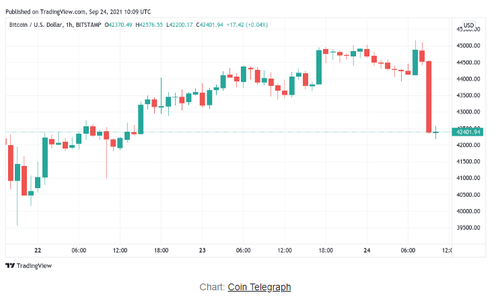 Crypto bears think China is taking prudent measures, while crypto advocates have openly mocked and laughed in the face of the country, touting crypto's decentralized feature as a reason that it could never be "banned". Coin Telegraph, where the above chart is from, took a move out of the "defending a pump and dump ShitCo on a message board" playbook and simply called China's comments "FUD".
Many of social media didn't take the comments seriously, either.
Listeners of my podcast know that I've argued consistently over the last year that countries can, and will, find ways to ban crypto and crypto wallets if they deem it necessary.
This argument hasn't received much traction since, in the United States, we have taken a different course: Securities and Exchange Commission Chair Gary Gensler is in the midst of honestly trying to figure out how to properly regulate the crypto space to keep both advocates and skeptics happy.
Approaching regulation with nuance, rather than a blanket ban, is a trajectory that allows both bears and bulls to claim their argument has legitimacy - and a trajectory that makes it likely that crypto will survive in the US as some type of assets class - at least while it still has a bid.