---
Oil: Remember the 2008 Beijing Olympics? It's Back
---
Flashback to 2008: Pre-Financial Crisis and Pre-Beijing Summer Olympics
Via Brynne Kelly contributions by Goldfix
Thirteen years ago, Beijing impressed the world with the outstanding delivery of the Summer Games which left numerous memorable moments not only for the audience but also the athletes, and the whole Olympic family.
Beijing 2008 left priceless legacies for the eastern giant, playing a big role in the development of sports afterwards and leaving legacies that are still being built on today in the preparation for the 2022 Winter Games. In addition, it coincided with one of the largest rallies in oil's history.
In 2008, it was reported that "the 2008 Beijing Olympic Games will boost China's rampant demand for energy, threatening to push world oil prices beyond current record heights, according to industry analysts".
Back then BNP Analysts said:
"In the lead-up to the Games you are going to see pretty heavy spending in infrastructure - building roads, residential property, hotels - and this is typically energy intensive," said BNP Paribas analyst Harry Tchilinguirian.
Crude prices surged as a result to strike a record high above 130 dollars per barrel, boosted by tightening supplies, under-investment in global production and ongoing unrest in key producer Nigeria.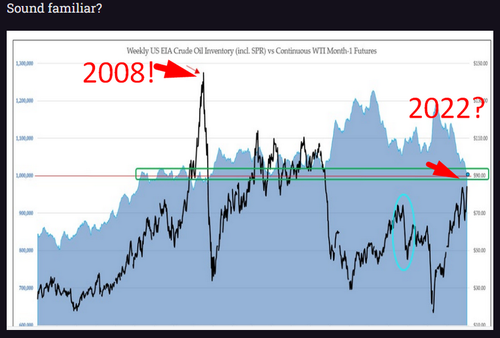 Runaway oil prices were also partly fueled by "stockpiling in China to prevent shortages ahead of the Olympics," said analyst Edward Morse back then
Fast forward to 2022. In February Beijing will host the 2022 Winter Olympics, which will focus an international spotlight on the country's performance. Additionally, in the fall, Xi Jinping, China's leader, is expected to claim a third five-year term at a Communist Party congress.
$100 Oil Flashback
Why do we mention the Beijing Olympics? Because it was considered one of the catalysts that pushed oil prices above the $100 level for the first time in 2008. Ironically, US inventory levels are now at similar levels today that they were back in 2008. Similar narratives lie beneath both - fears that global investment in oil resources are lagging demand. Will another Olympic games in Beijing mark the beginning of a similar move in 2022, the end of the current move, or is it a mere coincidence that the same pattern seems to be setting up again?
Bottom Line
Overall, global oil markets in the second quarter of 2022 are likely to be in a fragile balance and are forecast to move to a structural surplus. In fact, Goldman Sachs this morning stated that it 'Expects Inventory Draws To Narrow But Persist Through Q122, With The Global Oil Surplus In Q222 Smaller Than Seasonal At 0.4 MB/D'. Quite interesting considering over 50 million barrels will be added to the market during Q1 2022 from US-led global SPR releases.
It's also interesting to note the bookends created by the 2008 and 2022 Olympics hosted in Beijing. China spends a lot of money readying it's country for a global show.
While the Winter Games do not have quite the prestige of the Summer competition, a successful Olympics next year could be as valuable a soft power win for China as 2008. A successful Beijing 2022, with hundreds of thousands of vaccinated, mask-free spectators packing stadiums, could serve as the ultimate proof of concept for China's authoritarian political system, and Xi's continued tight control over it.
Something to watch for sure.. And do not forget what happened afterwards to Oil in 2009.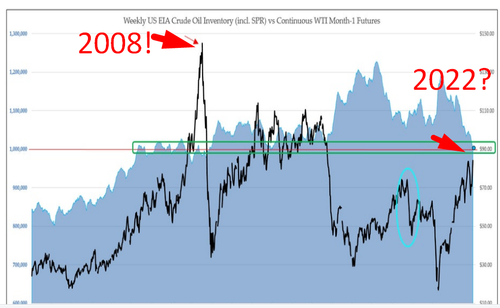 Of Note Over the Weekend
Goldman Sachs: Iran's production isn't expected to ramp up until 2023, with the risks of an earlier return becoming outweighed by the risks of disruptions rising from their decade-low levels in 2021.

Goldman Sachs Sees Brent Oil Hitting $100/BBL In Q3 2022 - RTRS
---
Contributor posts published on Zero Hedge do not necessarily represent the views and opinions of Zero Hedge, and are not selected, edited or screened by Zero Hedge editors.