---
Cathie Wood Keeps Moving The Goalposts
Submitted by QTR's Fringe Finance
Cathie Wood continues playing it fast and loose with how she presents her ETF's projected - and now past - performance.
The most recent example of Wood pulling the ole' switcheroo has come in the form of how Wood markets her flagship ARK Innovation ETF (ARKK) on its website.
As Twitter user @commandentesd pointed out over the weekend, Wood's website used to track ARKK on its site using its YTD return. An archived version of ARK's site from December 2021 shows at YTD return of -15.1%.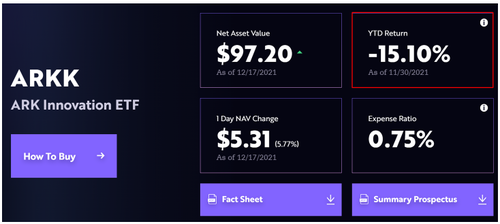 Ah, yes. The ole' YTD metric. Let's see how that should stand for ARKK so far in 2022.
The fund has started off the year -24%, underperforming its benchmark by -13%.
But now, all of a sudden, ARKK's webpage shows the same other three boxes, but its "return" box has switched from a YTD return to a 5 year (annualized) return as of 12/31/2021.
The reasons for the switch could be obvious: the fund's YTD return in 2022 has been horrific and its annualized 5 year return as of the end of 2021 is a much friendlier looking +38.38% number.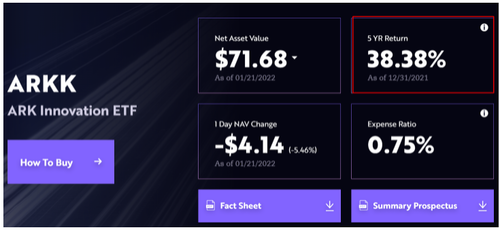 This is now the second time in as many months ARK appears to be picking and choosing numbers that are convenient for them.
The first such instance was when (READ FULL ARTICLE HERE).
--
If you don't already subscribe to Fringe Finance and would like access, I'd be happy to offer you 20% off. This coupon expires in 48 hours: Get 20% off forever
Contributor posts published on Zero Hedge do not necessarily represent the views and opinions of Zero Hedge, and are not selected, edited or screened by Zero Hedge editors.