---
The Fight Over Outer Space Is A BIG Deal
SPACE EXPLORATION
The Baikonur Cosmodrome (look it up) was the heart of the Soviet space program. Russia still uses it as its primary space-launch facility. The still under construction Vostochny Cosmodrome in Russia's Far East will lessen that dependence, but as mentioned is still incomplete.
If you've been paying attention, the fight over space is a BIG deal. You control space, you control the satellites. And when you control the satellites and you control communications systems. Control communications systems and you control everything — from the narrative to the logistics systems, power grids, water treatment, and of course communications.
You think Russia is going to let this fall into the hands of NATO or Soros-linked interests?
Yeah, me neither.
We don't need to pontificate as to what Russia thinks of this. Their Foreign Ministry made that clear earlier this week. Here is their description of the situation in Kazakhstan:
An attempt to undermine the security and integrity of the state by force, using trained and organized armed formations, that is inspired from the outside.
Either way, Kazakhstan is the swing producer in the uranium market and it's having… ahem… problems.
What does this mean for our uranium positions?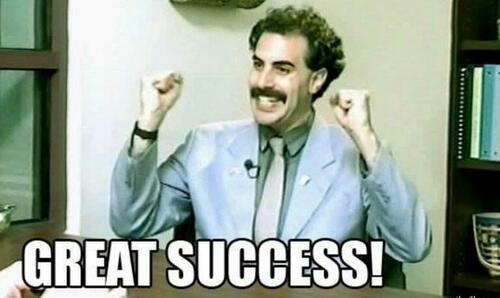 That instability of security of supply right when we have an already structural deficit is really a godsend. I mean, we don't wish harm or angst on anyone, not least of which the poor average Kazakh, but if we could have written a playbook for uranium equities to trade at a premium, this would certainly be a great contender.
Oh, one other point. We don't and haven't owned KAP.L, which bumped up against $50 in November and has since fallen to $35.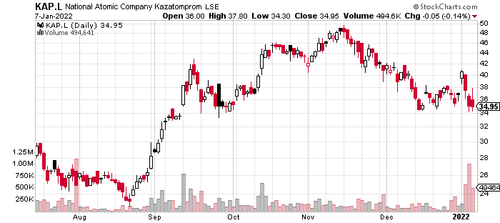 It is a strong contender, and we'll be watching it closely, largely as a proxy for how it reacts to events and what that may mean for our existing uranium positions.
One thing is very, very evident to us right now. Institutional money still has no freaking idea this space even exists.
This entire fiasco is important because at the heart of it is energy and critical supplies of materials. I've said it before and now it's really becoming obvious. No country has political security without energy security.
And it is now where we turn our heads to Europe and the escalating tensions with the Russkies and Ukraine. As mentioned last week (I think), roughly a third of EU gas goes through Ukraine. If war breaks out, this could and almost certainly will be impeded. Gas shortages in Europe would cripple their already wobbling economies.
Arguably, more importantly, Europe's overdependence on unicorn farts renewables and massive underinvestment in baseload energy (nuclear in particular) has left Europe in an extremely precarious energy security predicament and thus national security predicament.
It would take a brave or stupid group of politicians to speak harshly to Russia in Geneva this week. Unfortunately, we have a host of stupid politicians so all bets are off.
Now we wait and see.
For our investments, however, we do absolutely nothing. We simply hold. We are as well-positioned as we can possibly think we can be.
How Our Fund Is Playing This Ongoing Trend Into 2022 And Beyond
Copper - Copper prices have to rise to address a huge supply deficit looming on the horizon.

Shipping - Shipping is vital for the functioning of the modern world, yet is priced for bankruptcy.

Eastern Europe - Position for the long-term trend of capital moving from the West to the East with Polish and Russian equities markets.

US Dollar - We're bearish all paper currencies, but believe that the USD will outperform all others.

Base Metals - Clean energy targets require more battery metals than existing global supply.

Off-Shore Oil & Gas - Offshore oil investment has been smashed, yet consumption continues to grow.

Rare Earth Metals - A play on geopolitics and a cycle that should see a repricing of these commodities.

Russian Oil & Gas - Virtue signaling abandonment of fossil fuels led by Western oil co's means Russia is taking up the slack.

Uranium - The looming supply deficit promises to pay handsomely when the market inevitably reprices.

Gold - Gold sees the perfect storm; the turn of a cycle, supply issues and lack of faith in sovereign currency.

Coal - Modern society is dependent on coal, with supply continually growing. Is there a more hated investment?

Personal Defense - Order is breaking down in the US, and the unrest is giving us an opportunity to position for asymmetry.

Agriculture - Lockdowns and monetary stimulus have ensured food prices will rise, providing deep value.

Natural Gas - Supply and demand dynamics coupled with dependency from the US provide a great opportunity.

Plus much much more...
If these themes make sense to you then click the link below to learn more about Capitalist Exploits and how you can participate.
Contributor posts published on Zero Hedge do not necessarily represent the views and opinions of Zero Hedge, and are not selected, edited or screened by Zero Hedge editors.