---
"Where's Gold trading? Seventeen-Eighty-F*cking-Five" - Podcast
Almost every weekday GoldFix does a podcast for listeners between 6:45 and 7:45 a.m. Today's was especially pertinent given the recent run-up and swoon in the metal.
In today's podcast we walk through the last few days' behavior in what seemed to be another drubbing by the bears. It wasn't, The buyers don't care about $30 based on their perspective. It's just a fee for the dealers. The bottom line is: The market is fine, the centralized futures are frequently not. That's life. It is never safe to speculate  long Gold. Holding is a different story. Things are just getting started we think. But still, can you blame us for being upset?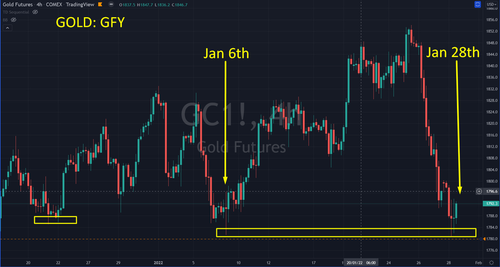 The whole podcast comes in at around eleven minutes run time and includes a plethora of insights into the behavioral patterns of Gold as well as some technical trading observations. We have also broken them down in clips by topic for you.  Here is the full podcast coming in at 11 minutes.
GoldFix: Podcast Jan 28, 2022 https://t.co/PNGl8FKvZl

— VBL (@VlanciPictures) January 28, 2022
Yesterday: How the Gold market digests buy orders and then "tests" them- 2:20
"Because Gold has such chunky, periodic buy orders and because the marketplace liquidity pool is so relatively small and centralized; the buy orders are easily telegraphed"
The gold market has such chunky periodic buy orders that are telegraphed because of the small universe of players on both the buy and sell-side.
There are only so many places you can go to if you need to get size done
Dealers have a bearish bias for a good reason. Market structure and their own natural orderflow dictate this. Culture and regulators are also permissive and unable to address tactical spoofing when it happens.
Most Markets reflect that last price until the next big order comes in. But not so much in Gold
Markets with discontinuous liquidity and chunky flow are part of the problem. A small universe of counterparties doesn't help hide buyer intent either.
Once the buyer is filled and players know the coast is clear, they test how resilient the longs are.
There is always some short term speculative fund that can't take too much pain. That fund gets it going lower.
Damage the psychology of the market on the first day. Then the data event is the catalyst for the puke usually.
Gold: What happened the last 3 days - 1:48
"Where are we trading? Seventeen- eighty- f*cking- five. Where were we trading a month ago?"
There was a macro buyer, likely an allocation for 2022. What happens when they are done? They make sure the buyer  is done. Then they test the resolve of the smaller  bulls who went along for the ride.

The fed news comes out, and it is not bullish for sure. But the damage has been done. The event frequently triggers selling regardless of the news. Why? The psychology of the market is damaged. There  are too many other markets  moving to waste  time  holding a Gold long . So specs get out quickly.

Macro Gold behavior during  "buy season"
Why sideways is bearish in Gold- 1:04
"There is no next big order in Gold. That's in part because of a history of how the market was managed. It is damaged"
One problem is there is no next big order in Gold. Someone buys, dealers know it's coming. The flow is centralized. It gets filled. The coast is clear. Prices get raised when the customer walks in the door. That's life. This is also in part a product of years of psychological damage in Gold from how it was managed over the years
Technicals
---
Contributor posts published on Zero Hedge do not necessarily represent the views and opinions of Zero Hedge, and are not selected, edited or screened by Zero Hedge editors.