---
Jeffrey Epstein's Estate Puts Little Saint James Island Up for Sale
Little St. James Island is the utter embodiment of the depraved existence of the elite. It's a true den of sin that hosted the worst debauchery imaginable. The narrative labelling the idea that a network of well-connected pedophiles use their political standing to abuse children as a "conspiracy theory" is succinctly undone with a mere recollection of the history of Jeffrey Epstein's infamous island home. Nearly 3 years after Epstein's "death" the estate of the disgraced financier and suspected Mossad operative is going up for sale for an asking price of $125 million.
Epstein only spent $8 million on the island when he purchased it in 1998 before making it his permanent residence in 2010 following his release from a prison sentence which saw him given a scandalous non-prosecution agreement from the United States Department of Justice through future US Secretary of Labor and then federal prosecutor Alexander Acosta per the instructions of Robert Mueller's FBI. Upon moving to the island, Epstein used the location to traffic young children to sexually abuse while hosting a who's who of visitors including former President Bill Clinton, Duke of York Prince Andrew, business magnate Lex Wexner, and even several Nobel Laureates including deceased theoretical physicist Stephen Hawking, among others. The former President was proven to have flown on Epstein's private jet dozens of times as well as having visited the pedophile's Zorro Ranch property along with his wife Hillary Clinton, according to eye-witness accounts working at the New Mexico property.
Little St. James Island is also the location where Epstein's most prominent victim, Virginia Guiffre, has alleged she was trafficked for sex with Prince Andrew and fellow "suicided" pedophile Jean-Luc Brunel. Though the British royal denied knowing her, documentation of Guiffre with Duke of York as well as Epstein accomplice Ghislaine Maxwell has been presented in a photograph taken during the period of alleged abuse which corroborates her claims. Guiffre subsequently filed a lawsuit against Maxwell for defamation following the British socialites efforts to use the connections amassed by her equally corrupt father's media empire to discredit the victim's allegations. The civil defamation suit filed by Guiffre became a central focus on the still on-going trial of Maxwell as well as a separate civil suit filed by the Epstein victim against Prince Andrew. The latter civil suit was settled last month with the Duke of York agreeing to pay Guiffre $10 million.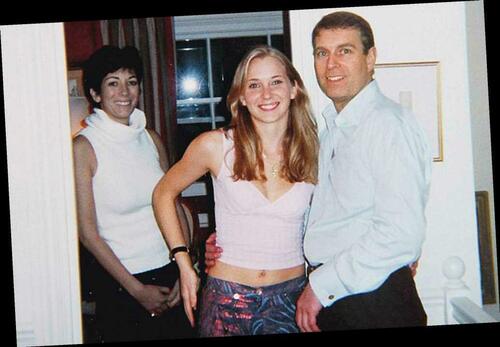 The $125 million price tag set by the Epstein estate will also include neighboring Great St. James Island, which the pedophile purchased purchased after Little St. James Island in an apparent attempt to build a sprawling new estate for his sex crimes. There is no formal listing for Great St. James Island, so it's not known if it comes with its own temple to Molloch. Though one would think that the islands would be a tough sell, their clientele's taste and extravagant wealth might make the $125 million asking price seem like a good deal.

Epstein's Estate in managed by, at least in part, his brother Mark. Selling his brother's private islands won't be the first transaction that Mark Epstein and the estate he controls conducted. In December of 2019, the estate transferred $15.5 million to Southern County International: a bank registered in the US Virgin Islands that was set up by Jeffrey Epstein in 2014. The multi-million dollar deposit from the Epstein estate was the first activity made by the Southern County International bank despite being established in 2014. When questioned about the suspicious transfer, Epstein's attorneys stated that the transaction was done in error. Weeks after the transfer, all but $500,000 of the $12.9 million remaining in Epstein's bank was withdrawn.

More-so than its sordid history, existing criminal activity liens placed on the islands from a civil racketeering lawsuit may prove to be the biggest encumbrance of any prospective sale. That lawsuit was filed in 2020 by US Virgin Islands Attorney General Denise George. The suit alleges that Little St. James Island was used as part of a network of shell companies that Epstein manipulated to conceal the activities of his human trafficking network.
While I haven't reviewed Attorney General George's lawsuit, I did a report in 2019 detailing a network of companies associated with Epstein, his brother Mark, and his former pilot Nadia Marcinko. Marcinko. Marcinko is presently the Founder and CEO of Aviloop. That company's website stated that it harnesses Marcinko's experience as a pilot for Epstein by offering consulting services to companies based in the aviation industry. Marketing, social media services, and event management are listed among the services which are offered. As is an explicit mission to "help employers diversify their crews" by promoting the inclusion of more women in the industry. In that section of its website, Aviloop stated: 
Diverse teams are smarter. Through our sister company - Aviatri - we aim to make cockpits safer by raising the number of women in aviation. We can help employers find qualified professional female pilots to join their team.
The reference to Aviloop's sister company Aviatri really caught my eye. Unlike Aviloop no formal article of incorporation existed with the New York State Division of Corporations. The shell company appearance of Aviatri led me to contact Mark Epstein and Marcinko herself, whose number I found on its website. Within days of my conversation with Mark Epstein and voicemails left with Marcinko -- every reference to Epstein's properties was purged from the Aviloop website. Marcinko also obfuscated the Aviatri website from public view by placing a "website under construction" page on the main domain address. However, simply navigating to the direct homepage URL bypassed this before she took the website down all together in 2020.
If that doesn't raise enough red flag, I suggest viewing Aviloop's promotional videos which speak for themselves.


Though I've digressed, the announcement of Epstein's Islands being put up for sale should result in more questions being asked about the on-going network of his accomplices, including those managing his estate, and the broader scope of their crimes. While the US Department of Justice bends over backwards to vacate the conviction of Ghislaine Maxwell, it's clear that she and Epstein's crimes just scratch upon the surface of an issue that the powers that be have done everything they can to keep from being discussed. At the very least, the announcement of the intended sale of Little St. James Island should thrust those who visited it back into the spotlight because if Epstein and Maxwell's cases prove anything, it's that justice has yet to be done.

_________________________________________________________
If you want to watch my expose on Aviloop it can be found here:
Contributor posts published on Zero Hedge do not necessarily represent the views and opinions of Zero Hedge, and are not selected, edited or screened by Zero Hedge editors.
Loading...