---
The Twitter Poison Pill Gets The Margin Call Treatment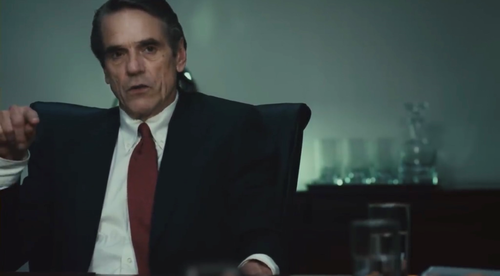 Jeremy Irons in Margin Call (2011).
The Best Explanation of Twitter's Poison Pill Approach Yet
There's a line in J.C. Chandor's excellent 2011 film Margin Call where Jeremy Irons' CEO character tells a subordinate to explain the company's dilemma simply to him: 
Maybe you could tell me what is going on. And please, speak as you might to a young child. Or a golden retriever. It wasn't brains that brought me here; I assure you that.
Twitter user Perpetua Hughes did just that for Twitter's poison pill defense against Elon Musk's takeover bid. Her thread riffs on the scene below, so if you haven't seen the movie, watch this scene first before reading her thread for maximum enjoyment. 
If you're pressed for time, the premise of the movie is a junior analyst at a Lehman Brothers-like firm discovers the mortgage-backed securities on their books are worthless, and the senior partners meet in the middle of the night to discuss what to do with them. 
Now onto Ms. Hughes' excellent thread. Following that, we'll shift gears and close with a quick update on a previous post. 
Over the last 5 years, Twitter has engaged in a process of what we used to call "denazification" - removal of any accounts pushing uncomfortable narratives; amplification of those voices committed to advancing what we like to call Real Change™️ pic.twitter.com/t1XNxw9kBZ

— Perpetua Hughes (@PerpetuaHughes) April 15, 2022
But Musk's offer of $54.20 a share is so valuable that if Twitter were nothing more than what the average person thinks it is - a run-of-the-mill social media company - we would be required to sell to maximise value for our shareholders. pic.twitter.com/MmDQ8sYpJC

— Perpetua Hughes (@PerpetuaHughes) April 15, 2022
Do you care to know why I'm in this chair? I'm here for one reason, and one reason alone. To ensure the narrative remains controlled. To ensure we keep making money while our populations remain distracted. To ensure the "normies" know what to think and when to think it. pic.twitter.com/8AkYEHiTe2

— Perpetua Hughes (@PerpetuaHughes) April 15, 2022
Yes. But who are we selling to?

> The people we have always relied on to control the narrative that makes us money - Morgan Stanley, Saudi Arabia, Vanguard Group...

If you do this, you will expose how corrupt the system is. No one will ever trust you, ever. pic.twitter.com/i7j6U0MdEm

— Perpetua Hughes (@PerpetuaHughes) April 15, 2022
Luckily, my friends at the SEC - or as Musk calls it, "the short selling enrichment commission" - have informed me they have a few surprises in store for Mr. Musk. By the time they're through with him, he'll be ready to send himself to Mars in one of those spaceships of his. pic.twitter.com/Yf5wItMwho

— Perpetua Hughes (@PerpetuaHughes) April 15, 2022
Shifting Gears
Shifting gears from social media to commodities for a moment, a quick update on a previous post (War In Ukraine Causes Coal To Go Parabolic). 
$BTU and $UCO up double digits today. Both were top ten names of ours yesterday, as we noted here. https://t.co/YY6e68eDVh

— Portfolio Armor (@PortfolioArmor) March 4, 2022
In that post, I noted our top names from March 3rd, particularly the coal miner Peabody Energy (BTU) had spiked in the wake of the Ukraine War. It wasn't too late to buy Peabody later though. It was also a top ten name of ours on March 17th.
If you bought it then, you were up 48.45% on your BTU position as of Thursday's close. 
If you bought equal dollar amounts of each of our top ten names from March 17th, you were up 10.6%, while SPY was down fractionally over the same time period. As a reminder, we update our top ten names for subscribers each day the market is open on our website.
If You Want To Stay In Touch
You can follow Portfolio Armor on Twitter here, subscribe to our occasional email list here, subscribe to our YouTube channel here, or visit our website by clicking on the image below.

Contributor posts published on Zero Hedge do not necessarily represent the views and opinions of Zero Hedge, and are not selected, edited or screened by Zero Hedge editors.