---
You can Live in this Orwellian Nightmare for "Just" $800 Per Month
If you've heard it before then you've heard it a million times: "the rent is too damn high." Most Americans know that reality all too well without the need for a meme to transcend into the popular lexicon to espouse a sentiment they're familiarly acquainted with. Prices aren't only a concern for residential leasers as 34% of retailers were unable to make rent in April. Despite hope that rents peaked at the beginning of the year as 61 of the nations 100 largest cities saw rents fall, the inaffordability of housing has had a profound effect in the housing market with data showing that renters outlook on owning a home has plunged over the last year. The eternal rent outlook is welcomed by the likes of Blackrock, the World Economic Forum and the rest of the "you'll own nothing and be happy" cartel. To capitalize on the bleak future of renters, one Bay Area startup is offering its own take on affordable housing which encapsulates the decline of living standards so many Americans have experienced in recent years.
Brownstone Shared Housing has begun renting sleeping pods in a Palo Alto home managed by the company for the low, low price of just $800 per month. According to RentCafe, the average cost of a one bedroom apartment apartment in Palo Alto is $2,404. With the median income among renters at $42,479 and a national average of 31% of income spent on rent, it goes without saying that the cost of housing in the California city is well out of reach for most people.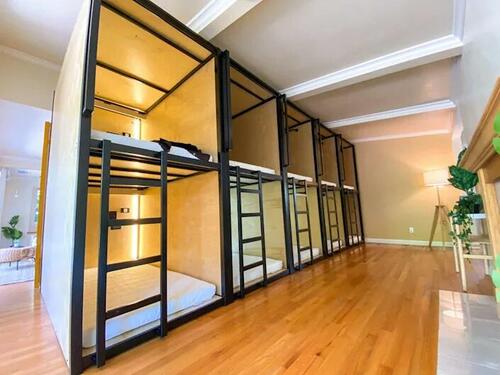 Brownstone bills their housing venture as a solution to that problem especially aimed at students and transient workers on short-term contracts. Their Palo Alto home is designed to accommodate 14 people who would sleep side by side in a hive-like sleeping pod apparatus. Each pod is 8 feet tall and comes equipped with a fan, lighting, fold down desk, charger for smartphones and other devices, as well as a curtain for "privacy." Despite being designed to accommodate up to 14 renters, the house only has 2 bathrooms alongside communal living space which includes a single kitchen.
Despite the dystopian optics that the rental unit displays, Brownstone Shared Housing views their endeavor as undertaking a mission to "preserve humanity and comfort and privacy" for his tenants. As if privacy wasn't already an issue (did I mention the curtains?) the two founders of the company livei n the Palo Alto house alongside their tenants. Founders James Stallworth and Christina Lennox describe their approach to make housing more accessible to their applicants be bypassing conventional credit checks and not charging a security deposit for the flexible leasing arrangement.
Surprisingly, all but one pod has been rented at their Palo Alto house. Additionally, Stallworth and Lennox run a similar operation at a second house in Bakersfield, California in a home Lennox actually owns. Brownstone currently rents the Palo Alto home with approval to offer tenants subleases for their approved occupancy of 14 residents. The $800 price tag offered by Brownstone Shared Housing is slightly cheaper than a similar company based out of Los Angeles. That other shared housing renter, PodShare, charges $1000 per month for a single sleeping pod. Brownstones entry into this market paints an ominous future ahead for renters who have seen the average size of their apartments contract by 25% over the last decade despite the surge in rent prices.
The eternal rent model isn't limited to these labor camp like sleeping quarters. Another iteration of this approach has been enacted by the likes of Blackrock, Blackstone, and Goldman Sachs rental funds, among others. Fundrise, one of those Goldman Sachs-backed real estate investment trusts recently purchased the entirety of sprawling 87 single-family home community in central Florida through its d/b/a Flagship Interval Fund. Fundrise's foray into the housing market has been made possible by a $300 million credit given to them by Goldman to invest in renting single-family homes. Similar funds operated by Fundrise has purchased hundreds of other homes in states across the eastern sunbelt region of the country.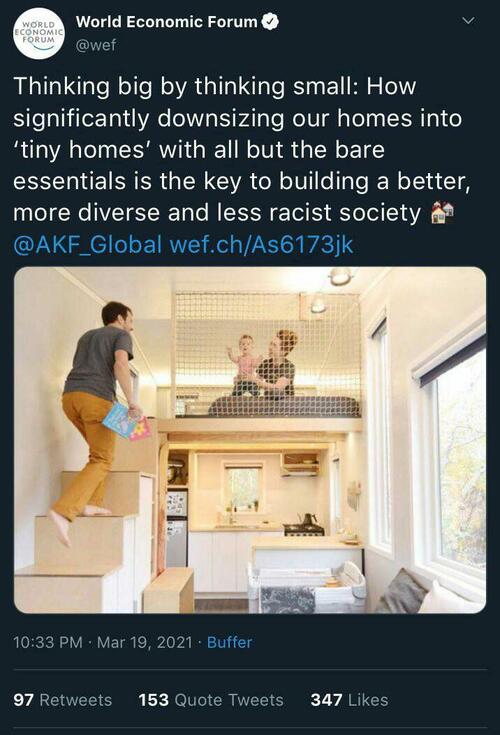 The WEF declaration that "you'll own nothing and be happy" isn't limited to the housing market either. Their approach looks to make property ownership a thing of the past for the working class, with private property exclusively reserved for the technocratic elite. The future they're shaping would have people rent everything from cars, appliances, furniture, and other everyday essentials. The dissolution of property ownership among the working class unfurls a neo-feudal society whose liege lords sit at the throne perched atop Davos. With their all-encompassing rent model permeating into the most basic fabric of society, it may only be a matter of time before their stranglehold will charge you for the very oxygen you breathe.
Contributor posts published on Zero Hedge do not necessarily represent the views and opinions of Zero Hedge, and are not selected, edited or screened by Zero Hedge editors.
Loading...