---
China, Cryptocurrencies & Why CPI "Has Not Peaked"
Submitted by QTR's Fringe Finance
Thanks for another great week in the world of Fringe Finance. We had over 54,000 reads this week on the site and tens of thousands more on sites we syndicate on, like our friends at Zero Hedge.
---
🔥 As my thanks, I am once again offering 55% off a subscription to the blog that you can keep for as long as you choose to subscribe, for those who sign up to annual plans. You can use this link, but it expires this weekend: Get 55% off forever
---
Let's have a look at what I wrote about this week on the blog.
Heading into Monday, I wrote about how I believe the perfect "limit down" storm is still overhead and how I continue to wait for capitulation and real fear (and maybe the Fed to be scared) to even try and entertain calling a bottom.
I have been writing about this "limit down" idea since February, 10, 2022, when I last wrote that I believed we were on the precipice of a "limit down" morning. Precisely nothing has gotten better for that outlook since then.
On Tuesday after the bell, I wrote about how I was adding to positions in two names and explained my reasoning. Despite being down for the week (and down since my buys) after adding these names Tuesday during the day, they finished up the week with strength, rallying 29.7% and 38.1% in the last two trading days of the week, Thursday and Friday, amidst a broader market rally.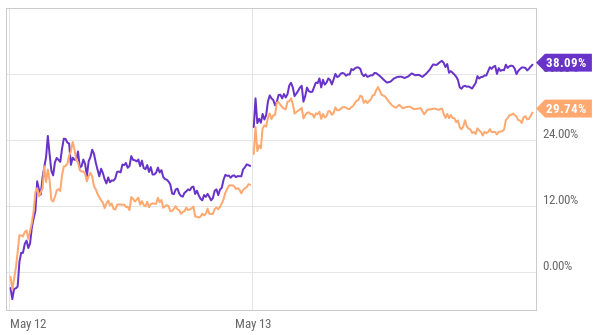 On Wednesday, I wrote about Charlie Munger's recent comments on crypto, and how he suggested China could be making us "look foolish" by sidestepping crypto use in their country.
Just a couple months after I started my blog, and well before all hell started breaking loose in terms of Ukraine, inflation, and the market generally taking a shit - at the very height of what could only be described as a feverish risk-on environment - I wrote an article called "Is China Sidestepping A Crypto Cataclysm That No One Sees Coming?"
With crypto markets in turmoil & Charlie Munger appearing to share my sentiments, it's time to revisit the idea - so I wrote this piece: Charlie Munger Is Right: China Is Making The U.S. "Look Foolish" On Bitcoin
Heading into Thursday night I took a look at the crypto carnage that was taking place, including how stablecoins were losing their peg and what that could mean for the rest of the market: Overnight Crypto Carnage Into Thursday Morning
On Friday, I shared the thoughts of 38 year market veteran Kenny Polcari, who said that CPI is "not peaking" and commented about the market in no uncertain terms: "Now is the time to grab your coffee and stay awake." "CPI Is Not Peaking" And Even If It Were, Peaking Does Not Mean Rolling Over: Kenny Polcari
Additionally, don't forget that last week I wrote about how ARK "investment manager" Cathie Wood appears to be the only person left in the financial world - or otherwise - who doesn't seem to understand that the gravy train for the stock market is officially over: Cathie Wood And The Definition Of Investing Insanity
I also discussed the Roe v. Wade leak as a piece of political strategy. Namely, I asked whether or not it made sense to leak the decision now and whether or not it would benefit the Democrats: Democrats' Roe v. Wade "Silver Bullet" Could Backfire Heading Into November Elections
Finally, last week I also wrote about how Russia and China are likely both returning to the gold standard. No sooner was it that I wrote an article talking about how Russia was going to back the ruble with gold than "one of the Russia's most powerful security/intelligence officers and a close ally of Putin" has admitted the country's intentions to do just that: Russia Is Returning To The Gold Standard And China Is Going To Be Next
---
🔥 As my thanks, I am once again offering 55% off a subscription to the blog that you can keep for as long as you choose to subscribe, for those who sign up to annual plans. You can use this link, but it expires this weekend: Get 55% off forever
---
Disclaimer: I am long shares or calls (or both) of every name mentioned as a long in this piece or the linked pieces and am short all names I mentioned accordingly in this piece or in the linked pieces. This is not a recommendation to buy or sell any stocks or securities. I own or may own all names I mentioned or linked to in this piece. I often lose money on positions I trade/invest in. I may add any name mentioned in this article and sell any name mentioned in this piece at any time, without further warning. None of this is a solicitation to buy or sell securities. These positions can change immediately as soon as I publish this, with or without notice. You are on your own. Do not make decisions based on my blog. I exist on the fringe. The publisher does not guarantee the accuracy or completeness of the information provided in this page. These are not the opinions of any of my employers, partners, or associates. I get shit wrong a lot.
Contributor posts published on Zero Hedge do not necessarily represent the views and opinions of Zero Hedge, and are not selected, edited or screened by Zero Hedge editors.