---
The Viagra for Long Covid
Erectile Dysfunction (ED) is not a topic that many men typically want to open up about, but we are seeing a growing prevalence in the Long COVID patient population.  A number of anecdotal reports on social media suggest that OTC nutraceutical Tollovid available on Amazon.com may be the ideal solution.  While there are no concrete statistics on the prevalence of the symptom, a University of Florida (UF) health study found that men who contract COVID-19 are 3 times more likely to have ED than men that steer clear of COVID-19. A larger study by Dr. Ramasamy showed a more muted effect whereby the men that contracted COVID-19 were 20% more likely to contract ED.  Whether a man has a 20% or a 300% greater chance of getting ED is not the issue.  Men simply want to know what to take if they get it.  Tollovid is shaping up to be the viagra of male Long COVID patients. 
COVID Induced Erectile Dysfunction
The science behind the condition of Erectile Dysfunction traces its origins to a lack of blood flow to the penis.  Therefore if follows that somehow Long COVID constricts the flow of blood.  Scientists understand that COVID-19 is a disease of the vasculature and blood vessels get damaged.  There are blood vessels everywhere in the body but more microvascular pathways in the penis.  This microvascularization along with the higher expression of the ACE2 which is an attractant of the SARS-CoV-2 virus makes the penis the ideal breeding ground for the virus.  The prevailing theory published in Science Daily suggests that microclots are at the root cause of the ED condition.  Normally the body can bust these clots on its own but in Long COVID patients the clotting factors are much higher. 
"We found high levels of various inflammatory molecules trapped in micro clots present in the blood of individuals with Long COVID. Some of the trapped molecules contain clotting proteins such as fibrinogen, as well as alpha(2)-antiplasmin," Prof Pretorius
In essence, the virus is attracted to the high concentration of the ACE2 receptor located in the penis.  As the virion congregates in mass they destroy this delicate micro vascularization and form microclots that prevent the flow of blood.  It's essentially a case of COVID clogged pipes that prevent the erection.
"The receptor that the coronavirus binds to is abundant on the penis and testes," Joseph Katz, D.M.D.
Treating ED in Long COVID
The prevailing wisdom in treating ED in Long COVID patients is that the disease progression eventually leads to ED.  So most ED treatments are geared toward treating the underlying Long COVID condition.  In a recent case study the 3CL protease inhibitor Tollovid was used by a patient to treat his underlying COVID-19.  He quickly recovered and so did his Long COVID.

This is another extremely quick account of Tollovid knocking out the Long COVID and restoring the person to their pre-covid baseline.  Notice that his libido continues to improve and it was on Day 5.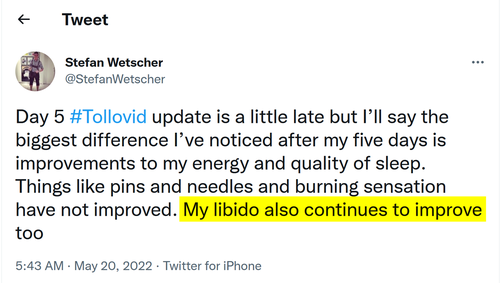 Crowdsourcing Long COVID Treatments
The #Tollovid hashtag is really starting to get some traction as people are posting very positive reviews of the nutraceutical for Long COVID.  The company just announced that they will be getting more aggressive in their packaging and pricing to consumers.  They appear to be targeting the Long COVID community from the looks of their banner ads but that makes sense given all the positive reviews and discussions on Twitter which seem to be factual and balanced.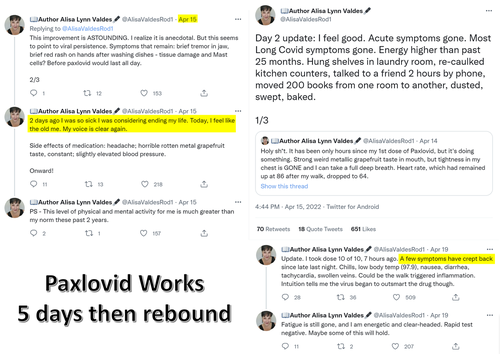 Very much related in treatment mechanisms of action (MOA) is Paxlovid.  Both Paxlovid and Tollovid are 3CL protease inhibitors that target the 3CL protease.  There are a number of case studies on how Paxlovid worked.  The study concluded that "persistent viral activity, particularly in the tissues, could be one contributor to ongoing symptoms in Long COVID." What makes the Twitter case study pictured above and below so interesting is that Tollovid is doing just as good of a job as Paxlovid and it's an all-natural dietary supplement you can buy on Amazon.com.  This case is about a Long Hauler who first took Paxlovid for 5 days and realized there was a benefit then saw her condition deteriorate rapidly once she was out of her supply of the 3CL protease inhibitor.  She quickly transitioned to an over-the-counter 3CL protease inhibitor called Tollovid and got much better without any of the side effects she had using Paxlovid.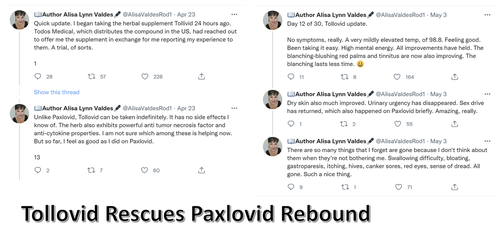 There are a number of Paxlovid rebounds all over the country.  The CDC put out a health alert on May 24, 2022 warning about the potential.  There is concern that these viral rebound cases are highly contagious and the infected should wear a mask an additional 10 days after a rebound.  Regardless of the CDC's posturing, there exists anecdotal evidence that an Over the Counter 3CL protease inhibitor can treat Paxlovid failures.  As a minimum POTUS should be all over this issue trying to curb the outbreak.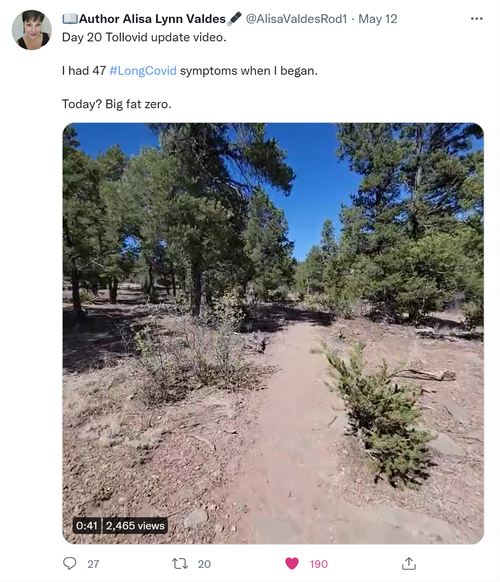 There appears to be a happy ending in this Long COVID case because people were willing to try something.  A final case report should be out soon.  The real issue is the political will to back a supplement that looks like it's the first thing to make a difference in people's lives.  Long COVID sufferers really don't have any solid treatment options but there are a few worthy of mention. 
IncellDX - Chronic Covid Treatment Center
Incell DX under the leadership of Dr. Paterson has become a leading research lab that has diagnosed and treated 10's of thousands of Long Haulers through their Chronic Covid Treatment Center.  His lab developed a proprietary blood panel and created a long haulers score.  Their research has led them to believe that Long Haulers is a very variable disease and that one size does not fit all.  Their method of treatment heavily relies on the Long Hauler Index and their panel of blood tests which guides the treatment regimens.  They only use FDA approved drugs repurposed for Long COVID. According to Paterson, his treatments are getting patients "back to their jobs, back to their daily living."  He and Dr. Yogrenda have claimed to help thousands of people get back to close to their pre-covid levels.  They also freely admit there are failures and people they cannot help.   
His theory for Long COVID is that the S-1 subunit which is a viral particle gets trapped in CD16+ monocytes which circulate in the body and irritate the endothelial cells as they pass by releasing cytokines into the environment.  His short video describes that by stopping the migration of these monocytes, the body ends up quieting the inflammatory response.  His theory doesn't allow for active viruses but there is a little wiggle room because his paper says "no full length sequences were identified, and no sequences that could account for the observed S1 protein were identified in any patient." The study encapsulated 46 patients and he made a point to not go after people with underlying medical conditions.  Ideally, he would be looking for a molecule to bind to the S-1 protein and clear it out of the body.  Currently, no approved inhibitors can carry out that function so his team is settling for stopping the trafficking of the CD16+ monocytes as a treatment option.  
Remnants of Leronlimab
The most advanced trial in Long Haulers was done with a monoclonal antibody called leronlimab.  Leonlimab acts as a CCR5 inhibitor to stop the trafficking of macrophages. To give context, it's a much-improved version of another CCR5 inhibitor called Mariviroc which is manufactured by Pfizer. Incell DX is a proponent of using this Black Box labeled drug because it is FDA approved in the HIV indication.  An investigational trial revealed 18 of 24 symptoms got better over the course of 12 weeks.  Although there was clearly efficacy, the company went through a number of internal changes and regulatory scrutiny that seemingly halted development.  It's unclear if this is available via right to try legislation or just completely shut down.  The company is very quiet about it.    
Long Covid Treatment Centers
There are Long COVID treatment centers popping up all over the country but few have any research component and many don't even understand Long Covid. Just type the search term into google.  While many may see this as a positive there is some real harm being done in these centers that are trying to recover people through exercise.  Post Exertion Malaise (PEM) is a real condition that can impede the time to recovery from Long COVID.  Survivor Corps is a grassroots Long COVID resource center, and Berrent, the founded Survivor Corps opined on the treatment centers saying "I've yet to see where they are really moving the needle in terms of actually getting people better."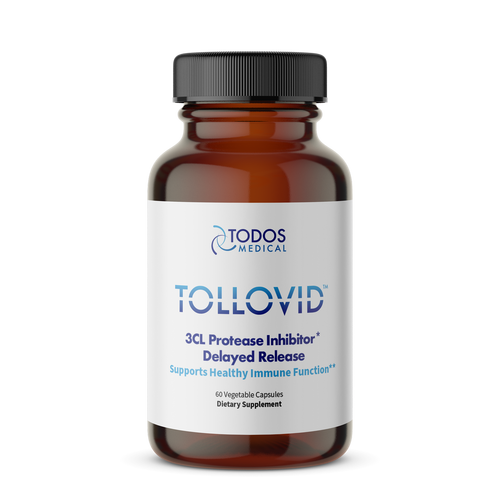 There are real risks of getting ED and Long COVID for that matter.  The policy of continuing to accept infections is just misguided.  The administration needs to get going with approving some therapeutics instead of talking about research.  That means agreeing on clinical endpoints for Long COVID.  Most of the COVID-19 research is on Twitter, it just needs to be mined.  After mining the Long COVID stories on Twitter it's pretty clear the anecdotal data for use of Tollovid in Long Haulers is better than anything seen at these Long COVID clinics.  The number of anecdotal stories continues to rise as the company adds to its case studies page. By no means is this Tollovid a cure-all because Twitter has exposed some failures.  The idea of viral persistence doesn't apply to all Long COVID patients. 
Long COVID sufferers reading this need to make a decision if they want to try something with no downside side effects or continue to be miserable waiting for political leadership.  What is so amazing is that the stories of turnaround are quick.  Long COVID sufferers tend to know in days if it's working.  The message needs to get out, but people should also connect the dots that if it can clear Long COVID using the 3CL protease mechanism, then what about COVID itself. Why is this not expanded as a prophylactic?  The more powerful cousin of Tollovid is called Tollovir and it took dying off the table in the hospitalized setting and was stopped early.  No approval or talk of a EUA yet as final biomarker data is to be announced at the Precision Medicine World Conference on June 30th.  In the meantime, there are deaths in the hospital because doctors cant prescribe this all-natural 3CL protease inhibitor.  Investors reading this should know that the company behind Tollovid is Todos Medical (TOMDF) and they have a market cap of $17 million.  Any family members with hospitalized loved ones really have an even tougher decision to make after reading this article. Pfizer's drug Paxlovid is a 3CL protease inhibitor, but it is only for people with underlying medical conditions who can only take it for 5 days due to the risk of side effects.  Tollovid is a game-changer for not only those suffering from ED, but in the bigger sense, it puts the power of treating this COVID scourge in the hands of the people.
Contributor posts published on Zero Hedge do not necessarily represent the views and opinions of Zero Hedge, and are not selected, edited or screened by Zero Hedge editors.