---
By Graham Summers, MBA
Let's cut through the BS.
The Fed claims it wants to end inflation… but it can't. Sure it can talk tough, but we all know the Fed is going to "take a knee" sooner rather than later.
Why?
This:

The U.S. has over $31 TRILLION in debt. At these debt levels, every 1% increase in rates means an additional $310 BILLION in interest payments.
We were already paying $305 billion in interest payments per year when rates were at ZERO. They're now at 1% and the Fed claims it's going to raise them to 3%.
This would mean the U.S. spending nearly $1 TRILLION in interest payments… without reducing our debt by even a penny.
In fact, according to the Congressional Budget Office, we're going to run a $2 trillion deficit this year… which means our total debt amount will rise to $33 TRILLION… which means every 1% increase in rates will lead to $330 billion more in debt payments.
You get the general idea.
Simply put, the Fed is out of its mind if it thinks it can stop inflation without blowing up the entire bond markets.
Which means… the Fed will have to let inflation rage. The alternative is a debt crisis that makes 2008 look like a joke.
This is why gold is forming a rounded bottom and preparing to explode higher.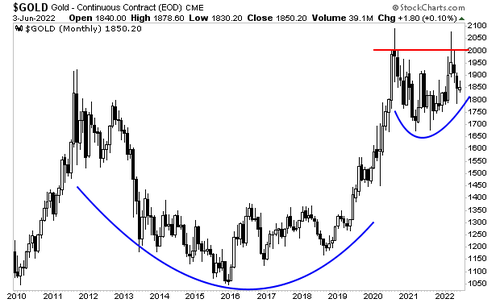 On that note, we published a Special Investment Report concerning FIVE secret investments you can use to make inflation pay you as it rips through the financial system in the months ahead.
The report is titled Survive the Inflationary Storm. And it explains in very simply terms how to make inflation PAY YOU.
We made 100 copies available to the public.
Today is the last day this report is available to the general public.
To pick up yours, swing by:
https://phoenixcapitalmarketing.com/inflationstorm.html
Best Regards
Contributor posts published on Zero Hedge do not necessarily represent the views and opinions of Zero Hedge, and are not selected, edited or screened by Zero Hedge editors.